We landed home on Monday from the weekend in Louisville and managed to collapse into a two-hour nap before Matt headed to the lab and I made my way to yoga class.
As Tuesday and Wednesday rolled around I still hadn't unpacked and done the laundry but I was already thinking about re-packing to head to Colorado on Friday.

We booked a late flight Friday afternoon out of Boston and arrived in Denver and drove the rental car up to Boulder where we spent the weekend with my old housemate Steve and his two rotund cats. Steve had dinner waiting for us when we arrived. We unwound from our travels and headed off to sleep to be ready for the Colorado Cross Classic on Saturday afternoon.

Although I was ready from some cool crisp Colorado fall air, I somehow managed to bring the warm weather with me to Colorado even though I had no interest in it. Earlier in the week it was a seasonal 40-50 degrees but the Saturday forecast at the Boulder Reservoir was upper 70's. I headed out in the morning for a spin on the road to stretch my legs and could already feel every ounce of moisture being sucked from my body. It is really dry in Boulder!
I arrived at the race venue with time to spare. I had plenty of time to check out the course and acclimate a bit to the altitude and the dry hot air. I even managed to get a little face-time with coach Ben who lives in Boulder. At times I feel a little bit like Charlie's Angels, following instructions from the voice in the box. It was good to chat face-to-face. Matt was already at the Cannondale truck when I arrived. He had my bikes ready with just about every tire combination I could imagine available. The course was dry, rocky and sandy so I tried out a few different Challenge tire combinations before settling on a mismatched pair that would give me traction on the front in the corners and speed in the back.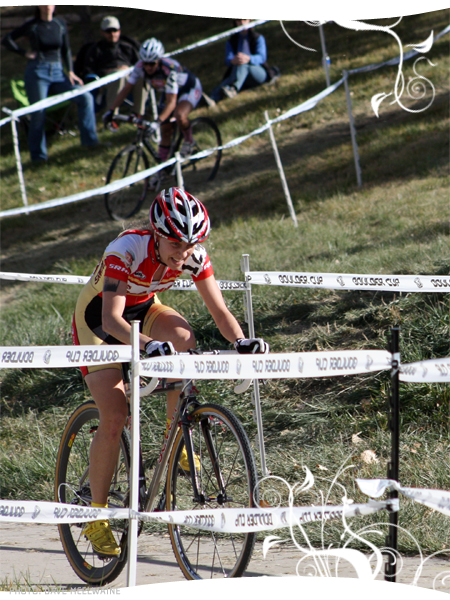 The race was straight forward and fast with long straight-aways, a few technical loose turns and some sand to contend with. Off the start, the pace was high and I was pleased to not be suffering too badly from the altitude or heat and was able to have a solid race and finish 8th.

Race reports and photos from Cyclingnews as well as Velonews can be found here and here. Also, catch Matt in action at the Cannondale/CyclocrossWorld team truck early in this video on Cyclingdirt.

The Boulder Cup Cross race was at a new venue for 2010 and it was at the Flatirons Crossing Mall. Yep, a mall parking lot and the adjacent park. Nobody knew what to expect and we all feared the worst. However, the promoters did an impressive job of using the green space around the mall parking lot to create a challenging course with lots of off camber turns, steep descending hills and one long climb. Finally, a real 'crosser's course! I could only imagine what this course would be like with a little bit of rain, or even better, some snow!
Carnage! About one minute into the race on the first tricky off camber turn, two riders in front of me slipped and crashed causing a chain reaction. I crashed, my bike flying overhead. I found myself with my foot stuck in another rider's bike while I was in a pig-pile of bodies and bikes trying to break free from one another. It took a good 30-40 seconds to untangle ourselves before I was back on my bike. And just like that, I was at the back of the race. A Boulder local was on the course with video camera in hand… he captured the crash and posted it here.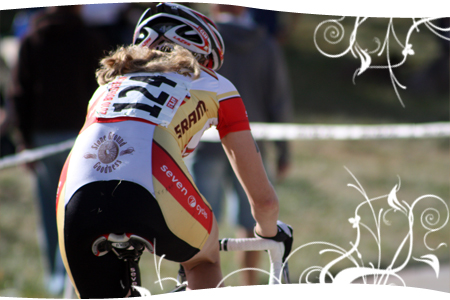 My initial plan was to settle into the race and not burn too many matches in the first lap. Thanks to the crash I was resigned to moving through the field of riders and I had to light it up every chance I could. Slowly I made my way from the mid-20s to 14th and then 10th and with one lap to go I was able to catch onto to 7th and 8th place but ran out of time before the sprint to the finish and took 9th for the day.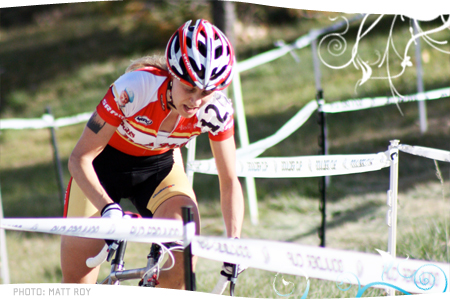 Race reports and photos from Cyclingnews as well as Velonews can be found here and here.


This week's recipe isn't new but if you want to know what I eat just about everyday for breakfast (especially race days) here's what you'll need:
http://thevegandelicious.wordpress.com/2010/06/17/everyday-breakfast/


We're killing two birds with one stone this week, because we can't really have one without the other. The races in Boulder last week had me digging deep into my quiver of wheels and tire selections; sand, pavement, off camber, loose, rocky corners, there was a little bit of everything (except mud). Thankfully, Mavic and Challenge have provided us with goods to give me the right options for any condition.
Mavic has been supplying wheels and my very bright yellow shoes to MMRacing for many years now. We typically travel to the races with twelve wheels… two pair of each style tread, and we mix and match as needed. We also have a third pair of each style tread glued up and ready to go in the MMRacing Service Course. All in all, Matt glues, aquaseals, and maintains 18 wheels for me. Each rim gets three layers of glue and each tires gets three coats as well. That's more than 100 times around the wheels with the glue!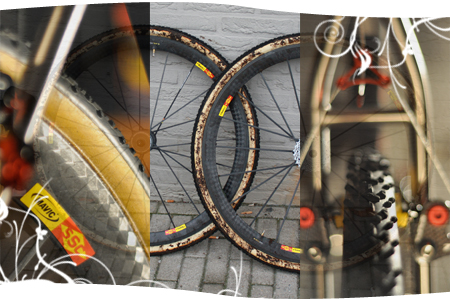 For the typical 'cross course, I race on Mavic's flagship wheels, the Cosmic Carbone Ultimate, the same wheels raced by Ivan Basso to his 2010 Giro D'Italia victory. Glued up with Challenge's Grifo tires, these are my go-to wheels for most conditions. We also have a fleet of Mavic R-SYS wheels glued up with the Grifo XS filetread tires and Fangos, Challenge's aggressive condition tire. We're looking forward to Challenge's foray into the mud tire market with the pending Linus tire. Now we just need some mud!
Mavic and Challenge… thank you for the support!



After last weeks' tough times in Louisville, Matt put a mix together for me of some of my favorite songs from the past few seasons. Starting out with the song that sums up my season of heavy travel, The Chemical Brothers "Where Do I Begin" set the tone for a great warm-up. It's only 1:32 seconds but the third song on the list, in between Geek U.S.A. and Dancing, is worth tracking down… Heavy Vegetable's "Spatula." Find it and you'll see why (it's NC-17 by the way!). The mix ends with a song from one of my favorite movies, Stranger Than Fiction. Will Ferrell's character has decides to learn how to play the guitar and the first song he pulls out is this classic tune from 1978 by Wreckless Eric. Enjoy! You can download 9 of the 10 songs from iTunes below.

Thank you to our sponsors for their continued support: Bob's Red Mill, Seven Cycles, SRAM, Mavic, Pedro's, TRP, Fizik, Mad Alchemy, Bonfire Health, Challenge Tires, Thule, New England Athletic, Ryders Eyewear, CatEye, ClifBar and Lazer Helmets.

If you just can't get enough MM Racing, you can follow us on Twitter Matt: @mm_racing, Mo: @meaux_marie or find the MM Racing fan page on Facebook.

Thanks for reading!