This weekend we got to stay home and race "locally" in Northampton, Ma. The Cycle-Smart International was celebrating its 20th year in the running with some slight changes to its classically fast, flat and challenging race. I was looking forward to racing and hoping my legs were feeling good after a long stretch of busy travel. The weather leading up to the race was cooler and rainy but it looked like both race days would be sunny and dry with cooler temperatures in the 40's - finally!

We stayed at home Friday night and made the two-hour drive to the race in the morning. It was nice to see all of the fall colors of the trees as we headed into Western Mass. Thanks to our sponsors Mavic and Pedros for letting us set up nearby to get ready for the race! I was happy to finally be able to wear long sleeves in the race and not be sweating profusely. After a preride of the course and a warm up, I was ready to race and headed off the start line quickly with a group of four other riders.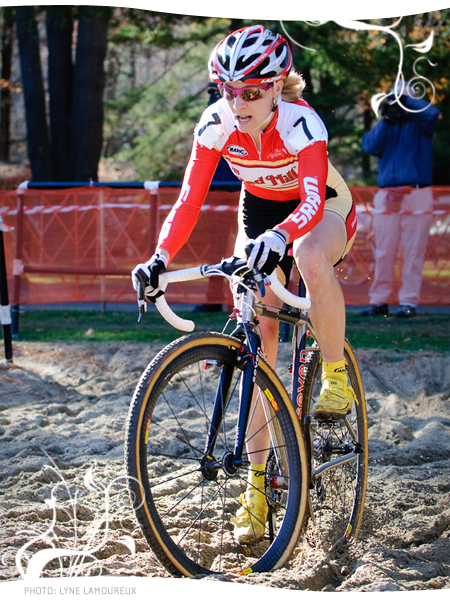 At the run-up, we established a small gap over the field but as the race went on, small mistakes along the technical sections of the course and the unrelenting power straight-aways eventually brought the group down to three of us. With one lap to go I was sitting in second place trying to keep my momentum on the long flat power sections of the course with third place close behind. The leader was able to get a small gap and it came down to a duel for the last half lap where I finished third for the day.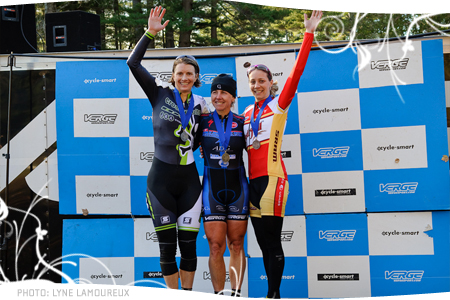 Race reports and photos from Cyclingnews as well as Velonews can be found here and here. Lyne Lamoureux from Podium Insight was also on hand providing excellent coverage as usual. Check out coverage of Day 1 and more great photos here. Thanks for the pics, Lyne!

The course for Sunday was slightly less technical with what felt like even longer, smoother, faster straight-aways. The wind had picked up a bit as well and the skies were slightly overcast. I knew that the race would play out much like a road race with riders taking turns at the front but no one really wanting to be pulling in the wind. I decided to simply race as hard as I could despite the tactical advantage of sitting back and being patient. Off the line, a group of five quickly established a lead and we pretty much stuck together the entire race.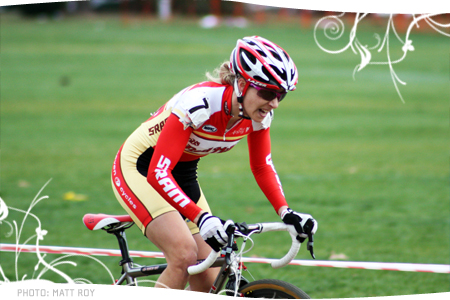 Anytime another rider went to the front and I felt they were slowing down, I would jump on the front and do my best to gain time over the barriers, out of corners or on the more technical sections of the course. A few times it was looking good but the long flats were enough to always result in a regrouping. In the last lap it looked like it would come down to a sprint so I did everything I could to get a gap on the other riders but in the end was sprinted at the line taking 4th. I was disappointed that all my hard work still meant I missed the podium but was happy for the challenge to be able to race aggressively and take that gamble.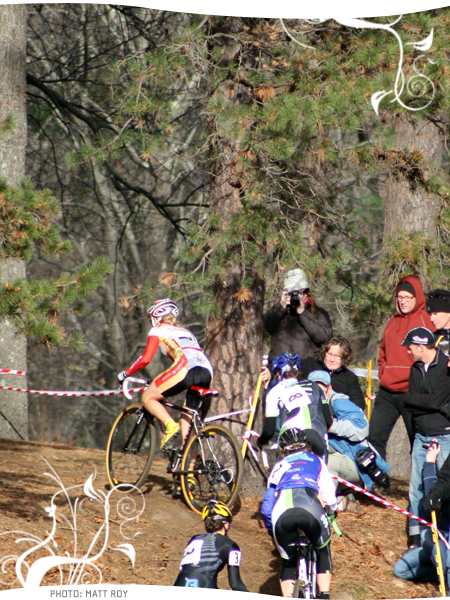 Race reports and photos from Cyclingnews as well as Velonews can be found here and here. The Podium Insight race report can be found here and another great photo gallery here. Also, check out the photo montage from Natasha of Pedal Power Photography here. Lastly, Thom Parsons was on hand representing Cyclingdirt. Check out his video coverage here.


Yes, it's true. I've finally found a brownie recipe that is Matt-approved. He's the brownie critic in the house and it's been thumbs down over and over again until now!

http://thevegandelicious.wordpress.com/2010/11/11/brownies/

It's hard to even describe how lucky we feel to have Seven Cycles as a sponsor. This week, we'd like to highlight the bike (well, bikes actually… I have two!), that makes it all happen. My Seven Mudhoney SLX is in its third season on the cyclocross circuit and it still looks brand new. In part testament to Matt's OCD/cleaning and to the quality of the bike itself, people are continually amazed at how new these bikes look all the time. The bike is amazing but the people at Seven are what really make it so. They have a passion and enthusiasm that is unparalleled. They are also sincerely excited about having Matt and I on board as sponsored athletes. Thank you to everyone at Seven!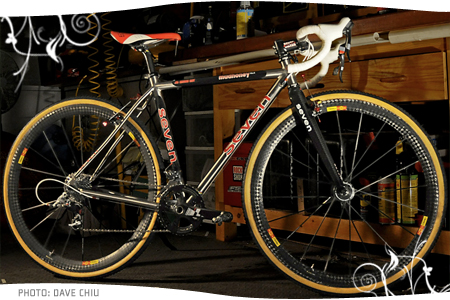 My Seven Mudhoney SLX was custom built to my specifications. After a few times back and forth with Rob V., he and Matt settled on what has easily become the best bike I have ever ridden. A mix of ultra-butted titanium and carbon fiber, the bike is both stiff and compliant in all the right places. New for this season we have added Seven's own dedicated carbon fiber cyclocross fork. Replacing our now defunct Alpha Q CX20s would be tough to do, but Seven has come up with a fork that's just as stiff, with zero brake chatter and somehow dropped the weight down to ~450 grams. By the way, for those of you wondering, the bike weighs just a touch over 16 pounds fully built.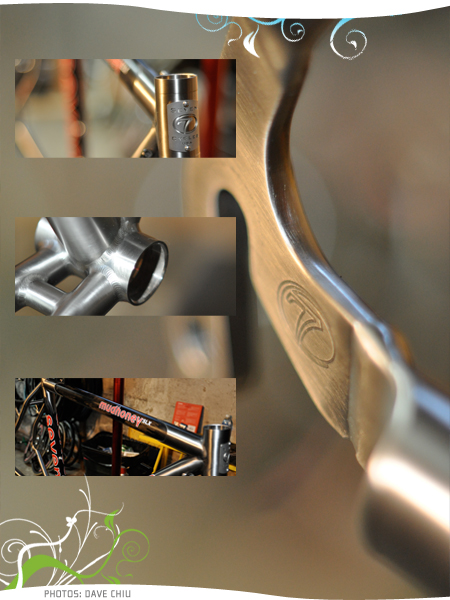 My Mudhoney SLX seems to have a life of its own. It was profiled in Embrocation Cycling Journal Volume 3, by Jeremy Dunn on his blog and recently on the CyclocrossWorld.com homepage. She makes a nice covergirl, it's true.
Also, a big thanks to Dave Chiu for the great pictures of my bikes. Dave spent a few afternoons with Matt in the MMRacing Service Course snapping photos as Matt built the bikes up for this season. Check out more of Dave's great photography at his blog here.


The Happy Valley. This is how many have referred to area surrounding Northampton and its five famous colleges... UMASS, Hampshire, Smith, Mount Holyoke and Amherst. Matt pulled together a mix partially inspired by a handful of bands that call Northampton home. I hope you enjoy this week's MMracing MMix.
Thank you to our sponsors for their continued support: Bob's Red Mill, Seven Cycles, SRAM, Mavic, Pedro's, TRP, Fizik, Mad Alchemy, Bonfire Health, Challenge Tires, Thule, New England Athletic, Ryders Eyewear, CatEye, ClifBar and Lazer Helmets.

If you just can't get enough MM Racing, you can follow us on Twitter Matt: @mm_racing, Mo: @meaux_marie or find the MM Racing fan page on Facebook.

Thanks for reading!