Just 10 days after Nationals, we re-packed the bikes and bags and headed to Belgium for the biggest week of cross races in the World. I had made arrangements to compete in one World Cup and three UCI races and was excited to redeem myself after Nationals. It would be a busy week of racing but it also meant that we would have the chance to take a few recovery days and explore the cities around us.
We were happy to have very few problems with our travel to Brussels despite several airports in Europe being closed just days before due to record snowfalls (6-8 inches) that closed runways, caused de-icer shortages and massive baggage problems. We had a slight delay due to traffic leaving Newark and did not suspect any problems in Brussels until I overheard a flight attendant say "Brussels was closed this morning due to more snow, but the pilots didn't seem concerned." It appeared that Brussels got another 6-8 inches of snow that night that left one runway open for arrivals but no departures going out. We arrived on time and then sat on the runway because we did not have a gate available. Twenty minutes later we were sent to another gate and then had to wait another 30 minutes because the jet-way was stuck in ice and needed to be shoveled out. Coming from Boston where they move snow out of Logan in record time, we just kind of felt bad for these guys.
Baggage Claim. It was apparent that the airport closings from the week before had led to a huge mess, including Brussels being filled with luggage. We waited for about an hour while carousels were emptied and luggage was put into row after row after row. We felt very lucky when all of our luggage arrived trouble free.
After packing the rental car, Matt proceeded to slam the hatch back into his forehead causing a minor bloody mess but my last minute band-aid packing had him on the mend quickly. We hit the road en route to our rented cottage in Arendonk hoping that the road conditions were at least manageable.
We arrived about ninety minutes later to our little cottage in Arendonk and were welcomed back by Karlien and Peter. We had no trouble with the drive despite concerns that the roads were in bad shape from the snow. Karlien had put a small Christmas tree in the cottage for us making it feel very festive with the snow outside and the wood stove inside. That night we spent Christmas Eve with the Gijsen family, played with the kids and learned about Saint Nicolas Day (Dec 6th) being their big holiday where the kids get gifts (historically left in their shoes) and Dec 25th Christmas keeping a more religious tradition.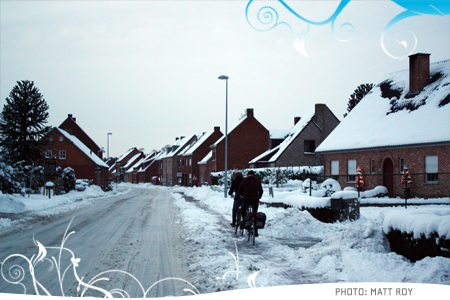 On Christmas Day, we pre-rode the Zolder World Cup Course and met up with several of the other American racers. The snow was deep on the course and it was very technical because of the conditions. I was very much looking forward to some redemption after Nationals and excited to race on some European courses.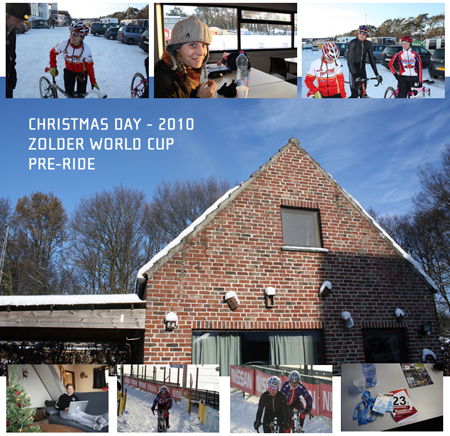 The start of the race was a bit hectic as I was close to the back and the first turn was so snowy that most riders were off their bikes and running. I found myself able to move up close to the top ten and tried to stay relaxed to avoid mistakes.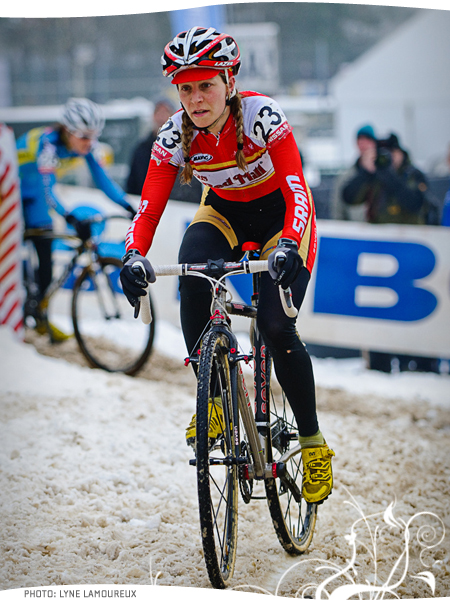 The course had several steep ups and downs and I chose to run two of the downhill sections to avoid crashing like I had seen several other riders do in the warm up.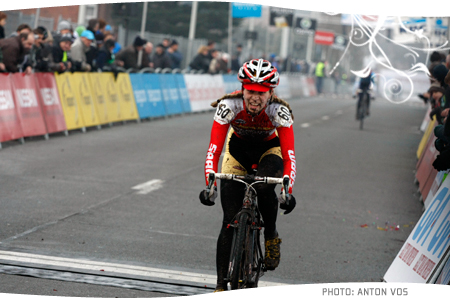 I was sitting in 16th place for much of the race. My legs felt good and I felt comfortable on the slippery course, letting my bike lead the way. However, each time I had to run up or down a hill, the bottoms of my shoes got so jammed with snow and ice that they would not go back into the pedals despite trying to kick all the snow out. I began losing time as I struggled with my shoes and pedals and finished 20th. It was still my best World Cup finish but I was hoping for top 15.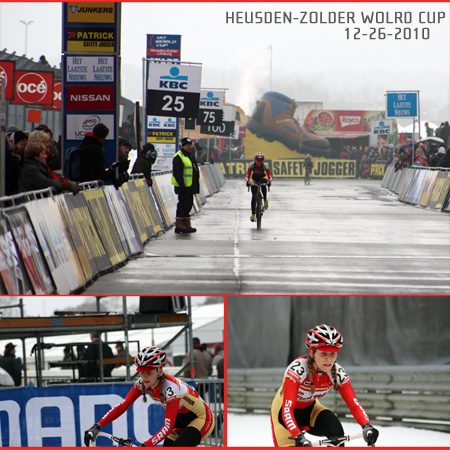 Race coverage from Cyclingnews, Velonews and Cyclocross Magazine can be found here, here and here. Lyne from Podium Insight was on hand and provided words and pictures here and here.
We also found a pretty nice video compilation below. I make a few cameos in it, so check it out!
5ème Manche de CDM cyclo cross - Zolder from Web Petitesreines on Vimeo.
The following day we headed to the BMC Service Course in Ghent. After an all-to-brief tour of the city of Ghent, we headed to the home base for the BMC team. Matt had contacted some of the mechanics that work for the team and asked to borrow some equipment so that we would not have to fly with more baggage. Ian and Jürgen kindly offered whatever we needed as well as a tour of the warehouse when we arrived. We left with just the right equipment for the next race on Wednesday that was sure to be a muddy one! We finished off our "rest day" as spectators at the famous nighttime cyclocross race in Diegem. There were 15,000 spectators that came out on a chilly Monday night to watch 'cross under the lights. It was a first to come to a race as a spectator, but with frites in hand, I didn't feel out of place.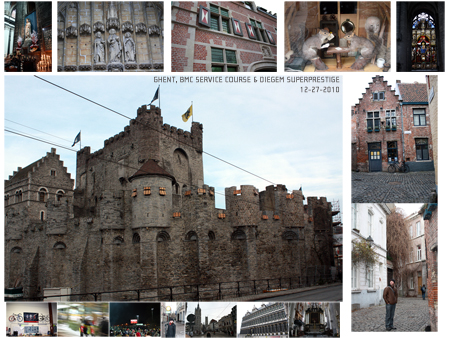 We were surprised to see that 10,000 people showed up to a cross race in a small town on a Wednesday the week between Christmas and New Years, but that's typical Belgium! There was a steady light rain that mixed with the remaining snow on the ground to make a muddy mess of the course. The race was fast and flat with a few short bumps and one set of bmx-style whoops. I felt strong on the technical section and dug deep on the long flat pavement to try to work my way up to the top ten. In the end, I held onto 13th hoping to crack the top ten in the next few races over the weekend.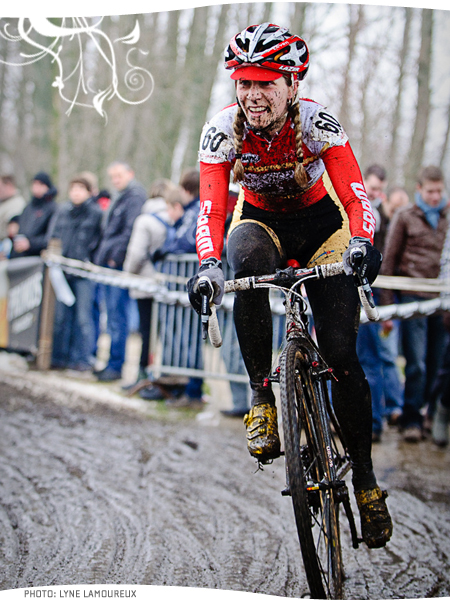 Race coverage from Podium Insight, can be found here and here. More pictures and coverage from Cyclocross Magazine can be found here. Cyclingnews and Velonews coverage can be found here and here.
That evening after the race we headed into Antwerp to check out the festive lights, holiday markets, do some sightseeing and eat at Lombardia veg/vegan restaurant. They have a famous hot ginger drink that I could have three times a day if I could! The city was filled with decorations and lights, an ice skating rink and food vendors. We strolled the city taking photos and later stopped for some frites and gluhwein (hot spiced red wine). We joked that we felt a little like we were in a movie where the couple 'jets off to Europe' for the holidays. It was a glamorous welcome rest between the races.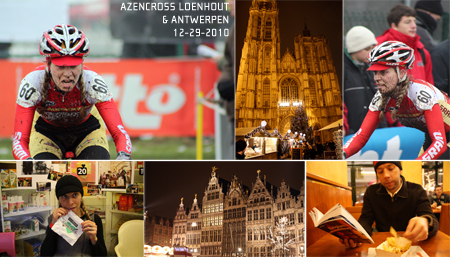 On New Year's Eve, I got in my training ride and we packed up the car for the drive to the next race in Luxembourg. We made a quick stop at the local car wash to give the bikes and wheels a proper scrubbing. The car wash had many options to choose from but our Dutch is really up to par with car-wash talk… we settled on Zeep (soap) and Verwateren (water).
Our drive to Luxembourg took us through the Ardennes forest and through the towns of Liège and Bastogne, home to the oldest road race in Europe, the Liège -Bastogne- Liège, first run in 1892. In Pétange, Luxembourg, along the French border, the race promoter had provided us with a hotel for the evening. We arrived early and headed north to Luxembourg City to walk around and find some New Year's Eve dinner. The city was mostly quiet with restaurants setting up for meat-heavy prix fixe menus and late night revelers. There was one large party tent set up in the main square blasting pop music. We wandered around checking out the old walled sections of the city, taking photos and dinner. We headed back to the hotel for some rest which turned into watching fireworks at midnight from our window and watching a really bad werewolf movie dubbed in German.
The race course was set up right through another small town and into the surrounding woods. It was hilly and very much like a mountain bike course with singletrack style climbs and slippery, muddy down hills.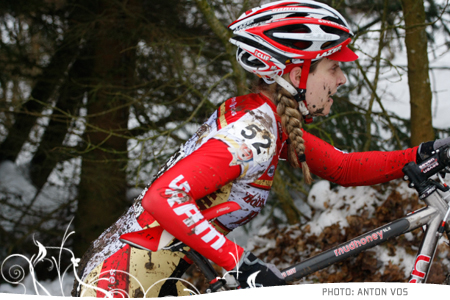 I hadn't done that much climbing in a race since the summer mountain bike races, but I gave it my best shot and kept trying to keep my effort steady rather than burn too many matches on the climbs. I spent most of the day on my own and finished ninth with my first European race top ten!
Coverage from Cyclingnews and Cyclocross Magazine can be found here and here.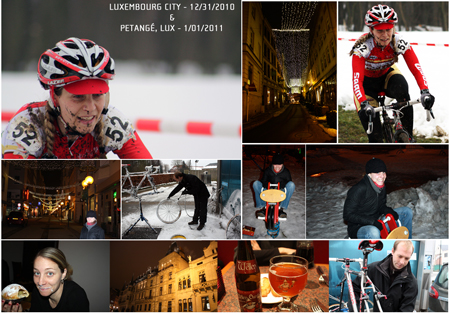 We headed back to Belgium that night to prepare for the final race of the European campaign. The race was going to be on par with a World Cup course with a very stong field of competitors. I was hoping that my last race of the trip would be a strong one.

After pre-riding the course, I could tell that we would all be off the bikes and running within the first two minutes of the race which was good news for me as I like running in the mud. The rest of the course was filled with twists and turns through the woods, some small climbs and several sections of getting on and off the bike in the mud. I had a decent start position and was surprised to find myself running in the top five at the top of the muddy hill.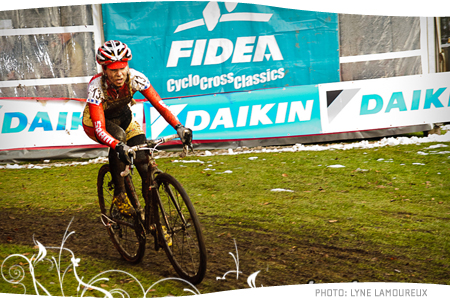 After I hopped on my bike, the fight for the top ten ensued as each rider tried to use their strengths and move past one another. A few riders passed me but I was able to pass a few more heading into the last lap to grab another 9th place and a second top ten for the week of racing!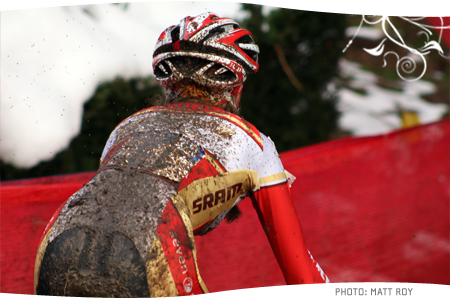 You can find more of Lyne's great coverage on Podium Insight here and here. Cyclingnews and Cyclocross Magazine coverage can be found here and here.
That night we headed to the home of our friends Christine and Jonas along with our friend Lyne and enjoyed a home cooked meal and some local specialty aperitifs. It was a perfect way to wrap up the races and enjoy some socializing while watching the race coverage on TV too.
The following day we packed up all of our equipment and then Karlien and I spent some quality time scrubbing the mud out of my racing gear before putting it in her washing machine while Matt and Gijs went off to pick up some specialty beers to bring home. Later that day we headed to Turnhout, a town close to Arendonk. We explored the busy shopping district on the first day of the annual winter sales and had an amazing lunch at a tea house. That night we joined friends Luc, Heidi and Jasmien for another fantastic homemade dinner and relaxing by their fireplace.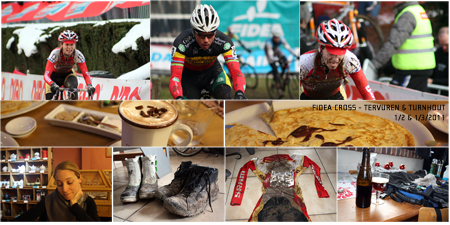 On our final day in Belgium, we headed back to Ghent to return the borrowed equipment to the BMC Service Course. We took one last trip through Antwerp for some coffee at Caffénation and another lunch and ginger tea at Lombardia before heading home the following day.

Upon returning home, we awaited news of the US World's Team selection. We settled back into our work schedules and a well-earned rest week for me. Late Friday afternoon I read on Velonews that the team had been selected and that I was not selected as a discretionary pick. Having missed the selection, I was even more thrilled to have had the opportunity to do four races in Europe the week before. And now it's time to say a HUGE thank you to all of my sponsors, fans, friends and family for your support this past season. I could not have done it without you!
But we're not quite done yet!
Please join us for the annual MM Racing End of Cyclocross Season Party on Saturday January 29th at the Ride Studio Café in Lexington from 6:30-10:00 PM for snacks, beer and maybe, just maybe some cupcakes! Bring your friends and let's celebrate our succesful season together. So we know how many cupcakes to make, please RSVP.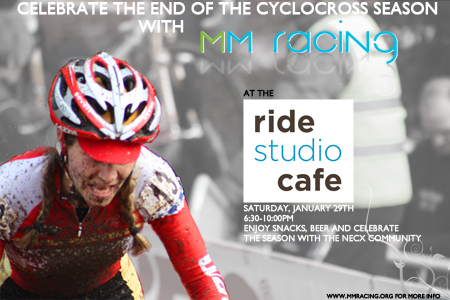 We have lots of new and exciting things to share with you in our next newsletter, including awesome custom computers from Cateye, more sponsor spotlights, a great new sponsor and much more. So, stay tuned!
Thank you to our sponsors for their continued support: Bob's Red Mill, Seven Cycles, SRAM, Mavic, Pedro's, TRP, Fizik, Mad Alchemy, Bonfire Health, Challenge Tires, Thule, New England Athletic, Ryders Eyewear, CatEye, ClifBar and Lazer Helmets.

If you just can't get enough MM Racing, you can follow us on Twitter Matt: @mm_racing, Mo: @meaux_marie or find the MM Racing fan page on Facebook.

Thanks for reading!