Happy Thanksgiving, everyone! We took last weekend off of racing and we still have to catch you up on our trip to Fort Collins two weeks ago. Tomorrow we are off to Sterling, MA for back-to-back days of racing… possibly our last races in New England for 2010! Then, it's off to Portland, OR for the last two races on the USGP calendar and then the National Championships in Bend, OR. We are also in the midst of planning our European campaign to finish out the 2010-2011 season. Wow, the season has gone by quickly!
Following the lightning fast races in Northampton, MA, we returned to Colorado two weeks after the Boulder Cup for rounds 5 & 6 of USGP in Fort Collins. The venue at Fort Collins was new for 2010 and claimed to be one of the toughest races of the season. After arriving midday on Friday, we headed to Steve's place where the cats welcomed us back after a few weeks away. I went for a bike ride while Matt assembled my second bike and explored the neighborhood on foot.
Later that evening, Steve arrived home and we all headed to Pearl Street to explore the pedestrian mall and then to dinner at Leaf Vegetarian Restaurant before heading to sleep to rest up for the next days' race.

The weather was cold that night and I awoke to a light coating of snow. Matt headed to the course early that morning to help the guys at the Cannondale truck. He had a chance to preview the course and sent me a brief text: "gonna be muddy!" Nick Legan from Velonews came by the truck to chat with Matt. He grabbed one of my bikes and got some pictures for an article he posted later that day on Velonews. Check it out in the Bike Tech column at Velonews here. Thanks, Nick! Our friends at Seven Cycles have also added links to the recent articles on my bikes on their home page.
The weather warmed up steadily throughout the day creating some slick and boggy sections of mud on the hilly, challenging course. I was looking forward to racing and hoped that I could find my technical skills to ride the slick corners well.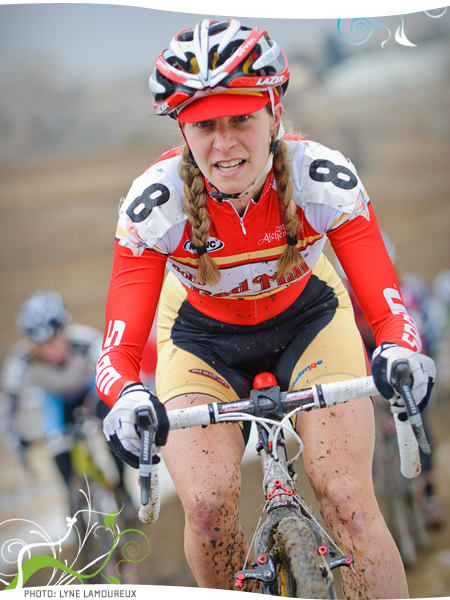 I had a strong start and stayed clear of a big crash on the first turn onto the dirt and held on to top 5 for a while but seemed to struggle as the mud built up on my tires. I swapped bikes a few times throughout the five-lap race. Each time I swapped bikes for clean wheels I did my best to punch the pace, still learning the ins and outs of how my tires would perform in the mud. I ended up holding on to 9th place, hoping for a stronger race the following day.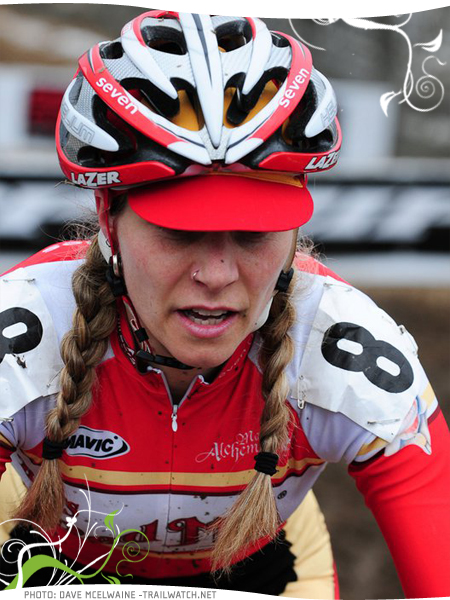 Race reports and photos from Cyclingnews and Cyclocross Magazine here and here. Lyne Lamoureux from Podium Insight was also on hand providing excellent coverage as usual. Check out coverage of Day 1 and more great photos here. Colt from Cyclingdirt was also on hand providing live video coverage. Check out the highlights here and video of the stack-up at the start here.

As I warmed up on the course in the early part of the day, it was even slicker than the day before, but by the time the afternoon races began the course was tacky and fast. I gave myself plenty of time to pre-ride the course, making some changes to my tires and pressure. I set off for another tough course with a longer climb in the middle and one run up.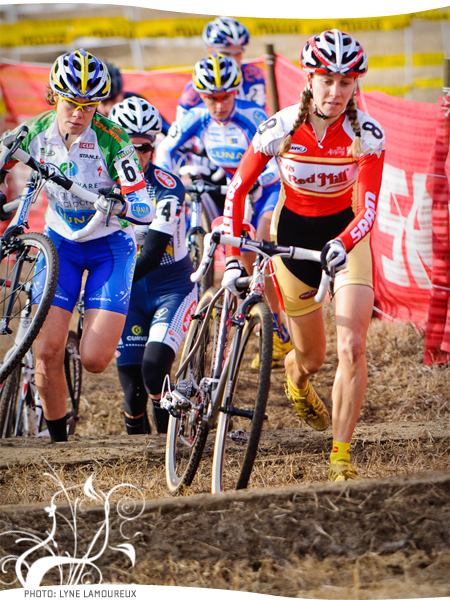 After yesterday's carnage at the start, I wanted to be aggressive right of the line. I managed the hole-shot at the start into the dirt and held the lead through the run up before getting to the climb. That's where I was beginning to feel the slightest twinge of the altitude sneaking up on me. I was breathing harder than my effort required. I needed to reel myself in a bit after I was passed by several riders that I knew I would need to chase back. Each lap I began to gain a better feel for the course and slowly picked off a few riders and held off a few more behind me to take 7th for the day.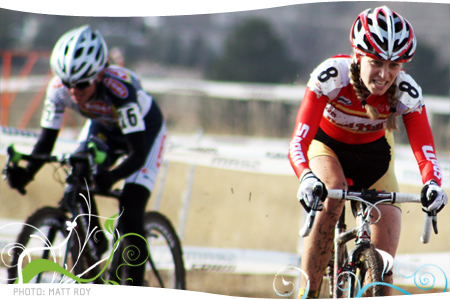 Race reports and photos from Cyclingnews as well as Cyclocross Magazine can be found here and here. The Podium Insight race report can be found here and another great photo gallery here. For video highlights of the race, check out CyclingDirt here.
Lastly, Colt caught me for a quick interview after the finish. Watch it below.


This week's recipe is actually a few of my holiday favorites pulled together to make a delicious vegan feast. If you can eat all of this and still feel like you "missed out" on something because you didn't have turkey, it's hopeless. It's the veggies and sides that make the meal and taste the best so dig in and have a Happy Thanksgiving!

Mashed Potaotes and Chickpea Gravy

Roasted Brussels Sprouts and Parsnips

Roasted Delicata Squash with seasoned Pearl Barley

Crustless Apple Pie

Matt and I have been fortunate to have a number of great sponsors supporting MMRacing. We have the best equipment sponsors in the world, and Bob's Red Mill keeps up filled to the brim with whole grain goodness, but how do we manage all of the bumps, bruises, falls, crashes and scrapes week in and week out? Following an accident in 1998 where Matt broke some processes of his 5th lumbar vertebrae he sought out chiropractic care as an alternative to surgery. When I felt like I need a walker for my 24th birthday, I started to join Matt during his visits to Franson Family Chiropractic in Beverly, MA.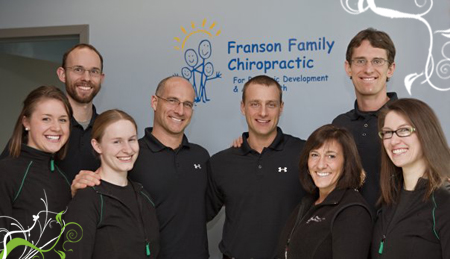 For more than 10 years now, I have been a patient of Stephen Franson, visiting him every other week for minor adjustments that keep me healthy and limber. In addition to massage therapy (thanks, Samantha), and healthy eating, chiropractic care is an important part of my total health. We are honored to have the support of the great people at Franson Family Chiropractic.
In addition to chiropractic care, workshops on healthy living and Hawaiian themed summer parties, the folks at Franson have pioneered a free online program with the goal of educating and empowering people to live healthy lifestyles and to become Well People. Check it out at BonfireHealth.com.




This weeks' MMRacing MMix tape was compiled by Matt en route to Colorado prior to the USGP races. This week it's all about the beats… songs meant to make you pedal and hardly have to think about it. When Matt set the Maine West to East UltraCycling record this summer, he had the first two songs stuck in his head on a virtual repeat. If you haven't seen Dancer in the Dark yet, a musical (though I hesitate to say that word) starring Bjork, you must add it to the queue. Track 3 on the MMix is from the OST. Love the fourth song on the mix, vampires + beats = boom. And of course, the last track… anything sampling Michael Jackson has a place in my heart.
Mama-say mama-sah ma-ma-coo-sah!
Thank you to our sponsors for their continued support: Bob's Red Mill, Seven Cycles, SRAM, Mavic, Pedro's, TRP, Fizik, Mad Alchemy, Bonfire Health, Challenge Tires, Thule, New England Athletic, Ryders Eyewear, CatEye, ClifBar and Lazer Helmets.

If you just can't get enough MM Racing, you can follow us on Twitter Matt: @mm_racing, Mo: @meaux_marie or find the MM Racing fan page on Facebook.

Thanks for reading!