After the first day of racing at Gloucester I was already thinking about all of the things I could put into a race report. It wasn't pleasant. So I thought it best to wait it out until after Sunday's race before giving the weekend report.





I've made several jokes in the past about the races at Gloucester having some sort of bad mojo for me but I thought that I had won the battle when I made it on the podium last year. Well, Gloucester wasn't done with me yet. After a good start on a newly designed super fun and technical course, I was working hard to stay in the top five and feeling pretty strong. With two laps to go I was in 4th place hoping to stick with the leaders and try for a podium spot when my front tire was punctured on a rock and I crashed onto a metal drainage grate. I hopped up quickly but had to ride really, really slowly to the pits in order to avoid skidding the flat front tire. After swapping bikes there were only 1-½ laps to go in the race and I was digging deep to catch all of the riders that had passed me. I was a bit too frantic in my attempt to chase back my position and skidded out in a corner, crashed, dropped my chain, had to take some time to get it back on and then chase back through a few riders finishing 11th, super annoyed with the day and just wanting it to go away. Sorry to all the nice friends and family that came out that day, I was pretty bummed out and not very social after the race.
Cyclocross Magazine and Cyclingnews coverage can be found here and here.


I've tried to love Gloucester. I've kinda hated Gloucester and I've tried to dismiss all the bad luck as early season glitches. I decided to approach Sunday with as much indifference as possible, maybe that would work. The course was changed to the "classic" format and it was faster, less technical and windy. I had another good start and stuck with the lead group of seven or so riders. It seemed that we were all taking turns trying to get ahead of each other without any luck until one rider crashed and the leader got away. The chase group began to pull apart a little and I kept trying to get a gap on the other riders at a long dirt run-up without much luck. No one really wanted to be out in the headwind in the lead so the race came down to the final lap and I ended up 5th. It was a much better race than the day before but I was feeling quite sore in my right hip from the fall the day before and perhaps a little flat in the legs. I'm still not convinced that Gloucester and I are done with one another yet.
Cyclocross Magazine and Cyclingnews coverage can be found here and here. Check out a post-race interview with Colt from Cyclindirt.org here.




This weeks' recipe is my most successful attempt at vegan chocolate chip cookies yet. I've tried a number of recipes using tofu as an egg substitute but Bob's Red Mill's Egg Replacer was the answer I'd been looking for. Check it out on my foodie blog: www.thevegandelicious.wordpress.com

Stu Thorne and Cyclocross World have become synonymous with cyclocross racing in the U.S. The knowledge and technical know-how the Stu brings to the sport are downright encyclopedic. Fortunately for us, we've had long-standing support for Cyclocross World and this year is no different.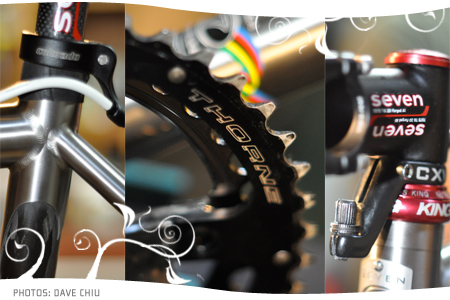 There are a few Thorne-branded products that we'd like to point out on Mo's bikes that you can find at CyclocrossWorld.com. Thorne Koksijde chainrings: There are not a lot of options out there for compact 44T chainrings and up until now, the ones that were available were not very cyclocross-worthy. They were either too flexible, had poor ramps and pins to aid in shifting or both. The Koksijde chainring takes care of that. With beefy construction and perfectly designed ramps, this chainring has become our go-to outer chainring of choice. There are two additional CyclocrossWorld products on the bike, subtle ones. But these small parts make all the difference. For a small bike like Mo's, it's tough to get a cable stop welded onto the frame and still have enough room to route a cantilever brake cable hanger. The Thorne seatcollar has a built-in cable stop the drops only a few centimeters from the collar. This allows for flexibility in setting up cantilever brakes for power and maximum tire clearance. On the front end of the bike is a CXW cable-hanger. The cablehanger has a longer drop than traditional cable hangers allowing for a smoother front brake cable routing. The cablehanger is reinforced to prevent any flex during braking. Be sure to check out the CyclocrossWorld store for more great products. Thanks to Stu and the folks at Cyclocross World for their support!





Just about every weekend, Matt makes new mix on my iPod for my warm up before the races. I'm old enough to be able to reminisce about "mix tapes" and how cool it was to have someone make you one. Now, there's no hand decorated cover but there's usually a clever title and some musical surprises. Matt's music database is enormous and he's got his finger on the pulse of all of the latest Indie, alternative, rock and techno/trance. He is also always willing to humor me with my love of cheesy pop. As a kid that grew up on MoTown music and then Madonna, Cyndi Lauper, Michael Jackson and 80's New Wave, my weekly mix tapes have a little something for everyone. The mixes will be available on iTunes by following the link below.


We're just getting back from three days of tough racing in a heat wave in Ohio and we are looking forward to a weekend off of racing. Look for the next MMRacing newsletter shortly.

If you just can't get enough MM Racing, you can follow us on Twitter Matt: @mm_racing, Mo: @meaux_marie or find the MM Racing fan page on Facebook.

Thanks for reading!