This past weekend marked the start of the second half of the cross season before Nationals. It also marks the time when one's fitness begins to come into true form and everything should be moving in a general upward trend building up to Nationals. Or so one would hope.

This season has been full of several new changes for me including a new coach, new work hours, a new training plan, more racing travel and new sponsorship. All of these new things have led me to put more new pressure on myself to perform at a higher level along with the pressure to remember to take it all in stride. My life is pretty perfect considering that I have a paying job that I love where I get to meet amazing people, a supportive spouse and family, health and wellness and I get to run all around the world racing my bike. So when things don't actually go perfectly it's easy to feel guilty about complaining but it's also easy to get frustrated.
Matt and I are used to living life at an energetic pace; Matt's own training, meticulous bike mechanic work and logistics coordination all while working towards his PhD, coupled with my training, racing, work and trying to rest and recover properly. We don't always see the over-doing it or the pressures to keep our team running seamlessly until it's too late and we're exhausted or frustrated or I'm or having the "worst bike race of all time," like Saturday this weekend.

On Friday afternoon I flew to Louisville for rounds 3 and 4 of the USGP of Cyclocross Derby City Cup race. In addition to hosting the USGP, the new venue at the Eva Bandman Park is going to be home to the Cyclocross World Championships in 2013. Since Matt was attending his annual Immunology Program Retreat on Friday and Saturday, I flew in solo. Matt would join me on Saturday night in time for preparing my bikes for the second race on Sunday.
Friday's logistics turned out to be a little too much for one person. I landed, got the bike bag and luggage, picked up the rental car. I had barely enough time to make it to the grocery store and to the racecourse before the pre-ride time ended. I rushed through the market forgetting several things and purchasing just as many things I did not need and then went straight to the course. I was able to get my built bike that traveled from the races in Ohio with Troy at the Cannondale truck and lugged my bike bag with my dismantled bike out of the car to be put together after my ride. It was clear that I should have made plans to hire some help for the day but rather said, "Oh, I'll be fine."

It was hot and dusty (again!) The new course was technical and challenging but I needed to cut my pre race opener ride short in order to build up my second bike, get the needed wheels ready and then make it to the number pick up presentation looking reasonably put together. Somehow I managed all of these things but would definitely be asking Butch at SRAM NRS to check over my bike assembly job the next day before my race!
Luckily for me, Bob's Red Mill had several of the nicest people I've ever met on hand to help me out in the pits for Saturday. Not only did I have three guys fighting over who got to carry my bike to the pit, I also had my own cheering squad and a fantastic team dinner that night. Little did I know how much I would need that camaraderie come the end of the day.
Saturday's race involved an improper warm up, a complete lack of leg power and a dismal result. I was disappointed in my lack of performance and I was upset that all my hard work was not paying off. I couldn't see any reasons as to why I would have had such a bad race. That is, until chatting with Matt on Sunday and some emails with my coach that I realized that the whole week leading up to the race was more stressful and less than ideal preparation than I had led myself to believe.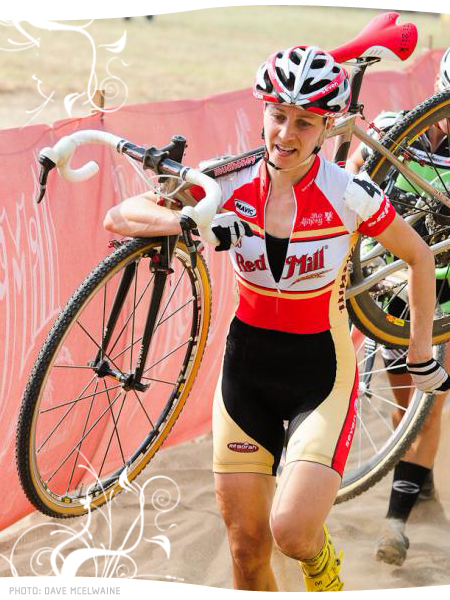 Matt's arrival on Saturday night meant a relatively stress-free preparation for Sunday's race. I had a proper warm up on Sunday and despite feeling flat, the race went a lot smoother and I finished with a stronger result. It wasn't perfect, but at least I had taken a better perspective on the day and gave it another shot.
Race reports and photos from Cyclingnews and Podium Insight can be found here and here.

After our whirlwind trip to Louisville, I came back to my office on Tuesday to find a jar of jam, some candles and a sweet note from my occasional subletter thanking me for letting her have the office that weekend. "Find Balance" was typeset neatly on the bright green card. This little gift really hit home.
After some exchanges with my coach, it became more clear that I had not prepared properly for the weekend and that moving forward, I would need to make some changes to my training, recovery and mental preparation to be ready for the races. I'm realizing that at this level, it takes an entire lifestyle to make all of that happen and I've been afraid of making big changes and have it not pay off in results, or worse, to somehow get so wrapped up in what I'm doing that I begin to lose touch with all of the other amazing things happening around me.
Here are some of the amazing things that happened last two weeks:
Kelli and Ben welcomed baby Winston
Matt and Kerry welcomed baby Makenna (#4!)
Mike and Shonda welcomed baby Logan
Brooke got 5th in her age group at Head of the Charles (60+!)
Molly wrapped up chemo round #9 and endured the loss of a friend with unshakable grace while still managing to cheer up everyone around her with her blog.


This was Arlington's last week of the farmer's market so I purchased anything that looked tasty, hugged my favorite vendors goodbye until Spring and stocked up the kitchen. Getting home from work between 8:00 - 8:30 PM means getting together a quick dinner by 9, something I think I've become an expert at! As I pulled out the parsnips and brussels sprouts to be roasted, I realized that I was too short on time for cooking most grains until I remembered the magic of polenta! Check out the recipe at thevegandelicious.wordpress.com.


Debuting this weekend, Bob's Red Mill launched its new Train with Grain program. Train with Grain is a program designed to help cyclocross riders achieve peak performance through a diet rich in whole grains. It's those slow-release carbohydrates like the ones found in whole grains that sustain me from week to week!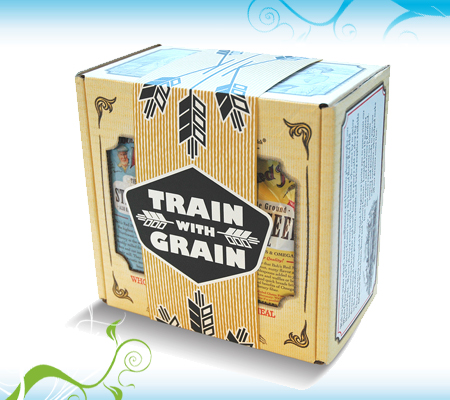 To participate in the free Train with Grain program, 'cross racers can register online at www.TrainWithGrain.com, or through the program's Facebook page. They'll have access to training tips from the cyclocross riders sponsored by Bob's Red Mill, including me! I'm working on lots of new content for TWG! The site also provides recipes and recommended eating guides for different stages of cyclocross training, racing and recovery, as well as information about upcoming cyclocross races and events.
On race day, Train with Grain participants sporting their official "TWG" armband can check in with Bob's Red Mill onsite staff who will officially track participants who have completed the race and take a photo for bragging rights. The participants who complete the most races are entered into a contest to win a Focus cyclocross bike. Photos of the participating racers will be shared on the Bob's Red Mill Facebook fan page and Train with Grain website.



This week, Matt put together a mix that alone should have catapulted me to the podium. Alas, Louisville had something else in mind for me. Any mix that starts with Radiohead and ends with Madonna is good in my book but it's the stuff in between that really makes it special. Like the others, this MMix is available on iTunes but one of the songs isn't available but it's worth tracking down. The Tomas Barfrod Remix of Bon Iver's Re: Stacks is amazing. You can find it here. (Thanks to PVB for the hook up!) Download the playlist from iTunes here.


Thank you to our sponsors for their continued support: Bob's Red Mill, Seven Cycles, SRAM, Mavic, Pedro's, TRP, Fizik, Mad Alchemy, Bonfire Health, Challenge Tires, Thule, New England Athletic, Ryders Eyewear, CatEye, ClifBar and Lazer Helmets.

If you just can't get enough MM Racing, you can follow us on Twitter Matt: @mm_racing, Mo: @meaux_marie or find the MM Racing fan page on Facebook.

Thanks for reading!