One of our favorite weeks of the year is the one between the USGP Portland and Nationals in Bend when we get to spend a week relaxing with our good friends Dan and Addie. This year we coaxed them into late breakfasts, sipping coffee, a few visits with my cousin at the Bye And Bye vegan bar, Stumptown Coffee and the famous Voodoo donuts.
One of the highlights of our week in Portland had to be our amazing visit to Bob's Red Mill for a tour from Bob himself! Matt Cox had invited us to join a few of the riders from the Louisville team sponsored by Bob's Red Mill and Joan Hanscom, one of the USGP organizers, for a grand tour of the 7.3 acre Bob's Red Mill facility led by none other than Bob Moore! We were so excited to have Dan and Addie along as honorary team members and super fans of BRM.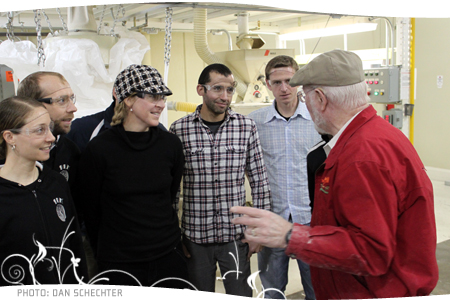 Needless to say, the tour was amazing and in spite of his 81years, Bob was hard to keep up as he weaved his way around the maze-like factory. He knew every detail of the entire factory and had an impressive eye for the small details. He then charmed us all with some spontaneous piano playing to conclude the tour. We were all smitten.

The following morning we headed back to the Bob's Red Mill store/restaurant for breakfast and bumped into Bob once again where he told us how much fun he had on the tour before signing a few cookbooks for Addie.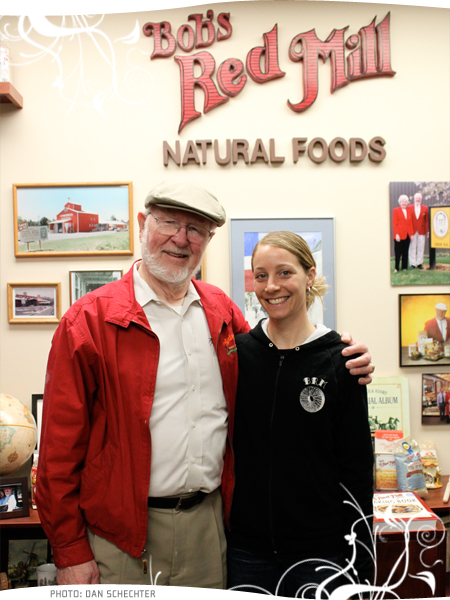 With our heads in the clouds from meeting the "Santa Claus of Grains" and having a restful week, it was time to buckle down and head to Bend to prepare for the National Championships.

We were lucky to have Dan and Addie join us at the condo in Bend. They were our de facto cheering squad, photographers and superfans. Little did we know how important their presence would be later in the day.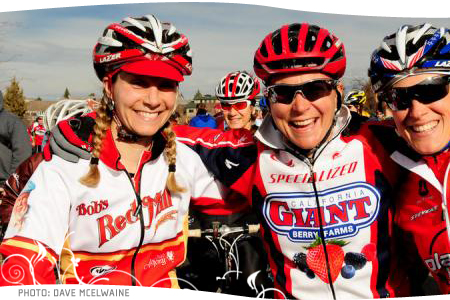 I was feeling confident on the course during my pre-rides and the conditions were finally to my liking with some mud, some slippery spots and a good amount of hard pedaling. I was warned that there had been several crashes on the first corner in the dirt in the previous races and that it was best to ride on the right side of the course. I lined up in the second row behind the National Champion and thought it would be a good wheel to follow.
Unfortunately when the race started I had to swerve to the far right as the rider in front of me missed clipping into her pedal and had to slow down. This meant I was sandwiched between dozens of riders in the first dirt section with little room to budge as 98 riders crammed themselves into a 180º turn. Before I knew it, someone had accidentally hooked my handlebars and I was thrown to the ground face first. I ducked to avoid the oncoming 90 or so riders behind me and then saw my bike had been tossed about 20 feet away. As I stood up, I sputtered dirt and did a quick assessment to make sure that I did not hurt my head, neck, collarbone, shoulder or ribs. Everyone had passed me and I was sure that my race was over, but I decided to hop on my bike and make a quick swap in the pit, which was only 100 meters away.
As I pedaled away from the pit after Matt handed me a fresh bike, I was spitting out a lot of blood and dirt and did a quick check to make sure it was not my teeth! I could feel that I had a large laceration to the inside of my bottom lip but I was pretty sure that my teeth were okay. In spite of the blood and the mud, I chose to keep going and see how the race would pan out.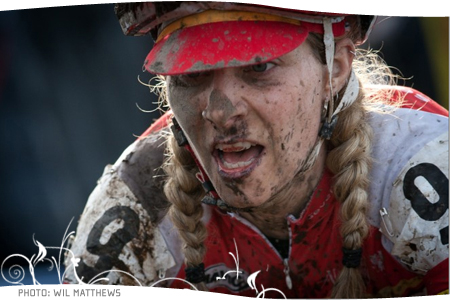 I was riding well and just kept moving past riders. I would pass groups of five at a time on the hills and muddy sections. Each time through the pit, Matt would call out my position. 45th, 36th, 28th until the last lap when I was closing in on 20th place but ended up with 21st at the finish line. Even though I was dead last coming through the pits the first time, I ended up passing 77 riders.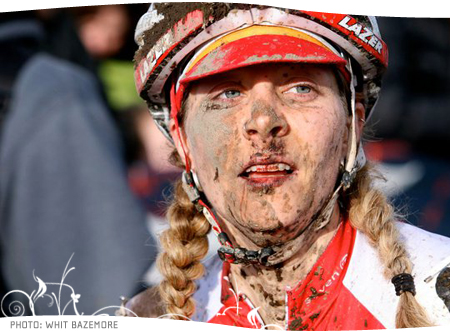 Now the hard part! Matt had to go right back to the pits to work for the Cannondale-Cyclocrossworld team while Dan and Addie took me back to the condo for a shower and to assess the damage to my mouth. It was clear that I needed stitches although the bleeding had stopped. I would rather ride 100 more laps on the course than go to a doctor or get stitches, but Dan and Addie were troopers and stuck with me. Addie even watched as they numbed, cleaned and stitched up my lip, holding my hand or making a comforting joke, all the while, updating Matt with my progress. I also lucked out with the nicest possible Physician's Aassistant and Nurse Practicioner at the Bend Memorial Clinic - they even kept us updated on the men's race results. Six stitches and a black eye later, we headed back to Portland while Matt stayed behind to clean up and pack the Cannondale truck. He met us back in Portland in record time and then we packed my bikes, wheels and our luggage for our very early flight home the next morning.
In spite of my disastrous nationals, my comeback managed to capture the attention of the media. Cyclingnews.com coverage including Dave McElwaine's photos can be found here. The Velonews coverage can be found here along with Wil Matthew's photos here. Cyclocross Magazine's coverage and photos can be found here. Also, be sure to check out the great coverage from PodiumInsight here and a photo gallery here.
Colt and the CyclingDirt crew were also on hand to provide video coverage of the race.
Mark Colton put together this video compilation showing my crash at around the 15-second mark.
Cyclocross National Championships 2010 Women from mark colton on Vimeo.
After I got stitched up, Colt caught up with me for this interview.

Just 24-hours later and on the mend, I was back in the office trying to pack in my clients before heading off to Belgium for one more set of races and a chance to have a better end to the season. We had decided to book a trip to Belgium during Christmas and New Years, which coincides with one of the biggest weeks of cyclocross racing in Europe. I would have the opportunity to race a World Cup and three additional UCI races possibly improving my chances to qualify for the US World Championships team and/or to end the season on a strong note.
To prepare for my European campaign and continue my training, I raced the inaugural New England Regional Championships winning both the 35+ Masters event and the Elite event. The courses were fast and mostly flat with very frozen bumpy ground. I needed to keep the pace high because the other local women weren't messing around! It was perfect preparation for our next few races in Europe and it was nice to come back from my tough-luck Nationals with back-to-back wins.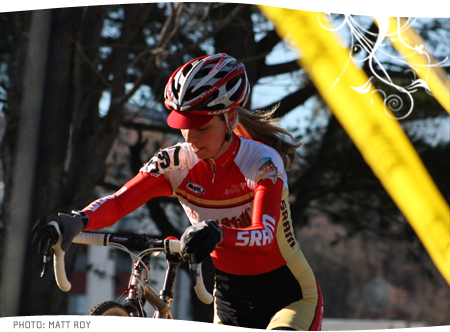 Coverage of the race can be found on Cyclocross Magazine here.


Looking for quick and tasty snack for all of your holiday parties? Here's one of my favorites. Aioli is a sauce made of garlic and olive oil. This recipe adds white beans or chickpeas for a hearty protein rich dip or spread that is perfect for holiday parties or a healthy snack. I've also turned this into a lazy dinner several times by adding some sliced tomato onto the bread and fresh raw veggies or crispy tofu on the side for dipping. This will be a perfect appetizer for your New Years Eve party!
Here's a link to the recipe.

Needless to say, our sponsor spotlight this time was especially applicable at the National Championships. Our friends at Lazer Helmets are a new sponsor for the MMRacing team this season and we've already put the Lazer Genesis helmet through the ringer.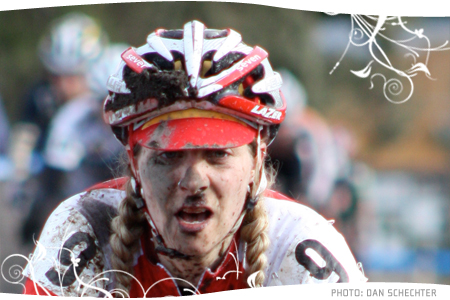 Despite my best efforts, the lightweight Genesis helmet stayed put thanks to the RollSys rentention system and the Rigidity Brace System. Not even a face plant could budge this helmet. Thanks, Chris and everyone at Lazer Sports!


Matt and I are big fans of all of the Wes Anderson movies. One of the things that makes them so great are the soundtracks that accompany them. For the National Championships, Matt put together a mix of some of our favorite tunes from Rushmore, The Royal Tenenbaums, The Life Aquatic and the Darjeeling Limited. Because we're sending this from Belgium we can't send you a link to the iTunes iMix. We'll post on the MMRacing website as soon as we can.
The mix title?
Max Fischer - "Nice nurse's uniform guy."
Dr. Peter Flynn - "They're O.R. scrubs."
Max Fisher - "O.R. they?"
And now you know.
Making Time - Creation
Life On Mars? - David Bowie
Search And Destroy - The Stooges
Police & Thieves - The Clash
Ping Island/Lightning Strike Rescue Op - Mark Mothersbaugh
Powerman - The Kinks
Ooh La La - The Faces
Here Comes My Baby - Cat Stevens
Judy Is A Punk - The Ramones
Queen Bitch - David Bowie
Now we are seven days into our Belgian trip with two of the four races under my belt! Stay tuned for the next update on our European adventure.
Thank you to our sponsors for their continued support: Bob's Red Mill, Seven Cycles, SRAM, Mavic, Pedro's, TRP, Fizik, Mad Alchemy, Bonfire Health, Challenge Tires, Thule, New England Athletic, Ryders Eyewear, CatEye, ClifBar and Lazer Helmets.

If you just can't get enough MM Racing, you can follow us on Twitter Matt: @mm_racing, Mo: @meaux_marie or find the MM Racing fan page on Facebook.

Thanks for reading!