Hi everyone! It's hard to believe the Cyclocross Season is almost over! This Sunday I will be lining up against the best in the nation to compete in the US Cyclocross National Championships in Bend, OR. There will be live coverage provided by our friends at Cyclingdirt. You can watch the coverage here. The race starts at 12:30 PST. But first, let me recap the last two weekends of racing leading up to Nationals.
Thanksgiving morning started with a cold Waffle Cross ride with about 40 other Boston area cyclists through the woods and roads around Wellesley, MA. After the ride, the group gathered for fresh waffles made with Bob's Red Mill 10-Grain Waffle Mix. Huge thanks to Bob's Red Mill for donating product to the event! Matt and I jetted off to his lab for some work before picking up our little Russian pal Natasha and driving to Maine for Thanksgiving dinner at my sister's house. Although Matt had to return to the lab that night and spend the whole next day working, I got Friday off to prepare for the weekend racing locally at the Baystate Cross race.

The weather at Sterling is always cold and very windy and Saturday was no exception. The course was mostly flat with a few minor obstacles leading to road race-like tactics as the race went on. I moved to the front pulling the group in the headwind and burnt one too many matches and missed the move to keep on the wheels of the top three leaders. I spent the remainder of the day dangling 5 to 20 seconds behind them with another racer on my wheel. Tactics meant she would not help me catch the leaders because she has a teammate in the group, but she managed to sprint me at the line beating me by a hair.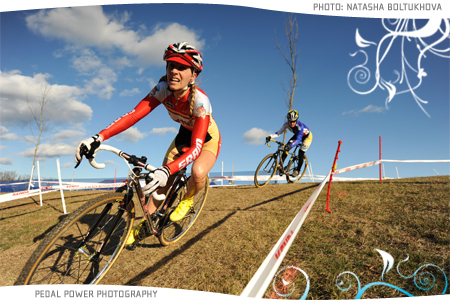 Race reports and photos from Cyclingnews and Cyclocross Magazine here and here.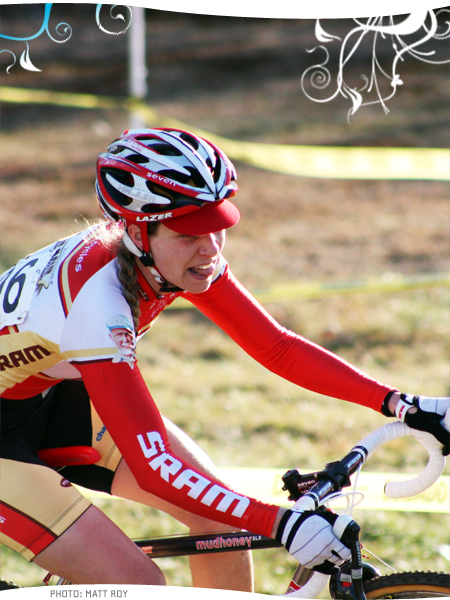 The wind was calmer on Sunday and the course had been changed to include two small sets of stairs, a hilly climb in the woods and more turns. A group of six of us broke free and spent the majority of the race trying to attack one another and get ahead.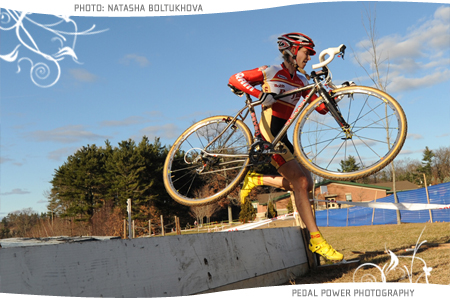 In the final lap I moved into second place and over a steep climb and got a small gap with one other rider. The riders behind us had a crash on the descent and we took off. I made a move to take the lead, attacking up the last steep hill and sprinting for the line where I was elbowed out at the line taking second.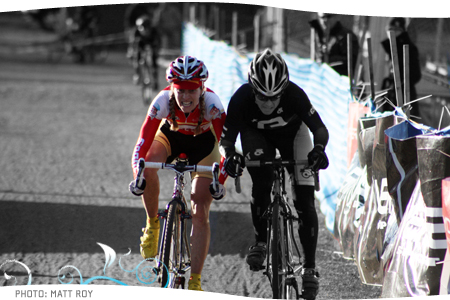 Race reports and photos from Cyclingnews as well as Cyclocross Magazine can be found here and here. Dave McElwaine was on hand for interviews after the finish. Check out his interview with me below.
After an incredibly hectic week of late nights and early morning in the lab, a full schedule of clients at my massage practice, setting up the cat sitter for our extended absence and packing bikes, Matt and I headed to Portland late Thursday afternoon. We arrived at Dan and Addie's to a warm welcome back to Portland. On Friday, Matt had booked a great massage for me with Colleen McClenahan while he headed to the race venue to work for the Cannondale Cyclocrossworld Team. After my massage and a leisurely food-shopping trip, I headed over to the venue to pre-ride the course.

Portland has been full of rain and mud all season long while I have been racing in completely dry and often hot conditions. I was excited for a messy weekend but as luck would have it, the sun was brightly shining in Portland and the course was quickly drying out. There would be very little mud this weekend.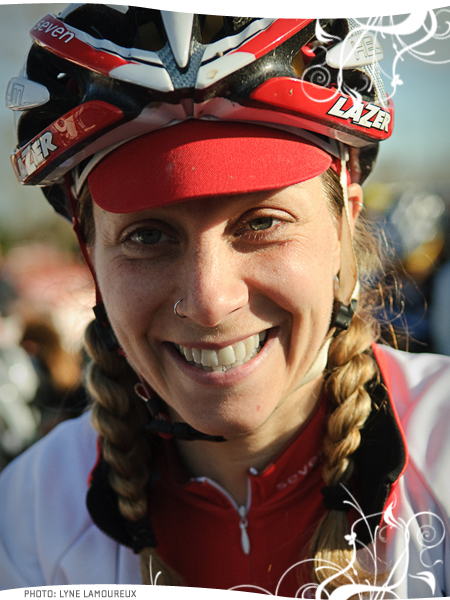 After a great start, something slowly began to happen as I ran out of steam in the second lap of the race. I was fatigued and sluggish and even felt a little shaky. Cyclists often describe this as "bonking". It's the result of improper nutrition. After the long 6-hour flight and getting settled into Portland, I had failed to hydrate enough and the morning of the race did not eat enough to sustain my energy in the cold and windy conditions. I was out of energy and out of the competition.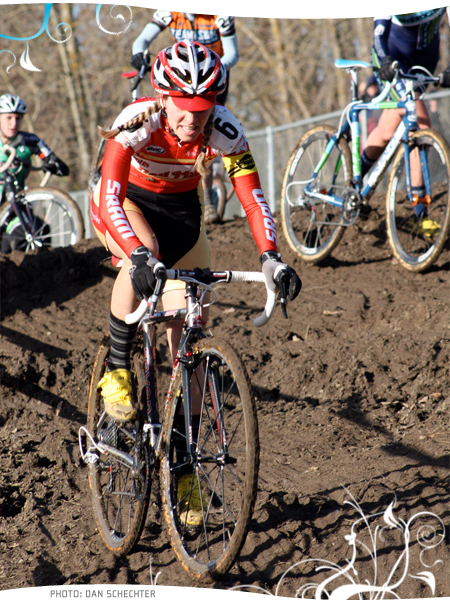 I finished the race with the worst result since I began racing 6 years ago. Oh boy, hit the restart button for tomorrow!
Race reports and photos from Cyclingnews as well as Cyclocross Magazine can be found here and here. Also, check out Lyne's photo gallery at Podium Insight here.

After a good dinner the night before and better timing for my breakfast, I was still feeling a bit "off" as I arrived at the race venue. I was determined to finish my 32 oz bottle of drink mix and to eat a second breakfast 2 hours before my race. I also took 2 electrolyte capsules and within 20 minutes felt 100% better!
I warmed up on the course, which was now much faster than the day before and completely dry. Matt added higher pressure to my Challenge Grifo tires… perfect for the fast but tacky conditions. After my warm up I had eaten and drank my fill and was ready to race.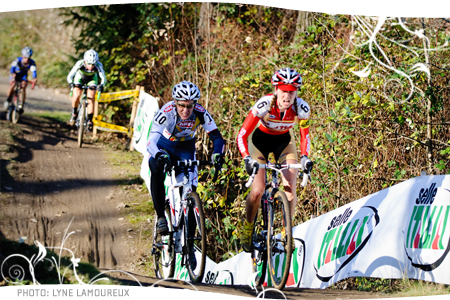 I had another good start and hung on to the leaders through the first technical sections and quickly found myself in the fight for 5th through 10th place. Each lap I passed a few riders and then was passed back again until the last lap when I was able to hold onto eighth closing in on sixth and seventh place.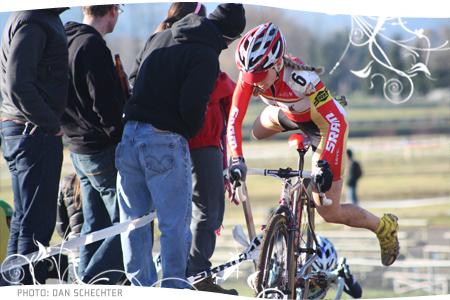 Through the last few turns it was a two-up fight for eighth and ninth, I took ninth for the day. I felt a lot better that the day before but not quite 100%. Nationals are next weekend and I'll surely be taking the next several days to recover properly with lots of fluids and nutrition.
Race reports and photos from Cyclingnews as well as Cyclocross Magazine can be found here and here. Colt from Cyclingdirt caught up with me at the finish. Watch the interview below.
Instead of doing a recipe, sponsor spotlight or an MMRacing MMix Tape this week, we have complied a holiday wish list with items from all of our sponsors for your holiday giving and getting. Happy Holidays from MM Racing!

Seven Cycles: The dream gift from Seven would of course be a new custom frame! We also recommend checking out their soft goods like the 100% Merino Wool Jersey
Pedro's: Matt doesn't leave the house with a full arsenal of Pedro's tools. If you want to get the mechanic in your family a replica of Matt's tool kit, check out the Master Tool Kit 3.0. It's the cat's meow. Already have a tool kit? Well they probably still need one of these: Pedro's Demi Torque. Most modern components come with torque ratings and this is the tool you need to make sure you're not over (or under!) tightening anything.
TRP Brakes: The Euro X Brakes from TRP are on the top of the list for your 'crosser this season.
Challenge Tires: Perfect for training and racing, the Challenge Griffo Open Tubulars ride very much like their tubulars with the ease of a clincher and are the perfect all around cyclocross tire.
Ryders Eyewear: Check out the affordable performance eyewear from Ryders this season such as the interchangeable lenses of the Vela.
Lazer Helmets: The comfort, lightweight and unique Rollsys retention system make the Lazer Helium the best choice to protect your noggin' this season.
Thule: A full custom car rack is a must have for any outdoor adventurer, but if they've already got one, we recommend the Atlantis roof box for stowing extra cargo, awkward bike trainers and making more room in the car for friends to come along!
Cyclocrossworld: Have you heard about the UCI 33mm tire rule? There is now a maximum allowed tire width for Cyclocross racing. Fortunately, the ever-savvy Stu Thorne has got just the thing for you. The Go-No Go Tire Gauge and Bottle Opener has got to be on top of your favorite 'crosser wish list. Get one before they are gone.
Cateye: Simple, reliable, wireless and packed with functions, the Strada Wireless cyclocomputer is on every one of our bikes (that's a lot of bikes, by the way). Pretty soon, we'll be unveiling the CUSTOM MMRacing computer from Cateye… it's going to be awesome!
Wow! That just seems like the tip of the iceberg when it comes to all of the great products from our sponsors. Show your support for MMRacing by supporting our great sponsors. Thanks, and Happy Holidays!


If you just can't get enough MM Racing, you can follow us on Twitter Matt: @mm_racing, Mo: @meaux_marie or find the MM Racing fan page on Facebook.

Thanks for reading!