Welcome back to the MMRacing Newsletter! It's cyclocross season, everyone! This season, I will pursue another ambitious race schedule in the US and Europe with the returning support of Bob's Red Mill, Seven Cycles, SRAM, Mavic, TRP, Challenge, Lazer, Fizik, Mad Alchemy and Thule.


A big welcome and thank you goes out to our new sponsors Castelli, Zipp, Zanconato, Vita Coco, Fitness Together Arlington and Restwise.


Please check out our updated Sponsor page and be on the lookout for our Sponsor Spotlight in our upcoming newsletters!



Before my cyclocross season really takes off, here's a recap of our summer which included one of Matt's most successful ultra endurance seasons, mainly because it often bordered on the absurd. Riding for the Ride Studio Café Endurance Team, Matt completed a full Brevet series (100K, 200K, 300K, 400K, 600K), a second 600K, a few more 200 and 300Ks and the now notorious Green Mountain Double Century. Matt and his teammates John Bayley and David Wilcox accepted and destroyed the challenge of completing a 209 mile race comprised of Vermont's "finest" dirt roads that included 26, 000 feet of climbing on 80% dirt roads.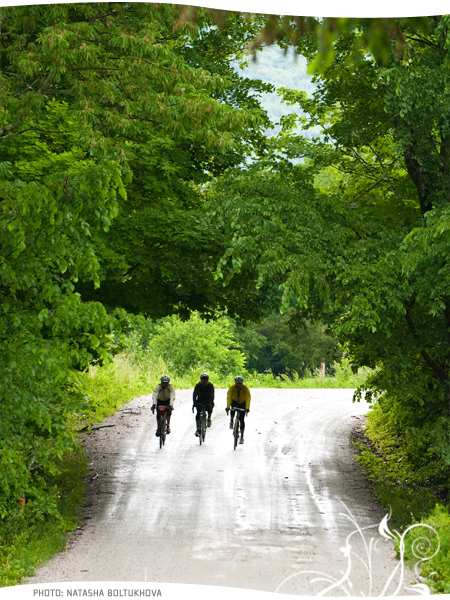 Of course it was 50 degrees and pouring rain 99% of the time. The RSC Endurance Team completed the race in 19 hours. Of the nine starters, Matt, John and David were the only finishers that day. Four others dropped out and one finished the following day. Each grueling, muddy mile was recorded by our team photographer, Natasha Boltukhova of PedalPower Photography. You can see the photos here. Also, be on the lookout for a photo-essay documenting the race in the upcoming issue of Cyclocross Magazine.

After Matt and I completed our European racing campaign in December and with a few weeks of much needed rest, I began working with a personal trainer for the first time ever. With hopes to improve my over all strength, conditioning and power output, I was honored to welcome Michael Morris of Fitness Together Arlington as my personal trainer! Mike is a Certified Personal Trainer and Corrective Exercise Specialist through the National Academy of Sports Medicine (NASM). His expertise in corrective exercise has made a huge difference in my functional strength on and off the bike. I'm looking forward to seeing all the pieces come together this season.

While Matt was piling on the miles, I spent the summer dabbling with some local mountain bike and road races with some respectable results, including a win at Hodges Village Dam earning the Massachusetts State Championships.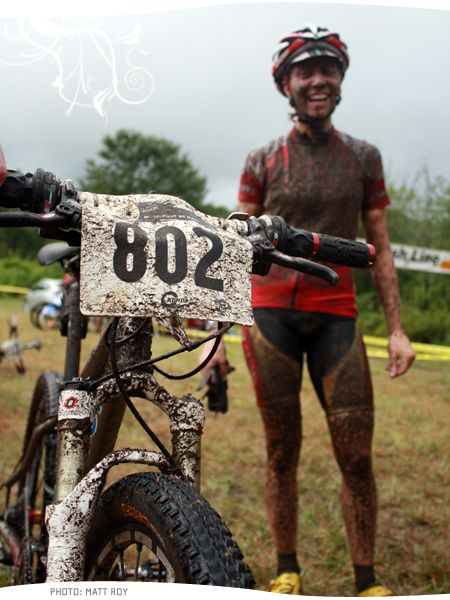 It was muddy, so I of course I was happy.

This year, we wrapped up a summer a little differently. Rather than a classic vacation, Matt was invited to work at the US Pro Cycling Challenge in Colorado for the BMC Pro Cycling Team. In addition to working for one of the best cycling teams in the world, the roster for the BMC Team included this year's Tour de France winner, Cadel Evans. Needless to say, it was a huge honor and Matt accepted the job. While Matt worked for ten days at the biggest Pro Stage Race in the US, I vacationed in Boulder with my old housemate Steve. My coach saw a great opportunity for me to put in one last big training block at altitude before the start of cross season and I had ten days of super training in the Colorado mountains, some local yoga, a soak in the creek and some relaxing with friends. Matt took some great photos during his week with BMC. You can check them out here.

On to 'cross! I competed in my first cross race of the season at the local Quad Cross event in Maynard, MA. I had just received my new speedsuit from Castelli and was able to show if off and took home the win for my season opener. We then headed to Seattle to start the UCI racing season with Starcrossed and the Rapha Focus Gran Prix in Lake Sammamish Park, Issaquah, WA and then to Madison, WI for the first weekend of the USGP series.

Heading to Seattle to start the bulk of the season also gave us an opportunity to visit Portland to visit our title sponsors at Bob's Red Mill. We also made arrangements to meet our new clothing sponsor Castelli and to take three days to stay with our good friends Dan and Addie and experience Portland.

Arriving in Seattle, I hoped for rain (of course) but it had been a dry month and continued to be sunny, warm and mostly dry for the weekend. We headed into the Fremont neighborhood to see Zac at Cascade Bicycle Studio, to check out the shops and have a snack at a local gluten free vegan bakery. We had tea and some impressive ginger cookies before heading to the hotel to prep for the upcoming races.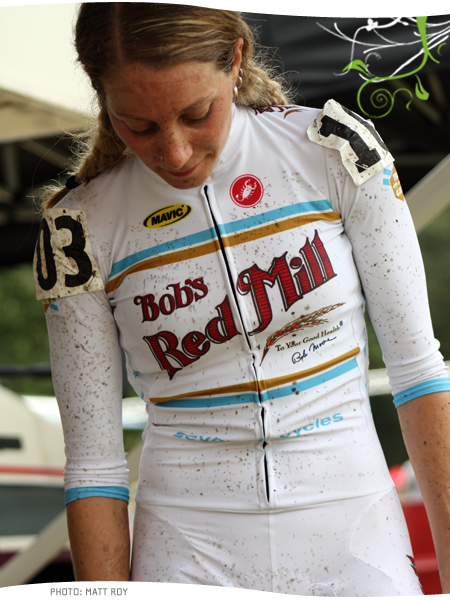 Arriving at Lake Sammamish, Matt and I joked that we expected the weather to be just like it is in the AMC show "The Killing" and were a little dismayed by the sunny skies and bone-dry grass. The racecourse for Starcrossed and the Rapha Focus Gran Prix was dry, flat and bumpy with one long sandy beach run and a whole lot of putting down the power. The course was identical for the two back-to-back days with a slight morning drizzle on the second day that made the corners the slightest bit slick.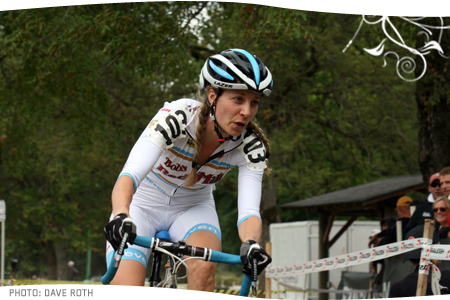 Both days the races played out in an almost identical way with a fast paced start and a mid race split that had me riding with two other racers. The sandy run was my only distinct strength on the course and I was able to push the pace in an effort to escape my competitors. However, both days came down to sprints and I took home 7th and then 6th place, respectively.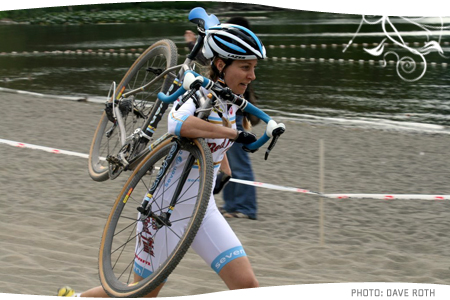 After Saturday's race we were lucky to meet up with my friend and yoga teacher Lauren and her partner Scott for a fantastic Thai meal in their cool Seattle neighborhood. After Sunday's race we made the trek to Portland where we were welcomed "home" by Dan, Addie, Lily the hound and Mae the cat. The next three days were relaxing and yet full, including a picnic, coffee shops visits, walks with the dog, training in Pier Park and Forest Park, a visit and interviews at Castelli and, my favorite, a lunch at Bob's Red Mill!

Next, we boarded a flight to Madison, WI to get ready for the first weekend of the USGP National Series.

We arrived in Madison later in the evening on Thursday and headed into town to check out a veggie restaurant called the Green Owl recommended by one of the race coordinators, Renee Callaway. We had a great meal and then settled into the hotel for the night. Arriving Thursday night meant that we could have a relaxed Friday morning, pick up groceries for the weekend at the Willy Street Co-op and then head to the race venue to pre-ride the course while Matt set up my bikes. The weather was on the cool side but there were no signs of rain so it would be a very fast race on Saturday.





Saturday's race started off with a stacked field of racers as a number of Pro mountain bikers and Europeans joined the competition. The race went off like lightning, as the new "Avid Holeshot" award was up for grabs for whoever was the fastest starter off the line. I settled right behind the leaders as they lit up the pace but eventually slipped off into the chasing position. I spent the bulk of the day racing between 9th and 12th place and settled for a 12th place in the end. I wasn't very pleased to have placed outside of the top ten and hoped my legs were opened up and ready for day two on Sunday.

There's nothing more glorious during cross season than the wake up to torrential rain. On Sunday morning it was pouring rain off and on with intermittent bright sun. But the damage had been done and the racecourse was slippery and muddy. It would prove to be a technical rider's course.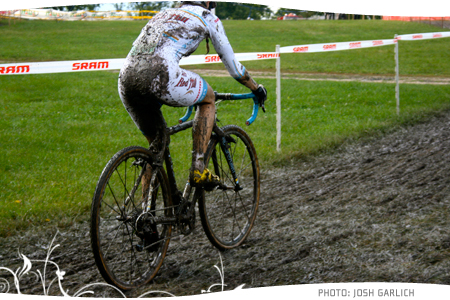 I was pretty pleased with the mucky conditions on my pre-ride lap of the course. The ground was not saturated enough for really heavy mud, but the top layer was slippery and would be difficult to navigate the corners and to keep momentum. I was fortunate enough to be able to warm up under a dry tent with the Rapha Focus team, thanks again guys! Just as I finished my warm up, the clouds separated and the sun began to poke out. Minutes later it was raining again as we took off the start line.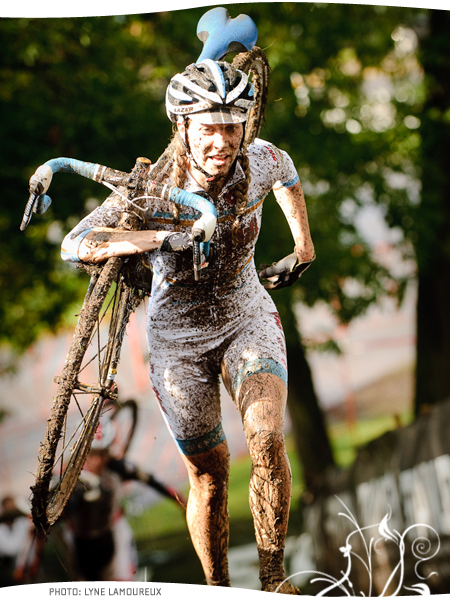 I was well positioned at the start and quickly moved into third place after the first few technical turns. The leaders were able to separate themselves and create quite a gap as I chased then, now joined by another rider. I spent the remainder of the race keeping up my momentum, focusing on handling the bike in the mud and fighting for the last podium spot. A few mistakes cost me some valuable time in the last lap and I took home fourth place for the day, pretty satisfied with my overall race. Getting the mud out of my white skin suit would be another whole adventure
.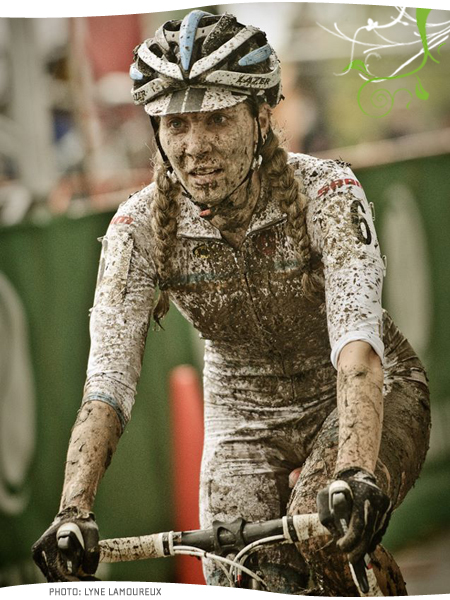 Immediately after the men's race finished, Matt and I packed up my bikes and all of our luggage and rushed to the airport to catch a flight home. We hopped on the tiniest plane I have ever been on... think a small bus with wings (thankfully it was not a prop plane) and took a 27 minute flight to Chicago O'Hare….where we were promptly delayed several hours. Rather than arriving in Boston at 12am, we arrived at 2:30am. We arrived home around 3:30am via Matt's Dad who insisted that "it was no big deal" to come at 2:30am to get us. Thanks, Chuck!
Back home, the cats gave us a Velcro-like welcome home and have followed us around constantly since our return. We settled into our work schedules and I am prepared to move my office to Cambridge at the end of the week into a new group practice.

Wow. We just covered a lot of material! For those of you still reading, here's what's next on the MMRacing Calendar!
This week marks the beginning of what is known in New England as the "Holy Week" of cyclocross. It kicked off Wednesday night with a race under the lights where I placed third against two of Britain's top World Cup racers.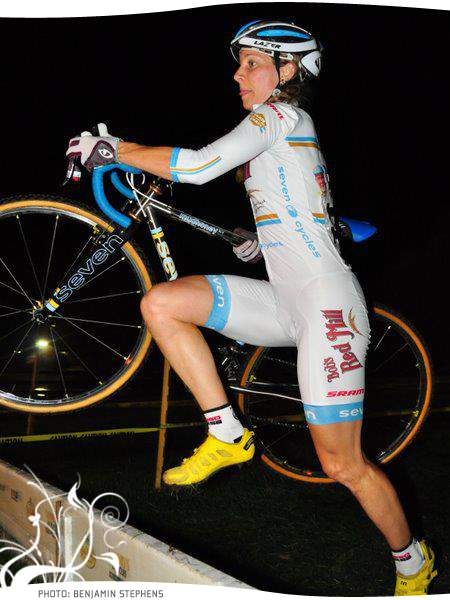 Next up is the Great Brewer's Gran Prix of Gloucester in Gloucester, MA, followed by The Night Weasels next Wednesday night and then the Providence Cyclocross Festival in Rhode Island.

There has been a lot of coverage of my last few races. Here's a quick rundown of the articles, photos and videos from the last two and half weeks of racing.

Starcrossed
Cyclocross Magazine
CyclingNews

Rapha/Focus GP
Cyclocross Magazine
CyclingNews

USGP Planet Bike Cup, Day 1
Podium Insight, Day 1, Day1 Photos
Cyclocross Magazine
CyclingNews
Velonews

USGP Planet Bike Cup, Day 2
Podium Insight, Day 2, Day 2 Photos
Cyclocross Magazine
CyclingNews
Velonews
also, be sure to check out the video from day 2 put together by our friend, Chandler Delinks, below:
Luna Chix Planet Bike Cup Day Two from cycloWHAT? on Vimeo.
Midnight Ride of Cyclocross

Podium Insight
Cyclocross Magazine
Thanks for the amazing support of Bob's Red Mill, Seven Cycles, SRAM, Mavic, TRP, Challenge, Lazer, Fizik, Mad Alchemy and Thule. And once agains, we are excited to add some amazing new sponsors to our line-up; Castelli, Zipp, Zanconato, Vita Coco, Fitness Together Arlington and Restwise.

If you just can't get enough MM Racing, you can follow us on Twitter Matt: @mm_racing, Mo: @meaux_marie.

Thanks for reading!