Happy New Year, everyone! We've got a lot to catch up on in this weeks' newsletter. It's been nearly a month since our last race report and we've been moving at breakneck speed since then. We will get you caught up on our latest trip to Europe and follow up next week with a write up on the National Championships in Madison Wisconsin. Enjoy!
Last year was the first time that we traveled to Belgium for the "Christmas Week" cyclocross racing in Europe. The weeks leading up to Christmas and continuing through New Year's Day are host to nine UCI races, mostly in Belgium. This year, with the US National Championships being held on January 8th, it made the most sense to return to Belgium for a block of tough racing, a possible shot to make the US World's Team and a final preparation before Nationals.


Three days after returning from the overnight flight from the USGP in Bend, OR, we took another overnight flight, this time to Brussels. We arrived early in the morning on very little sleep and way too much time sitting in planes. However, we were so familiar with the Brussels airport at this point that we went straight through customs, picked up the car rental keys and made a pit stop at "our" little airport café to start the day off.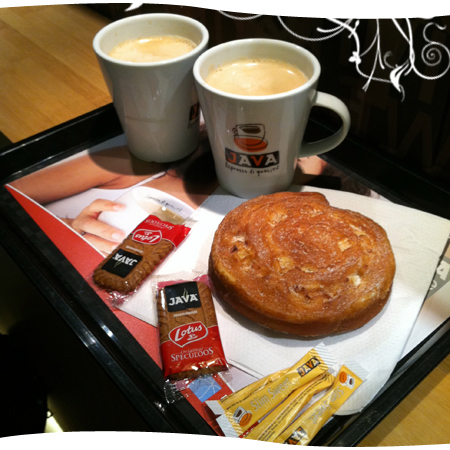 The day ahead of us was a busy one as we headed from Brussels to Eke and the BMC Cycling Team Service Course to meet Jürgen. Jürgen had kindly agreed to loan Matt a repair stand, cleaning equipment, a bike to ride, a trainer for me and some other comforts that made our travel without them quite easy. Matt was also able to unpack my bikes and leave the big bags in the warehouse for the week.

After getting the bikes ready, we then drove to Arendonk to our little rental cottage. This would be our third year staying there and it felt like heading home. The cottage was cozy with the woodstove warming it up. We headed to the market for some food shopping and I then hopped on the trainer for a spin and prepped for racing the very next day in Essen. We were just about to embark on our busiest race week ever; five races including two World Cups in eleven days, three hotels and quite a bit of driving.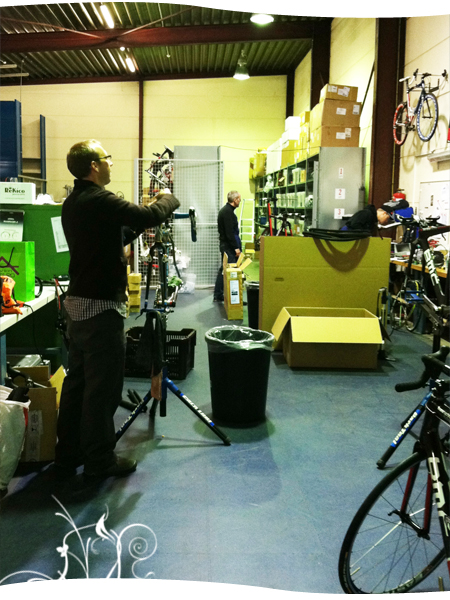 To add to an already busy week, I had to get two online classes done before we got back! Earlier in the year I had a work training cancelled in May and managed to have put off finding an alternative class for renewing my massage therapy certification with a deadline looming. At least I would really put my legs up for a few hours a day!

The first race of our trip began only a day after our hectic arrival. Fortunately, it was an easy 45-minute drive from Arendonk on quiet Belgian roads. The Essen race was a flat course with a few technical bits but the mud was thick and slippery. They had even hired a tractor just for pulling stuck cars from the parking area in a field.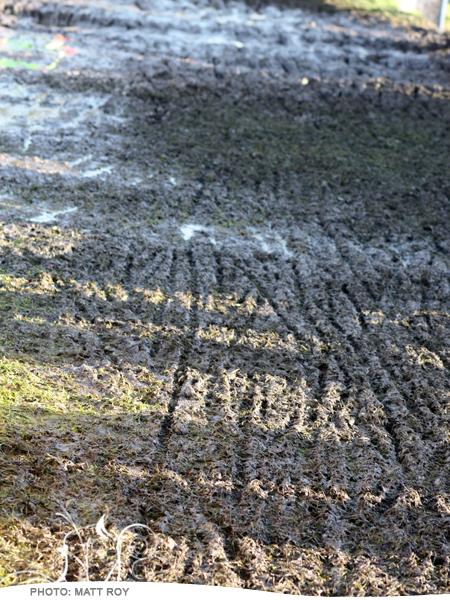 I had a good start to the race and made my way through some traffic jams in the mud. I swapped bikes in the pits a number of times, threw a few elbows, ignored some Flemish cursing from behind me and finished a solid tenth. I was happy to shake the travel from my legs but definitely felt a bit flat as well.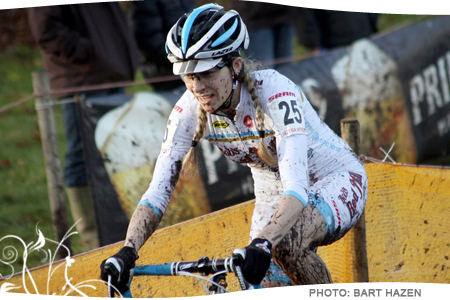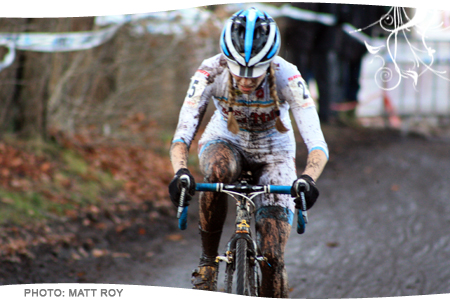 Immediately after the race we had to clean up and rush off to Namur to the site of the World Cup on Sunday. I had to be there by 5pm to pick up my racing numbers and sign in. We made it with ten minutes to spare. We had booked a nearby hotel for the night and got ourselves settled in before joining some of the fellow American racers for dinner.

The course at Namur (or Namen as the Dutch call it) was the hardest course I have ever seen. It was hilly like a mountain bike race with downhills to match. Lots of mud, cobbled climbs and slippery corners made it even more challenging. As an added bonus, giant snowflakes started to fly at the start.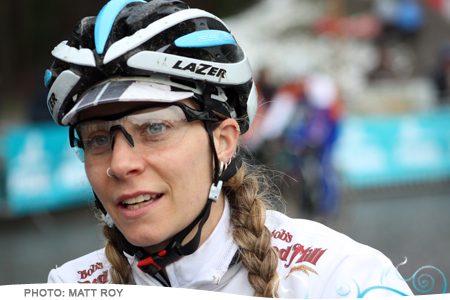 I only got in two laps of course inspection before having to race and it would have benefited me to plan a bit better. My call up to the start line for the World Cups is the back row due to fewer points available in the US. This makes the starts harder and even more important than a front row start. So much of the positioning happens in the first minute of the race that if you're not near the front early on, chances are, you won't get there.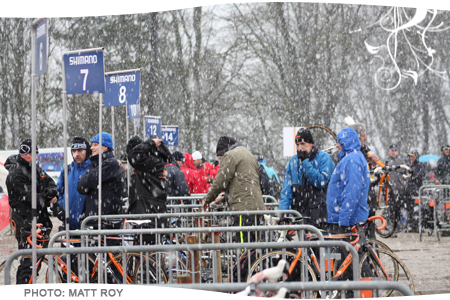 My start didn't go as planned. A rider in front of me dropped her chain 200 meters off the start line at a moment when I need to be moving into the front group before the technical sections. Instead, I grabbed a handful of brakes and watched the field charge up the hill around me.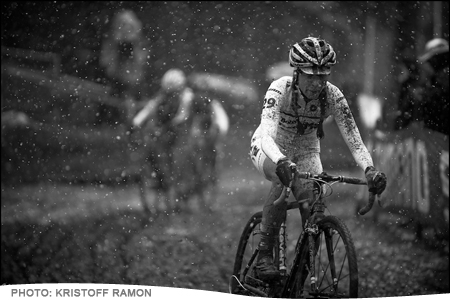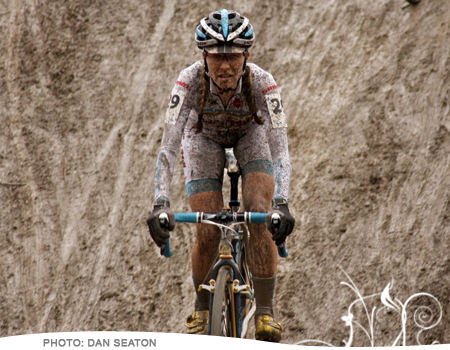 I was gapped off from the top group and despite riding and running the hard course very well, I had 2 crashes that were enough to lose several spots and finish 24th. I was disappointed but knew that I would feel fresher as the week went on.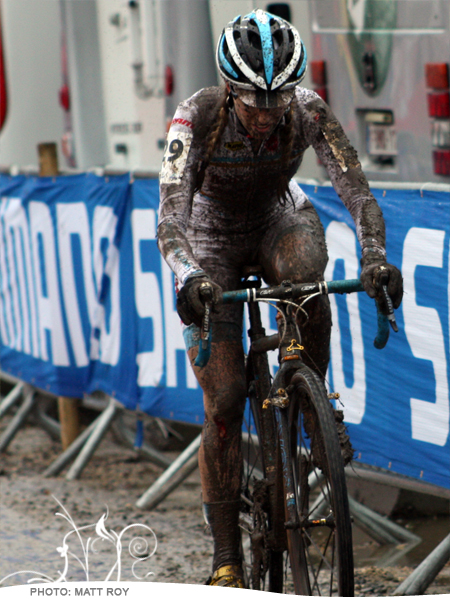 This is one race I would love to do again with fresh legs and no jetlag. Namur, we'll be back.

We headed back to our cottage for two days of clean up, online classes and easy riding before packing it up for a three hour drive to The Netherlands for a smaller midweek race on Tuesday.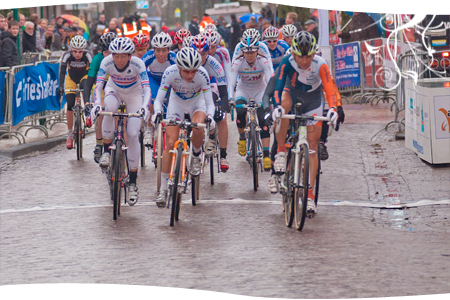 It rained for most of the northerly drive and showed no signs of letting up. We would likely be in for another muddy race. This was another flat course but it ran right through the center of the city where they had dumped truckloads of sand to make the course a little more interesting!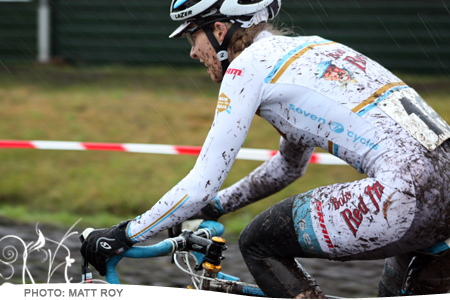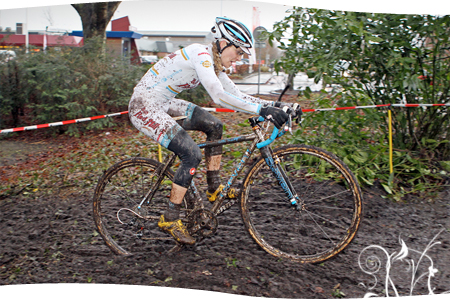 I had a great start and was in 3rd place running the first bits of muddy track before fighting a few laps for fourth and fifth place. I was able to surge ahead and take 4th. My highest finish in a European race. It was also the closest I've ever been to the current World Champion, Marrianne Vos who was in sight for most of the race.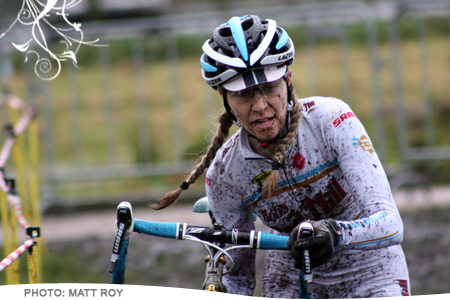 That night instead of driving all the way back to Belgium, Matt had booked us a nice hotel in Amsterdam with tickets for a canal cruise and the Van Gogh Musuem the following day. It was great to have one day of holiday during the trip and we had a great time exploring the city.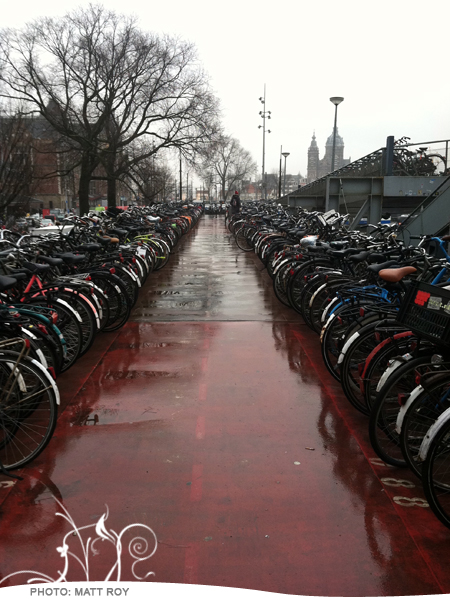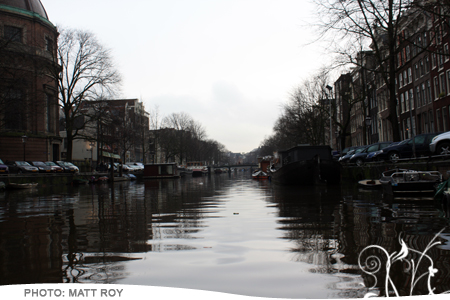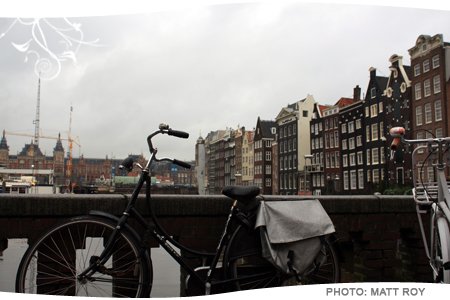 After our day in Amsterdam, we headed home for one day off which I filled with online classes and laundry while Matt went for a bike ride and then worked some mechanical magic on my bikes. The Belgian mud and power washers are truly unkind to bikes. That night, we joined our friends, the VanBeylan family for a homemade dinner by the daughter Jasmien and enjoyed chocolates, beer and wine by the fireplace with their cat Snoopy.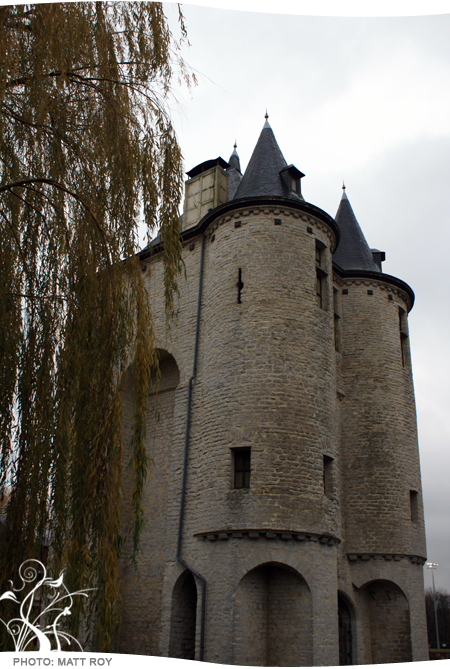 Friday, we drove to Diegem for a late afternoon race with another course right through the city with some big climbs and thick muddy sections. This was the first year for a women's event and we were actually spectators last year at the men's race, which is held later in the evening under the lights. It was great to be able to race at this legendary venue.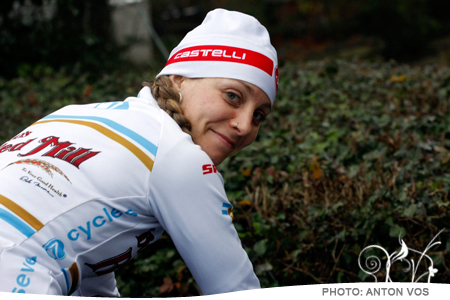 I had another strong start and found my way to the top ten. I had quite a bit of speed on the running sections and was duking it out with a Belgian racer the entire race for 8th place. I was able to get ahead in the mud only to have her catch me back on the pavement. I finished 9th that day and was pleased with another top ten.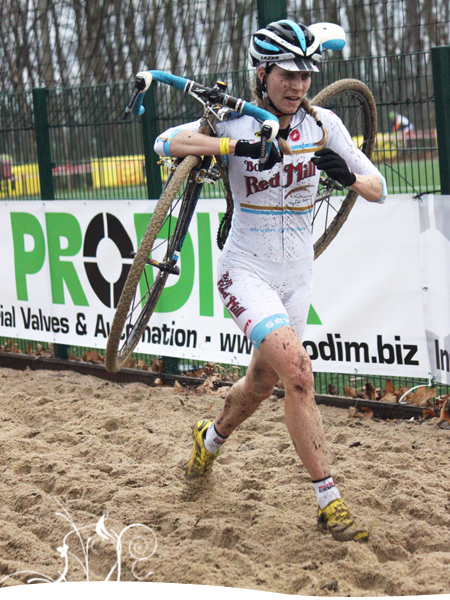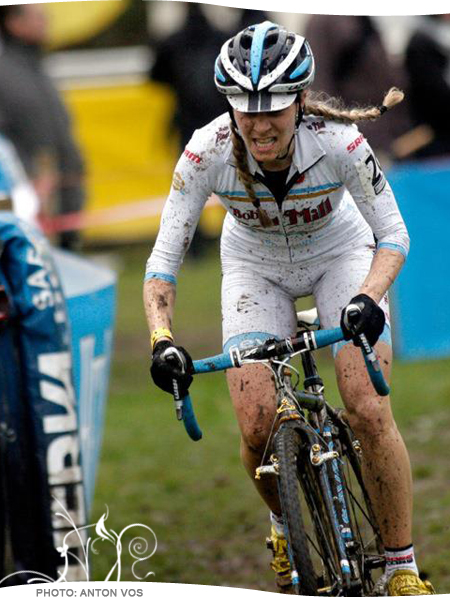 We had two days off before the next race, the last one of the trip. I was hoping that my legs were coming around and I might succeed in getting a top 15 in order to qualify for the World's Team. Our two days off included some bike riding, more online courses, Christmas Eve dinner and celebrating with our Belgian host family and their three boys, lots of muddy laundry, bike repairs and prepping for the race.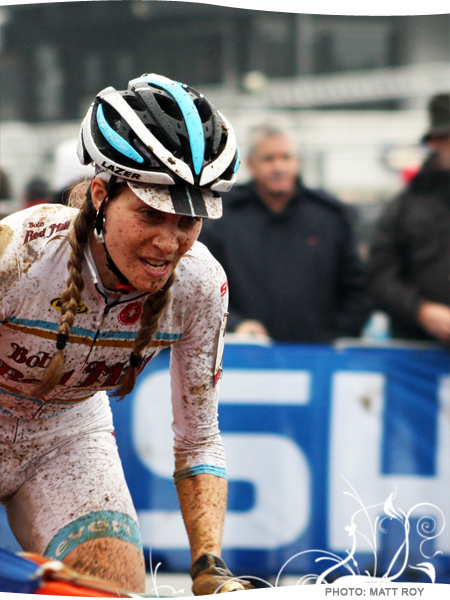 Although my legs were feeling good, I think my head was elsewhere and my race did not go very well. My start was poor and I did not get to the front of the race before the first bottleneck section and the gaps grew from there.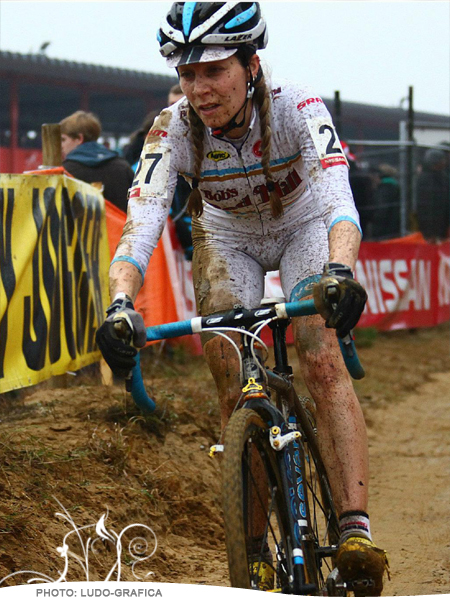 I chose the wrong wheels for starting on and my brakes were too wet to work well in the sandy Zolder course. I needed to swap bikes on the first lap, losing spots that I would never regain. I then had one terrific crash on the big downhill in the sand and lost several spots that I was unable to get back. I was disappointed to get 28th place.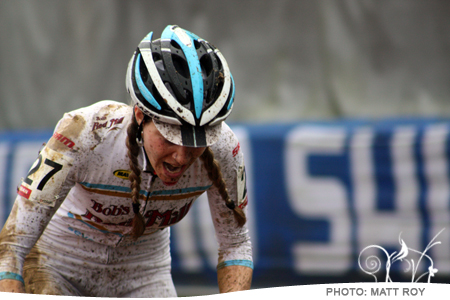 Both Matt and I were not pleased that the trip ended on a sour note and I essentially blew any chance I had to make the World's Team. I had also "missed" Christmas at home, which was added pressure that I needed to make the racing really worthwhile. Despite having three strong races, the real downer was the two less than stellar World Cups.
That night we drove back to Arendonk, packed up everything from the cottage and headed to Eke to pack the bikes and return our borrowed goods. We then spent the night in Brussels in a great little hotel and headed into the city for a dinner out before flying back home the following day.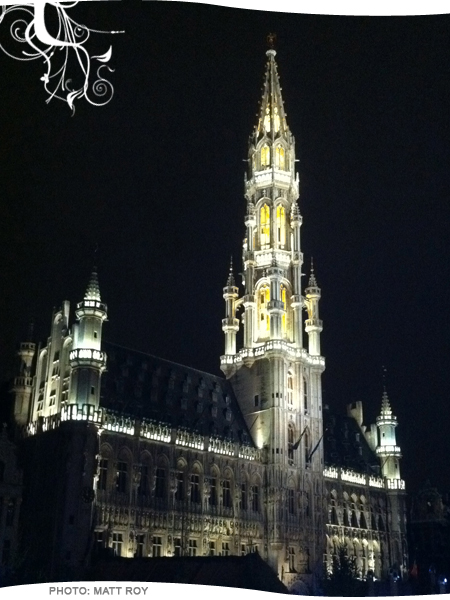 We arrived at home to our overjoyed furry "boys" and spent the remainder of the afternoon and evening relaxing before we both got right back to work the next day.
I now had two weeks before the National Championships in Madison, WI and knew that all of the racing I had just done was the best preparation and training I could have done to prepare for the last race of the season.

Race Report: The US National Championships, Madison, Wisconsin held on January 8th.



Each year we like to wrap up the cyclocross season with a big party and thank you for our NECX (that's New England Cyclocross, people!) friends, fans and family. Please join the celebration of another amazing season with cupcakes, beer, snacks, give-aways from our stellar sponsors and, if there's time, one of Matt's now famous cx season wrap-up movies!
So please join us for the Annual MM Racing End of Cyclocross Season Party at Ride Studio Café, Friday January 27th 6:30-10:00pm.

Please RSVP to rsvp@ridestudiocafe.com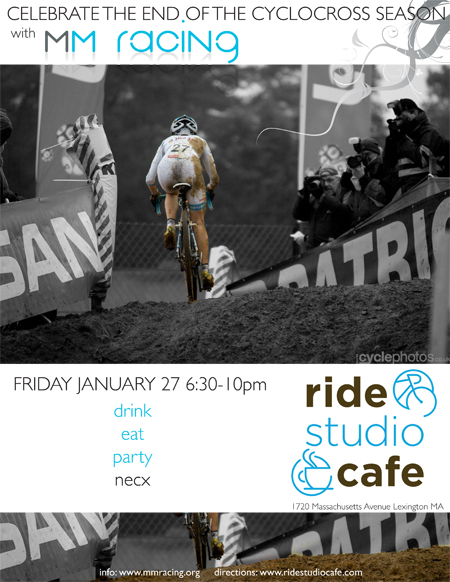 GVA Trofee - GP Rouwmoer Essen

Cyclingnews - GVA Trofee Rouwmoer Essen
Cyclocross Magazine - GVA Trofee Rouwmoer

UCI World Cup, Namur, Belgium

Cyclingnews- Namur World Cup
Cyclocross Magazine - Namur World Cup
Velonews - Namur World Cup
Velonews- Namur World Cup Gallery by Dan Seaton
Also, be sure to check out an amazing video by petitesreines. This is one you will not want to miss. You can view it below.
4ème Manche de CDM cyclo-cross from Petitesreines on Vimeo.

Internationale Centrumcross van Surhuisterveen

Cyclingnews - Internationale Centrumcross Surhuisterveen
MvH-Foto - Internationale Centrumcross Surhuisterveen
Superprestige Diegem

Cyclingnews - Superprestige Diegem
Cyclocross Magazine - Superprestige Diegem
Velonews - Superprestige Diegem Gallery by Tom Roberston


Cyclocross gets lots of attention in the local media. Occasionally, even the women's races get some press. Check out the below video from the Belgian television station VT4.
UCI World Cup, Heusden-Zolder, Belgium

Cyclingnews - Zolder World Cup
Cyclocross Magazine - Zolder World Cup
Velonews - Zolder Gallery by Dan Seaton


Once again, petitesreines put together a great video compilation of the women's race at Zolder. You can view it below.
5ème Manche de CDM cyclo-cross from Petitesreines on Vimeo.


Congratulations! You made it this far. See what doing five races in eleven days in Europe is like! Thanks for reading and, as always, thank you for your support.

Thanks for the amazing support of Bob's Red Mill, Seven Cycles, SRAM, Mavic, TRP, Challenge, Lazer, Fizik, Mad Alchemy, Thule, Castelli, Zipp, Vita Coco, Fitness Together Arlington, Franson Family Chiropractic, Ryders Eyeware and Restwise.

If you just can't get enough MM Racing, you can follow us on Twitter.
Matt: @mm_racing, Mo: @meaux_marie.

Thanks for reading!