November is usually the time in the racing season to start to reflect upon how things are going. It's also the time of the season where you want things to "click" and really be coming together nicely in preparation for the next 6-8 weeks before Nationals. As I am looking back on the last eight weeks of racing, I can definitely say that I am feeling stronger and more comfortable racing harder this season. I can also say the competition just keeps getting faster and for some unseen reason I keep running into a bit of bad luck. So, despite my improvements, my results are not where I would like them and I'd like to shake the little black cloud now, please.

We left a very mild, rainy Boston and arrived in Louisville late on Thursday evening to chilly temperatures and dry air. It was a bit of a surprise to have it so chilly, but the weekend forecast looked mild and dry. Too bad for me as I was looking for some mud to race in because I have only had one muddy race so far this season!

Friday morning we ran our errands to the grocery store and then headed to the venue for a pre ride. By this time I was feeling some of the telltale signs of a head cold coming on, but thought if I just ignored it, it might go away until after the racing was over.

Getting to the venue the day before the races is a really nice thing to do when we can. Not only do I get the oppotunity to see the course with very little obstruction, but we also get to catch up with our cyclocross family. It's always good to see SRAM Neutral Race Support super-mechanic and good friend Jose and his daughter Piera.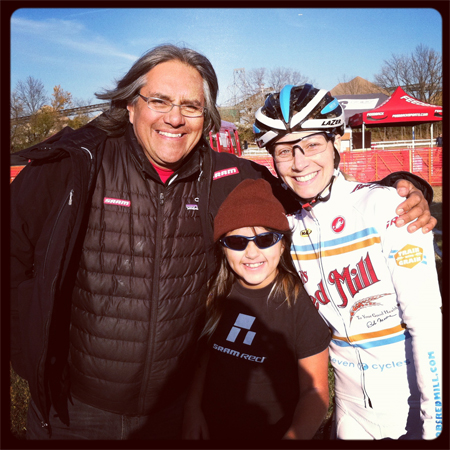 Despite my pre-cold omens, I felt pretty good on the pre ride. The course would be fast, technical in some sections and promised to be a real fight in the stacked 50-plus-rider field.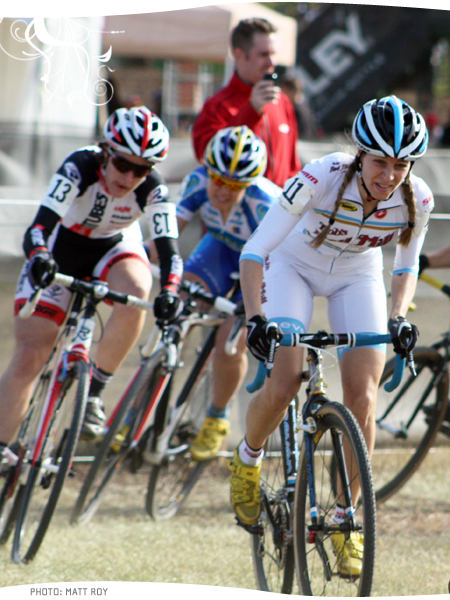 That night we headed out to a new vegetarian restaurant, Roots. We had been to another restaurant by the same owner in years past and the new place was delicious Asian food with in-house made fresh tofu.
At the table next to us we struck up a conversation a fantastic guy named LaMarr visiting from Baltimore. We had a great night sharing stories of our vegetarian travels. LaMarr is the president and founder of an amazing organization, the Urban Leadership Institute, a social enterprise based in Baltimore, Maryland. ULI aims to empower youth and adults to create and launch their own enterprises, and through these enterprises, to take greater responsibility for their lives and communities. Take a minute and check it out. Great people doing great things.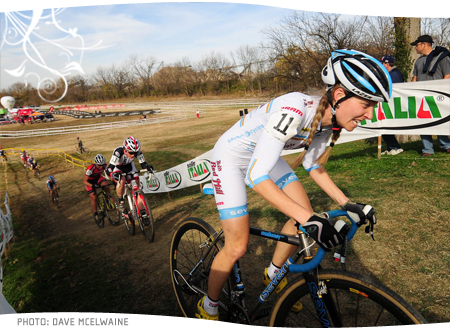 The morning of the race , I knew I was fighting a cold but still was feeling OK on the bike during my warm up. However, after the first lap of the race when I had begun to dig deep, my energy tank was feeling pretty empty. I started to fade back several spots. My legs were achy and sore and despite a good nights sleep, I was feeling tired. I gave it everything I had but was never really able to dig deep, finishing a disappointing 18th place.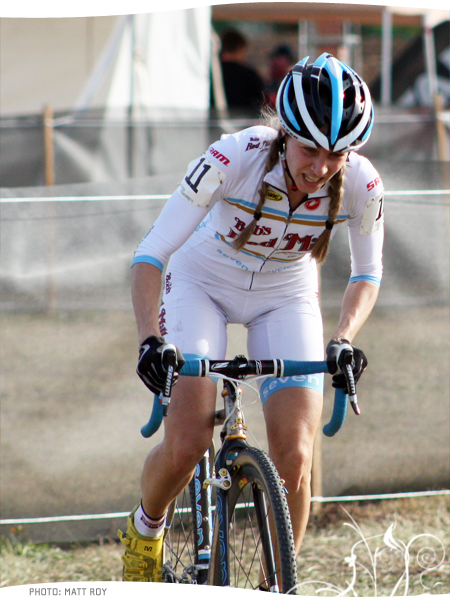 That night I took a hot bath, drank a lot of fluids and made dinner at home. I emailed my coach to let him know that I was under the weather and we decided to play the next day by ear and see how I felt.


If I were at home, I would have skipped training in favor of resting, but being at the race venue and coming all that way meant that I would toe the line and at least give some representation to my fantastic sponsors who make it possible for me to do this! Huge thanks to Bob's Red Mill and Seven Cycles!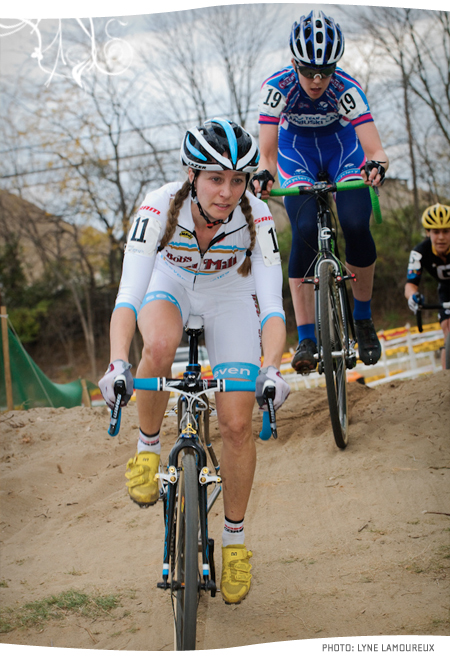 Despite a mostly sleepless night, I started the race and had a very good position into the first technical sections. I was able to stay in a decent spot for one lap but quickly faded again. Into the second lap I knew there was very little benefit to continue the race and would only be disappointed that I was unable to give it an honest effort, so I pulled the plug. I headed back to the car to blow my nose for the 100th time, to get some fluids and rest.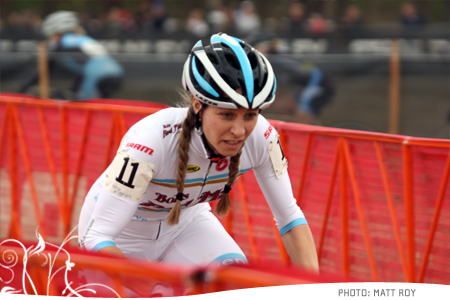 I was able to walk around and spectate the men's race while Matt worked with the Cannondale-Cyclocrossworld team. I took a handful of photos and watched the lines the men took at the trickier sections. As the race started to wind down, I was getting a bit feverish. I knew I had made the right call to end my race early.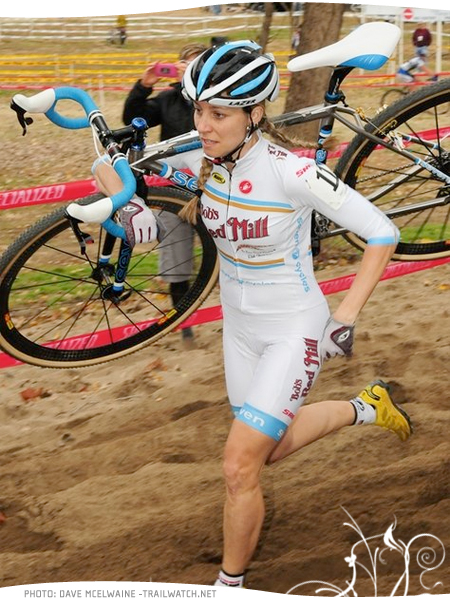 That night we packed up and had another nice dinner at home before heading out to the movies. It's something we always say we'll do when we are at the races, but it's the first time we actually did it! It was quite a nice way to wrap up an otherwise crappy weekend.
Back at home, I took a sick day from work and rested as much as possible and by mid week, I'm feeling close to 100%. I'll have this coming weekend off from racing and I'm excited for a little family get together at my sister's house. Matt will be attending his first RAAM conference in NYC…stay tuned for more details on his next HUGE adventure!


I am frequently asked about what I eat on a daily basis to attain the nutritional values needed to sustain not only a healthy but very active lifestyle. For this week's recipe, I am going to hit you up with a little knowledge... tasty, tasty knowlegdge.
There are some rumors to dispel and some important deficiencies to highlight... and of course, some of my favorite day-to-day recipes. The full contents can be found on my blog here, but please be sure to check out the Bob's Red Mill Train With Grain page for more content.



I have only ever ridden Fizik saddles since getting my very first real road bike in 2000. The Vitesse has been my go-to saddle for comfort on the mountain bike over all types of terrain and on the road bike for long hours of pedaling. This season I am trying out a new lighter model with a molded center channel designed specifically for women, the Arione Donna.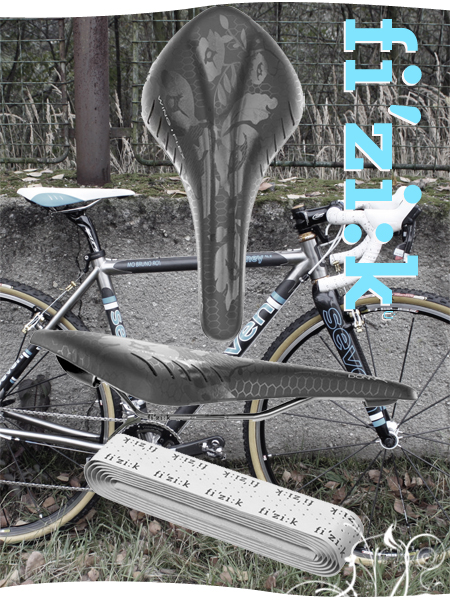 In addition to saddles, Fizik has been supplying us with their durable, comfortable and long-lasting Microtex Bar:Tape. A bar tape that can stand up to the demands of cyclocross is hard to come by and we have not needed to look any further than Fizik.

Fizik offers a full line of women's specific saddles designed to be light, comfortable and ideal for all levels of performance and racing. Their specialty is also offering custom colorways and our rep Suzette is always able to offer saddles to match the bikes each season. Thanks, Suzette and Fizik!


After a weekend at home and Thanksgiving with Matt's family, we will be heading off to Iowa City for three back-to-back days of racing at Jingle Cross Rock. This will be my first time heading to these races and I'm really looking forward to the great courses I've heard so much about.
Check out the media coverage from the Derby City Cup weekend below:

Derby City Cup, Day 1
Cyclingnews, Day 1
Podium Insight, Day 1
Velonews, Day 1 photos

Derby City Cup, Day 2
Cyclingnews, Day 2
Podium Insight, Day 2 photos
Velonews, Day 2 photos
Cyclocross Magazine Day 2
In spite of my illness and resulting abysmal results this past weekend, I still managed to catch the eye of our friend Colt at Cyclingdirt. Along with our banged-up friend, Ryan Trebon, Colt awarded me with the Zero Waste Ride of the Week in his increasingly comical Who's #1 Cyclocross Rankings show. Thanks, guys! Check it out below:
Watch more video of Who's #1? Cyclocross Rankings 2011/2012 on cyclingdirt.org

Thanks for the amazing support of Bob's Red Mill, Seven Cycles, SRAM, Mavic, TRP, Challenge, Lazer, Fizik, Mad Alchemy, Thule, Castelli, Zipp, Vita Coco, Fitness Together Arlington, Franson Family Chiropractic, Ryders Eyeware and Restwise.

If you just can't get enough MM Racing, you can follow us on Twitter.
Matt: @mm_racing, Mo: @meaux_marie.

Thanks for reading!