After getting home from Louisville, I took a much-needed day off of work and a nice training / recovery week followed by a weekend at home to clear out my head cold. I was feeling recovered enough by the following Sunday to get in a nice workout and begin my prep for the Jingle Cross Rock races. Immediately after Thanksgiving, Matt and I would be heading to Iowa City for three days of important UCI races including a points-heavy Category-1 UCI race on the third day.
We had decided to travel on the Friday after Thanksgiving so that we could have a nice holiday meal with Matt's family. Thursday morning, Matt joined me in the woods for my pre-race training ride before heading home to whip up a "whatever's in the pantry" casserole for Thanksgiving. I settled on a butternut squash, kale and stuffing casserole, which is the Recipe of the Week.


The race on Friday was scheduled for 6:30 PM, so that morning we took a 6:30 AM flight to Chicago followed by a three hour drive to Iowa City. As usual, Matt plugged in the addresses of the local food Co-op as well as several veggie restaurants and cafes into the GPS ahead of time. Arriving in Iowa City a little after noon, we picked up some lunch and breakfast foods and settled into the hotel before heading to the race venue a few hours later.


In addition to taking care of my bikes, Matt was working for the Cannondale Cyclocrossworld team for the weekend as well and they generously allowed me to use their warm tent for my pre-race prep. As always, the crew from the Rapha Focus Team and SRAM Neutral Race Support were generous in offering their assistance - thanks guys!



I've only done one other nighttime race and I was happy to hear that the course would be well lit! It sounds a bit scary to be racing your bike down a hillside in the dark! The temperature was around 50 degrees and the course was fast and dry but had a big, long climb up the infamous Mt. Krumpet and some challenging technical sections. I knew that I would be a bit slow to get going since I hadn't raced in two weeks but I had a good warm up and a front row start.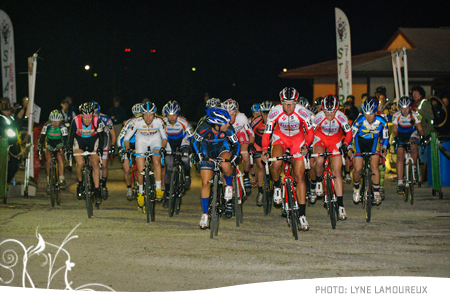 The pace from the start was very fast and within two laps, there was a large group of nine of us together off the front. I was feeling my limit on the long, flat straight-aways but was able to pull it back together on the run and the technical bits.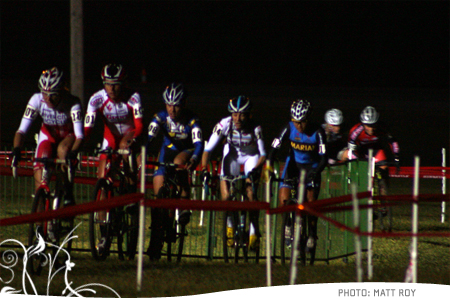 With two laps to go, the group was pulling apart and I was holding steady in 4th place, hoping to move ahead to the podium spots. In the end though, I held my position and finished in 4th place. I was now warmed up, the cobwebs cleared and ready for two more days of racing. I hoped weather radar was right and that the impending rain would be in my favor the next day.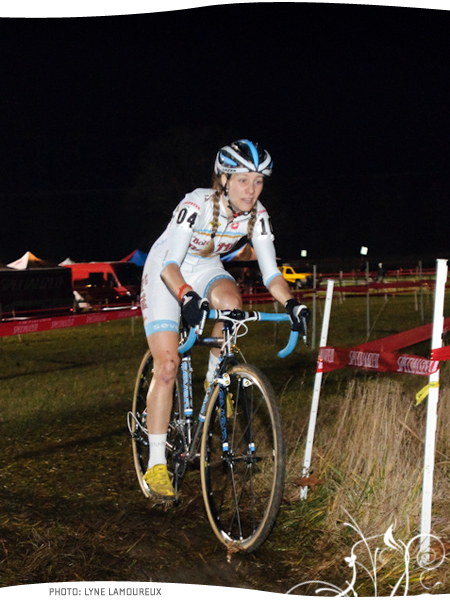 That night we headed out for dinner in town and found Masala Vegetarian Indian Restaurant. It was a fantastic meal and the staff was very nice.We were pretty impressed by this small Mid-Western city!


We awoke to a steady drizzle and before heading to the venue, we popped into one of the cafes Matt had found, called the Fair Grounds Coffehouse. It was an all vegan café with great coffee and a full breakfast menu. We had already eaten but I purchased a tasty looking gingerbread cupcake for after the race!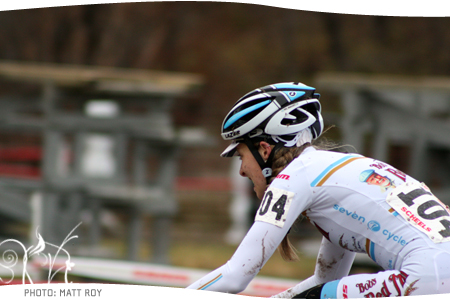 Overnight rain and morning drizzle had made the course incredibly slippery but not actually muddy. During my pre-ride, the bike was sliding all over the course but not gathering up any sticky mud. Unless the conditions changed leading up to my race, the pace would still be fast. It would be a game of quick accelerations, maintaining speed on the long straight-aways and trying to not make any mistakes that could cost valuable time.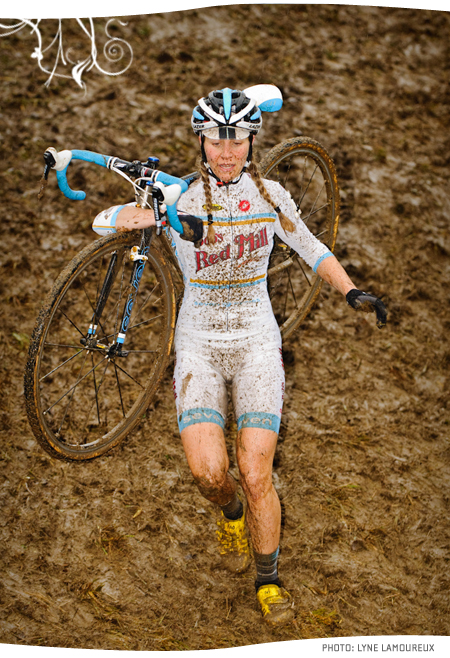 Unfortunately, I felt as though I was not reading the course very well and kept making little mistakes and judgment errors in my timing on and off the bike. I was able to move into 3rd place but was not confident in my position as another rider caught me in the last lap.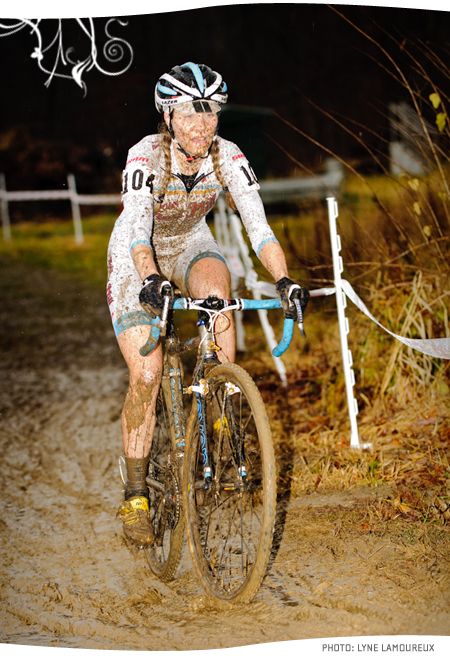 We fought for that last podium spot but I wasn't able to close the gap in the finishing sprint and took another 4th place. I was disappointed that I simply did not ride my bike well, considering the slippery conditions. However, I was feeling more energetic and "opened up" after the second day and hoped that would translate into a stronger race for the Category-1 event on Sunday.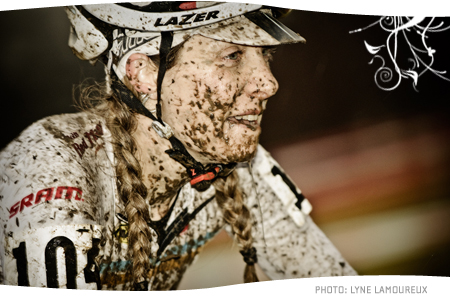 That night, we headed to the local laundromat, Spin City, where there were about 15 other cyclists washing their muddy clothes. We joined Jessica (THE wife of the My Wife Inc cyclocross team and pro cupcake baker) and had a blast getting to know her. After the laundry was done, we headed out to The Red Avocado for dinner. Normally we stay in a hotel with a kitchen and I cook all of our meals, but we had only found a regular hotel near the venue, so we decided to check out some of the local restaurants. This place was fantastic and a perfect way to end a long muddy day.

We were impressed enough by the menu and coffee at Fair Grounds that we went back for breakfast on Sunday. I got a giant waffle with strawberries and Matt got a tofu scramble burrito. Both were delicious and it was nice to have a relaxing morning with the local café dwellers and the weird counter guy in the pseudo-military-safari outfit.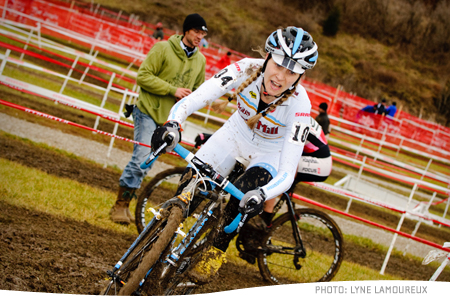 The rain had stopped overnight, the temperatures had dropped to 35º and the winds picked up. However, the damage from the rain was done and the course was truly muddy, sticky and more difficult on day 3. I was feeling ready for the challenge and took off at the start sitting in the top five riders.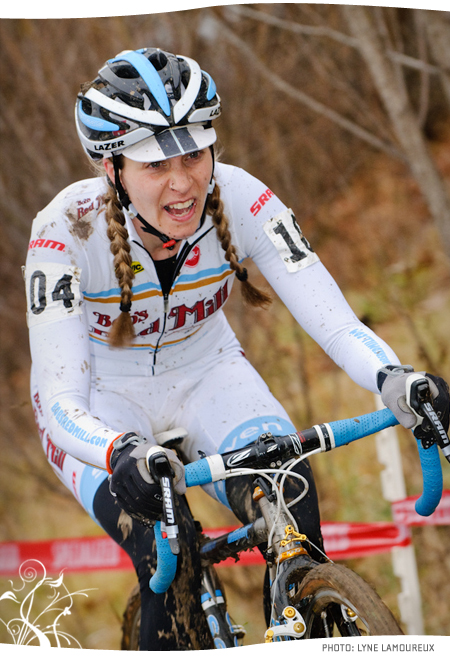 Within two laps, one rider was off the front and the rest of us were fighting for position especially up the long run and climbing sections. With one lap to go, I was able to move from 4th to 3rd place. The leader was fading a bit and I was able to catch her and take the lead for half of the penultimate lap before another rider joined me.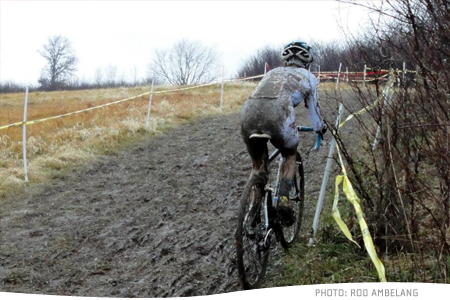 On the last lap, the three of us remained very close. I was trying to not make any mistakes but slipped out on one corner allowing a small gap to open up. I recovered from the spill and dug deep, dropping the third placed rider and chasing for the leader. In the end I took second place, 7 seconds down on the winner. I was pleased to have my first podium result of the season and to do so at at C1 UCI event made it all the more special.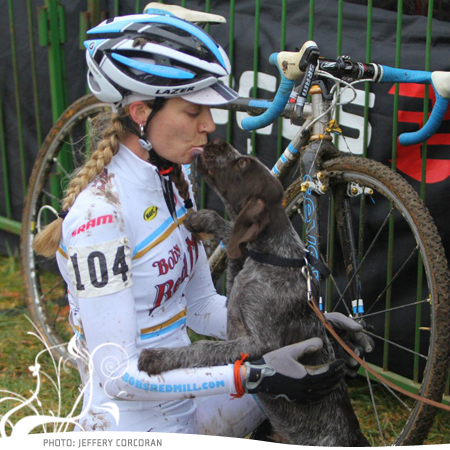 To make my finish that much sweeter, Matt tracked down a guy who had been walking around with the cutest little puppy. He brought the puppy into the finishing stretch and seconds after I turned around and before I even had a second to wipe the mud off of my face, the puppy was jumping up on me and, well, slobbering all over me. Thanks, Matt (and puppy guy)!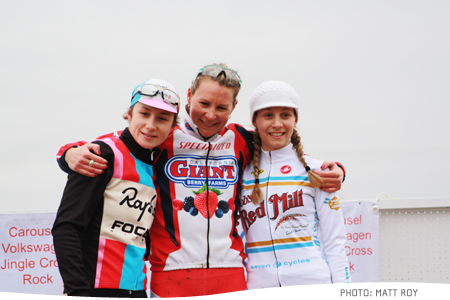 After a press conference for the podium of the men's and women's races, Matt and I helped pack up the Cannondale truck. We eventually headed back to Chicago and spent the night in a hotel near the airport to make it easier to be on time for our 7am flight to Boston. We had an uneventful flight back home but by 3 that afternoon, our 4AM wake up call really had me dragging! Luckily for me I took the day off to recover... of course, Matt went into the lab for the rest of the day.



Speaking of recovery, our Sponsor Spotlight this week is Restwise. Earlier this year, my coach, Ben Ollett, introduced me to Restwise. After discussing my training and work schedules, racing goals and recovery practices, we both realized that even if I was not over-training, there were periods of time that I was definitely under-recovering. Having a full time day job and training like a pro can take it's toll and I'm well known for saying "I feel fine" and losing touch with my actual level of recovery.

Restwise uses evidence-based research, rigorously-tested variable weightings and a proprietary algorithm to answer the question that plagues every athlete: "am I training too hard... or not hard enough?"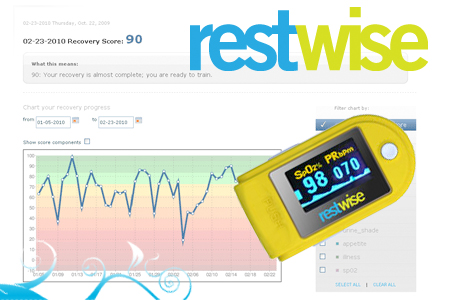 Restwise works by monitoring fatigue for athletes and their coaches. Using certain physiological markers such as resting heart rate, oxygen saturation, sleep, hydration, appetite and illness the Restwise software manipulates the data and then returns a daily score as a percentage. It's a simple, quick process to see your daily recovery score and change your training or racing based on how you are physiologically responding to your current plan.

The folks over at Restwise are incredibly helpful and are able to view your data and set it up to have your coach see it as well. The weekend when I was sick, I entered my data after the first day of not feeling well in Louisville and found my recovery score to be about 40%. Yeah, I felt like I was functioning at about 40% that weekend! The following week I was able to see my score improve daily as I got back to wellness and recovered. Many thanks to everyone at Restwise!


No, it's not an after school special; it's the recipe of the week! Last Thursday was Thanksgiving and I whipped up a casserole out of the farmers market veggies I had on hand plus some stuffing and a side of cranberry sauce. The leftovers were also fantastic hot or cold! Somehow we avoided lengthy explanations as to what "seitan" is at the dinner table. Phew!
Check out the recipe on The Vegan Delicious here!


Matt and I are looking forward to a few days at home before we head to Oregon for the last two races of the USGP. Before that, though, we'll be heading to Rhode Island for the last two races of the New England Pro Cyclocross Series, the NBX Gran Prix of Cross. I haven't had the chance to race in Warwick for the last few seasons and it will be fun to get back to the sandy, oceanside course.
A huge thanks to our friend, Lyne Lamoureux of Podium Insight, for all of the great coverage this past weekend in Iowa. Lyne provided coverage of all there days of racing including pictures and stories from each day. Additionally, Lyne recently did a feature called "Life in the Pits with Matt Roy." Last week, Matt spoke over the phone with Lyne to give his insights on what happens behind the scenes in the pits. Check it out here.

Jingle Cross Rock, Day 1
Podium Insight - Day 1
Podium Insight photos - Day 1
Cyclocross Magazine - Day 1
A video compilation of Friday night's racing can be viewed below:
Jingle Cross '11 Friday night cyclocross from Keith Walberg on Vimeo.

Jingle Cross Rock, Day 2
Podium Insight - Day 2
Podium Insight photos - Day 2
Cyclocross Magazine - Day 2
Jingle Cross Rock, Day 3
Podium Insight - Day 3
Podium Insight photos - Day 3
Cyclocross Magazine - Day 3
Once again, I have somehow manged to capture the "Jump of the Week" title from our friends over at CyclingDirt.org. Colt, thanks. You're abusrdity knows no bounds. Check out this week'sWho's #1? below.


Watch more video of Who's #1? Cyclocross Rankings 2011/2012 on cyclingdirt.org

Thanks for the amazing support of Bob's Red Mill, Seven Cycles, SRAM, Mavic, TRP, Challenge, Lazer, Fizik, Mad Alchemy, Thule, Castelli, Zipp, Vita Coco, Fitness Together Arlington, Franson Family Chiropractic, Ryders Eyeware and Restwise.

If you just can't get enough MM Racing, you can follow us on Twitter.
Matt: @mm_racing, Mo: @meaux_marie.

Thanks for reading!