Hi all! It's hard to believe it's been more than a month since the National Championships. It seems like Matt and I have yet to have a minute of down time. There's always something cooking at the MM Racing camp. In our latest newsletter we cover my last race of the season in Madison, WI. There are also tons of videos to watch including Matt's highly anticipated 2011-2012 Cross Season Compilation.


After our whirlwind trip to Europe, we took a few days to settle back into our work schedules before spending the weekend catching up on some family holiday time. We celebrated New Year's Eve with some good friends and an experimental (and successful) vegan cheese fondue.


The week leading up to the National Championships had Matt overhauling the bikes from their Belgian mud baths and fine-tuning them to perfection. Madison in January? We expected nothing but ice, snow and bitter cold. So Matt added some extra insurance by completely sealing the brake cables and housing to complement the sealed shift cables.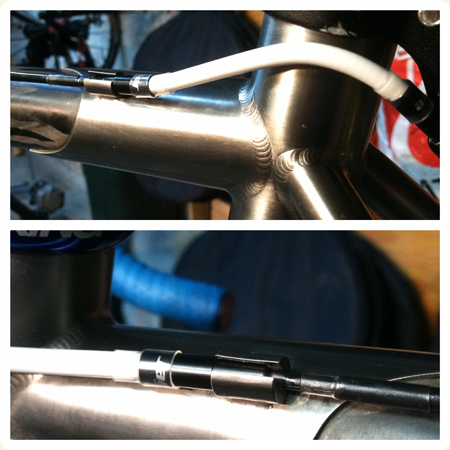 We arrived in Madison a few days early to attend a 'Women and Cyclocross' event at Machinery Row Bicycles hosted by Renee Callaway, one of the stellar local cyclocross event coordinators. We stayed on to join SRAM's rider event held at the same venue. It was great to talk with local women about getting into racing cyclocross and hear from some of the other pros on how they got started as well. I signed some of my rider cards and handed them out at the SRAM event. It was great to meet so many really nice, supportive fans. I even autographed a guy's chest when his friends bet him that I wouldn't!


We headed to the race venue three days before my race would actually start. You can really learn a lot about course by previewing it many times and seeing how the conditions change throughout the day. One surprise for everyone there? Balmy weather! In Madison. In January!


The National Championships venue was a new course to everyone. Set largely on a hillside in the Badger Prairie County Park, the course was very straightforward with a few challenging climbs and a thawing permafrost that offered the only technical aspect to the course.


Once again, my friends at the Rapha Focus Team let me hop in their warm tent and ride the trainer each day to get warmed up for pre-riding and for the race on Sunday. Thanks for being awesome all season you guys!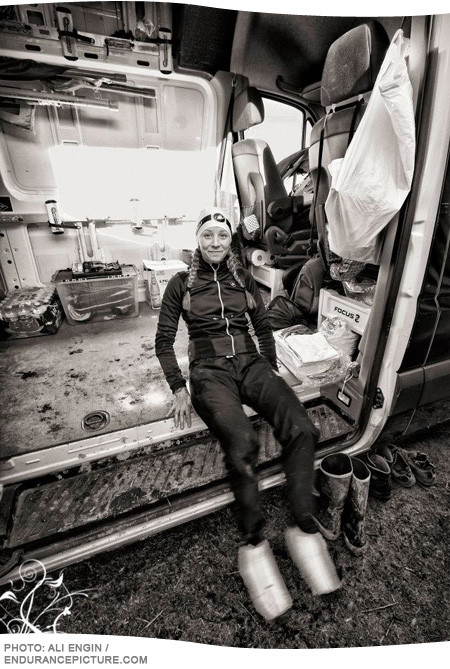 Pre-riding the course on Friday was a muddy mess, by Saturday morning it had frozen solid. The frozen mud made for somewhat technical navigation but by midday the ruts flattened out as the course continued to dry out. In between course previews, we made time to meet with Matt Pacocha of Bike Radar for a feature on my amazing Seven Cycles Mudhoney Pro. To see the writeup and some great pictures of the the many little details that went into this bike, click here.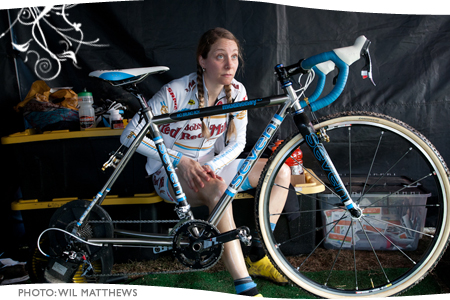 In spite of the many preview laps, it was anyone's guess as to what Sunday's course would be as the promoters continued to change sections of the course daily. My pal Thom Parsons, aka Ultra Enduro Dyude caught up with me to get my thoughts on the course changes. Have a listen.




Thom, admittedly, had a tough time keeping it together during this interview. He was having a tough time staying in character, so to speak. We did manage, however, to sneak in a few priceless seconds where I do my best to explain Twitter.
On Sunday, I knew I could count on a few aspects of the course remaining; the course was essentially some flat muddy sections followed by a long uphill climb and downhill, a run up a set of stairs, two addtional shorter up and down sections to a long pavement start/finish section. The course would indeed be fast and it would require a lot of power and some finesse on the muddier sections.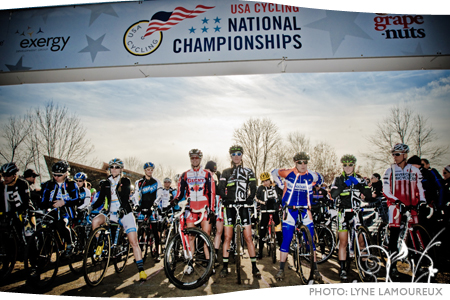 Sunday was the coldest day of the weekend but the sun came out in time to melt the top layer of the track creating some slippery mud for the first two laps of the race. I had a front row start and although my transition from the pavement to the grass was not as close to the front of the pack as I would have preferred, I was able to ride the first few muddy sections clean and work my way past several crashing riders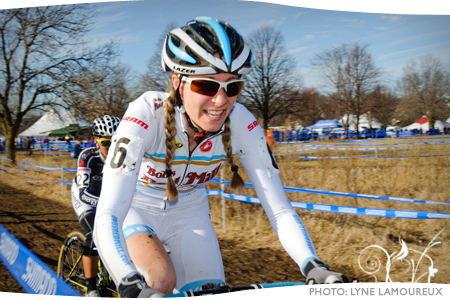 .
I metered my effort on the long climb to get a feel for the race pace and moved into the top ten. The backside of the course became super fast as the sun dried out most of the mud. The swooping uphills and downhills had very generous turns with only a few technical sections near the pits. In spite of the decreasingly technical aspects of the course, I found myself inside the top ten, still in the hunt for a potential 5th place finish.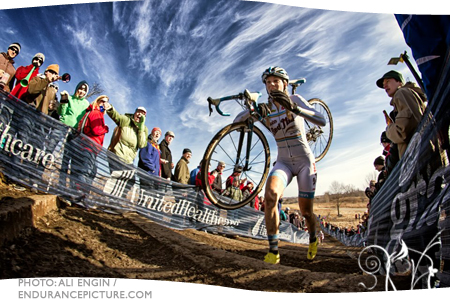 I felt good and kept my effort steady and picked off a few more riders to move up into the fight for 7th into the last lap. Sixth place was right in front of us as we all entered the last paved section just seconds apart. I finished in 8th place and felt pleased with my effort and satisfied to have ended the season with a clean race. Thom caught up with me only a few second after I crossed the line for a quick interview.


In hindsight, I think digging a little deeper on the longest climb would have put me in the fight for top five. You can watch a video of the entire race below.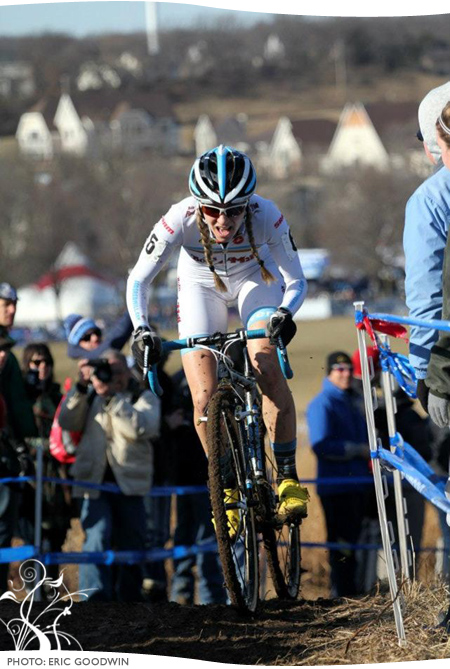 That night we cleaned up and tried to find some dinner out in the city but it was late on a Sunday so we wandered around until we got a bit over-hungry and settled on some mediocre noodle place. We then joined the rest of the cyclocross community at the Nationals After Party at a local pub, Great Dane. We mingled for a bit before settling down at a table with some friends for some people watching and wrapping up the season.


When we returned home, we set our focus on planning our annual MM Racing End of Cyclocross Season party at the Ride Studio Café. Within days, Matt and I had contacted our sponsors requesting some items for our free raffle to thank our friends and fans. Immediately our amazing sponsors started shipping boxes of goods and making the raffle an amazing success!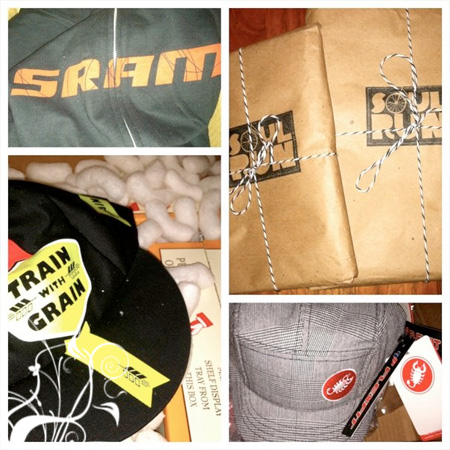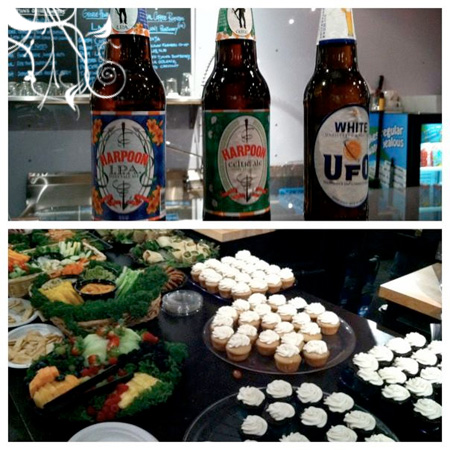 While Harpoon Brewery supplied the beer, I supplied eight-dozen cupcakes that were eaten in record pace. Matt also put together a video compliation of the 2011-2012 Cyclocross Season. With the help of our friends across the country, Matt assembled a video using clips and images they generously provided. As usual, Matt selected a song that summed up the season well... this one, a pop song we kept hearing again and again in Belgium, was the perfect fit.
MMRacing 2011 - 2012 Cross Season from Matt Roy on Vimeo.

We are always grateful to be part of our amazing New England Cyclocross community. And as always, the NECX came out in droves for our party… more than 100 people crammed into the studio to celebrate with us that night. Fortunately, our friend Dave Chiu was on hand to take pictures. You can check out more photos from the event here. The party was a fantastic way to celebrate the end of another great season.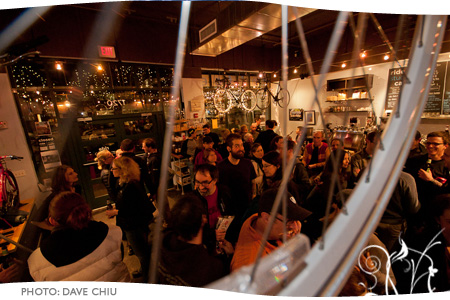 Two days later, the World Championships were aired from Belgium and although disappointed that I did not make the qualification for the team, I was excited to watch the race from home. Home, in this case, was back at the Ride Studio Café at 4:30AM (thanks to the 6 hour time difference!) to make Bob's Red Mill waffles for the crowd that arrived to watch the live event.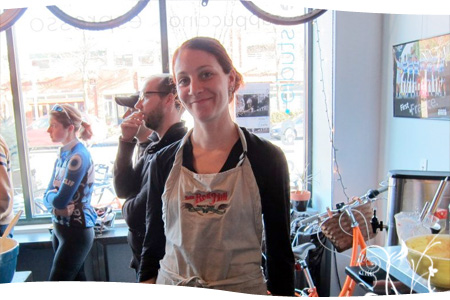 Waffles and Worlds was another huge success and finally, Matt and I were able to shut it down and do nothing for the rest of the afternoon. We relaxed with a walk around the neighborhood and some much needed couch time.

With my cyclocross season wrapped up, Matt has already begun to put in the miles on his bike in preparation for his summer ultra endurance season. I'll be looking at the mountain bike and road racing schedules soon, but for now I'm looking forward to settling in to a busy work schedule and starting my pre season training after a nice rest.
Thank you all for another amazing season. We'll be sending updates throughout the spring and summer. Thanks for reading and, as always, thank you for your support.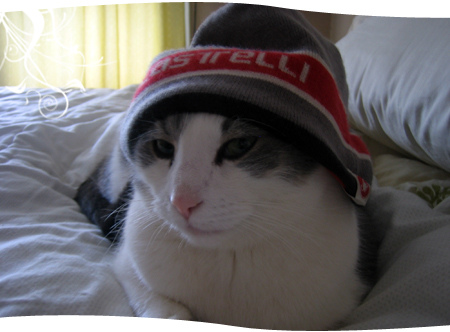 The highlight of our New Year's Eve was the vegan fondue experiment. Happily, it was a success! Yes, you can actually make a delicious cheese fondue without the cheese. You can view it on my blog here.

Reports:


Bike Radar Mudhoney Pro feature

Cyclingnews


Podium Insight

Podium Insight Elite Women's photos


Velonews photos by Wil Matthews


Video:


CyclingDirt - Complete Elite Women's Race from start to finish


CyclingDirt Elite Women Highlights video


CyclingDirt CX Nats post race interview


CyclingDirt pre race innaview with Ultra Endure Dyude


CyclingDirt Twittah innaview with Ultra Endure Dyude


Thanks for the amazing support of Bob's Red Mill, Seven Cycles, SRAM, Mavic, TRP, Challenge, Lazer, Fizik, Mad Alchemy, Thule, Castelli, Zipp, Vita Coco, Fitness Together Arlington, Franson Family Chiropractic, Ryders Eyeware and Restwise.

If you just can't get enough MM Racing, you can follow us on Twitter.
Matt: @mm_racing, Mo: @meaux_marie.