We've got a lot to cover in this week's newsletter. I had two days of lighting-fast racing in Rhode Island. Also, I finally succumbed to the pressure and did an interview in my "native" tongue. But more importantly Matt and I put together a special edition newsletter, the MMRacing 12 Days of CXMas! Keep on reading to find out more!
This past weekend was the finale of the New England Pro Cylocross Series in Warwick, RI. The weather was once again beautiful, sunny and mild… a trend this season in New England. The racecourse was also another very fast track with a downhill sprint finish both days. I knew that I would be hard pressed to be able to beat the road racers/sprinters in a straight up battle, so I hoped that the running sections in the sand might be my one chance to prevent the race from coming down to a big sprint.

Unfortunately, neither day turned out the results I had hoped for, but I certainly hope the training will prepare me for the transition to the upcoming more technical courses in Bend, OR this weekend and Belgium in 10 days!



The short uphill start may have been a sign of the way the rest of the race would unfold as two riders veered in front of me rather than going straight up the road. The pace was fast from the start on a very long paved stretch that unfolded onto the grass and then into the woods to the sandy beach run.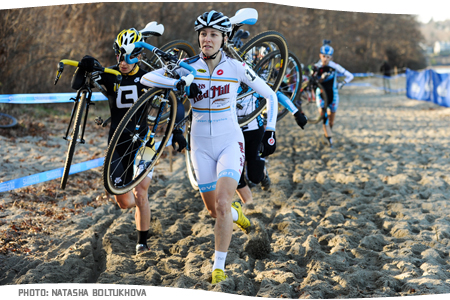 I took the lead on the run and drove the pace until we reemerged onto the pavement and the road racing tactics began to unfold. I had already made the mistake of racing as if I were on a more technical course where I may have been able to take an advantage.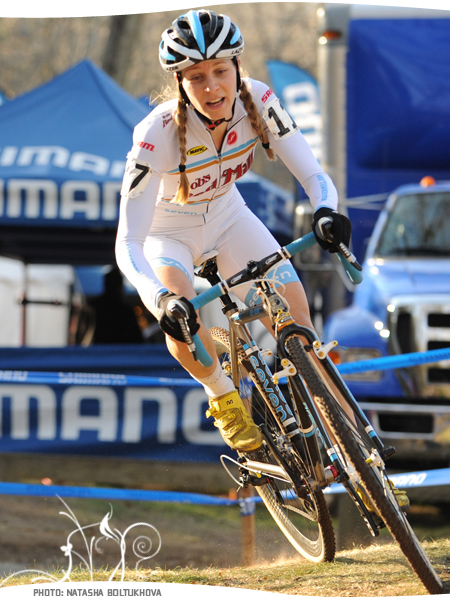 However, with a team of three riders attacking the group while the more road savvy riders sat on wheels out of the wind, I was wasting energy and not paying attention to what the others were up to.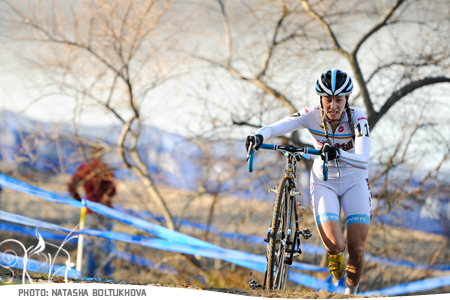 I was on the back of the train of riders when another racer slipped and fell on a short uphill section causing myself and one other rider to get gapped off of the main pack. My friend and I spent the remainder of the race painfully close to catching the leaders but were never able to latch back on.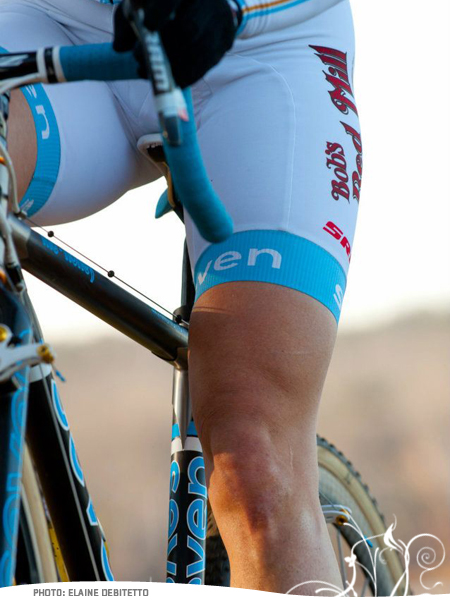 In the end I was 7th, quite disappointed in the endless errors I had made misreading the race but hopeful that I could learn from them for the next day.

Fortunately, I was able to discuss Saturday's race with Matt who is a very savvy road racer and has the mind to see and anticipate things before they even happen. It's a game of tricks, outsmarting and tactics. I tend to be impulsive, inattentive about what others are up to and frustrated that you can't just train, be fast and try your best and have those factors dictate your results. I was able to pre-ride Sunday's course with my good friend Adam who is also a cycling coach. He patiently helped me plan out my tactics for the day.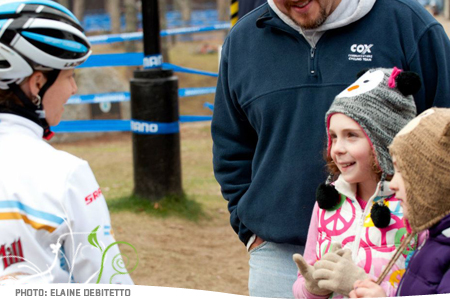 I was pleased to see a second beach run and much less pavement on Sunday but there was still a big downhill finish to contend with. I was also lucky to meet the very stylish seven and nine year old sisters, Marlee and Jillian. They both ride bikes and were big fans, cheering loudly for me both days. Thanks girls!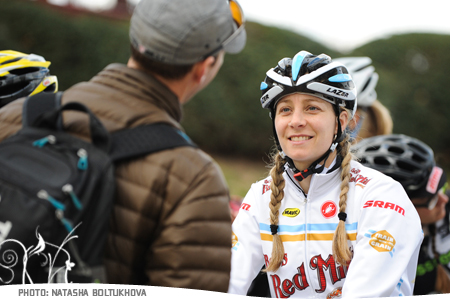 Immediately after the start, I pushed myself to get on the train of riders that were leading the race. Five of us quickly broke off from the rest of the pack. We all rode wheel-to-wheel through every section of the race.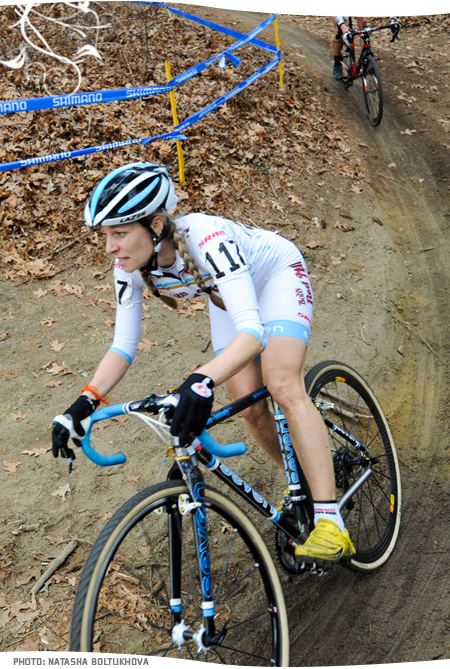 I was able to recover on the running sections and turns. I knew that my only chance was to sprint the last running section, but I hesitated, fearing that it was still too far from the finish and I would expend energy I didn't need to.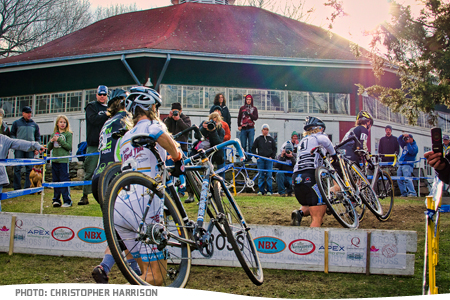 Unfortunately, I still wasn't playing the game correctly and, instead of attacking, one of the riders bumped me after the sand causing a bit of a jam. Meanwhile another rider slipped on a corner allowing the eventual winner to have a gap. The rest of us came through the downhill in a sprint where I trailed the group in 5th. I wasn't very pleased with my overall weekend but planned to use what I had learned for the next time.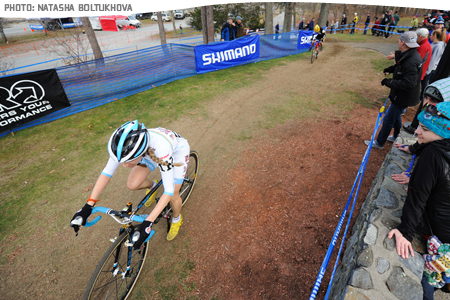 Instead of our usual Sponsor Spotlight, this week Matt and I are bringing you a very special edition, non-denominational, MMRacing 12 Days of CXMas! If you are looking for a gift (or just want some ideas for yourself!) be sure to click the below image to check out our special newsletter. We highlight twelve of our sponsors and give you some great ideas for the cyclist, superfan or even the baker in your family. Without the support of our great sponsors, we wouldn't be able to do this week in and week out!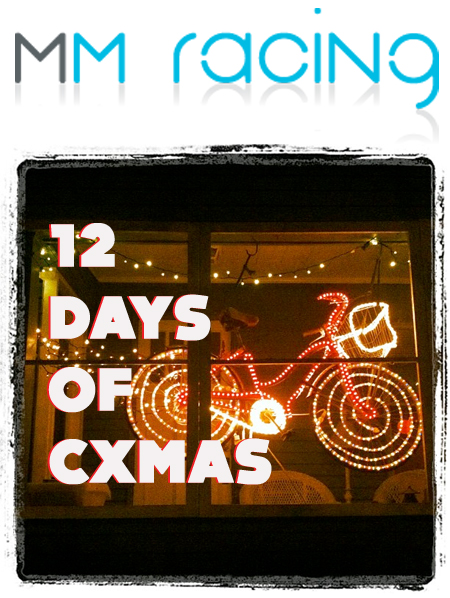 Believe it or not, Matt and I are hopping on a plane and flying to Bend, OR for the final rounds of the US Gran Prix of Cylocross. We're heading back to the very same venue as last year's National Championships. As many of you might recall, I had an especially rough time there last year. I'm hoping to get a little revenge on a course that's never been particularly kind to me.



First off, these newsletters would be nothing without the support of the many great photographers who share their images week in and week out. This week we are happy to share images from three local photographers. Please take a moment to check out their websites.
Natasha Boltukhova (offcial MMRacing photographer): http://www.pedalpowerphotography.com/

Elaine DeBitetto (local 'crosser and also a massage client of mine): http://trigirlpink.smugmug.com/

Christopher Harrison (new to the MMRacing Newsletter!):
http://www.christopherharrison.net/

NBX Gran Prix of Cross, Day 1
Podium Insight photos - Day 1
Podium Insight - Day 1
Cyclingnews - Day 1
Velonews photos - Day 1
CXMagazine - Day 1

CyclingDirt's video coverage of Day 1 can be seen below.


Watch more video of NBX GP Of Cyclocross 2011 on cyclingdirt.org

NBX Gran Prix of Cross, Day 2
Podium Insight photos - Day 2
Podium Insight - Day 2
Cyclingnews - Day 2
Velonews photos - Day 2
CXMagazine - Day 2

CyclingDirt's video coverage of Day 2 can be seen below.
Watch more video of NBX GP Of Cyclocross 2011 on cyclingdirt.org

Lastly, it finally happened. CyclingDirt's Thom Parsons (a.k.a. Ultra Enduro Dyude) got the interview he has been pestering me about for years now. I was finally interviewed in my "native" Boston tongue. It is something special. You can watch it below, if you dare.

Thanks for the amazing support of Bob's Red Mill, Seven Cycles, SRAM, Mavic, TRP, Challenge, Lazer, Fizik, Mad Alchemy, Thule, Castelli, Zipp, Vita Coco, Fitness Together Arlington, Franson Family Chiropractic, Ryders Eyeware and Restwise.

If you just can't get enough MM Racing, you can follow us on Twitter.
Matt: @mm_racing, Mo: @meaux_marie.

Thanks for reading!