After returning from the Czech Republic, we decided to take the following weekend off from racing to tackle the chest high laundry pile, get back to my clients and get Matt back into the lab! We had a freak snowstorm over that weekend which meant that there would be really muddy racing in New Jersey. I was torn about taking the weekend off but stuck to it and enjoyed a little downtime and some solid training without getting in a moving vehicle.


The next race I had lined up was the CycleSmart International, part of the Shimano New England Pro Cyclocross Series in Northampton, MA. Northampton had received about 20 inches of snow in the Sunday storm, but I knew by the following Saturday it would be gone. In the 21 year history of the CSI race, it has never rained and it has always been an especially fast, flat race course.

When the weekend arrived, it was sunny, warm and dry. I was ready for some very fast, dynamic pack-style racing, much like a crit, but on grass!



As expected, when we arrived on Saturday morning, all traces of snow had disappeared. The Nor'easter that clobbered Northampton a week prior was a distant memory. After I took my customary course inspection, we packed up the mud tires and got my go-to dry condition tires, the Challenge Griffos, ready to go.
I had a good start to the race, mixing it up with the top three riders right off the line. Unfortunately, I ended up taking a corner a little too tight and clipped my pedal resulting in what was more of a stumble than a crash.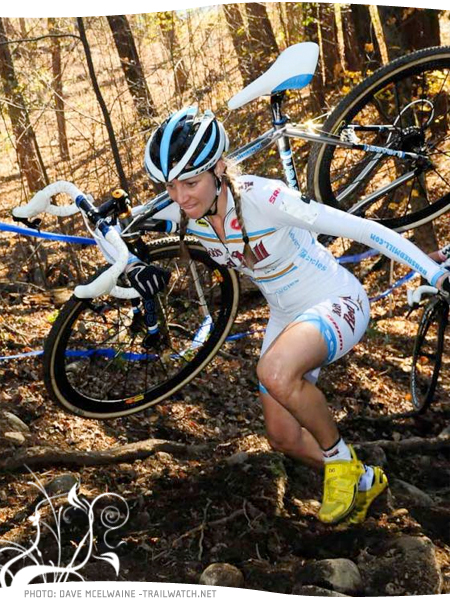 In doing so, I knocked the chain off of the chainring and fumbled for a while to get it back on. This seemed to take forever. By the time I got it back on I was almost last. The front of the race was long gone and I would really have to dig deep if I wanted to salvage my race.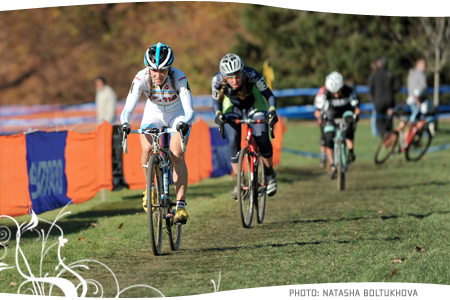 The course was already super fast and a pack of five racers was on the front driving the pace. I was able to move up several spots each lap and finally made my way to 9th place by the finish. I had used up a bit more energy than I would have liked given there was still a second day of racing ahead.
Rather than stay in Northampton for what always seems like a lousy nights' sleep, we headed back to Boston for the launch of the 2012 Seven Cycles bicycle line. Matt gave the Mo-Honey a quick wash and we delivered it to the party so all could gawk at it. Seven dropped the 2012 catalog that night as well. Like the bikes they make, the catalog is a work of art.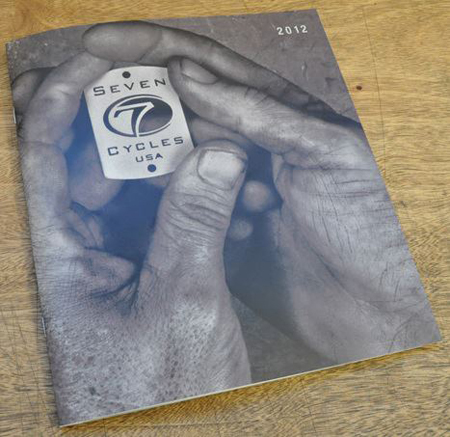 There are a bunch of great pictures of Matt from the Green Mountain Double Century and some of me on my Mudhoney. You can get a catalog of your own by visiting the Ride Studio Café or by requesting one here.


I was resigned to having a better go of it on Sunday in Northampton. Although there were some changes to the course from the previous day, it was still super fast and smooth racing. I had a strong start and sat in third place for a few laps.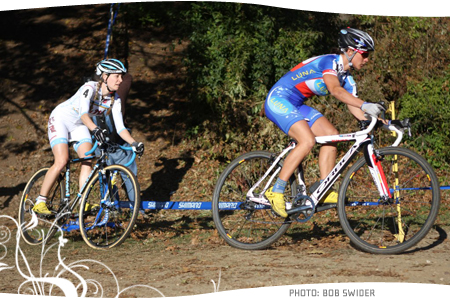 By the third lap, there was a group of four of us chasing the leader. Although we all tried to pass one another and get a gap in the rideable sand sections, it came down to the last lap where the riders with the most power turned it up.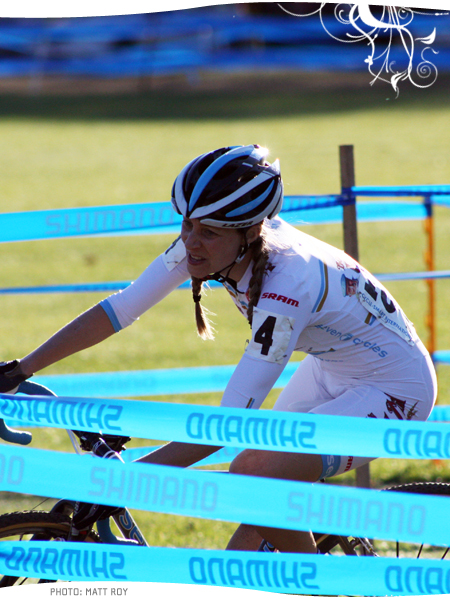 I finished in 5th place, just about where I expected but feeling a bit of fatigue from the previous days effort. That night Matt had a late time point in the lab so we headed to the lab for a few hours and grabbed dinner at a new local restaurant in the area to wrap up the weekend.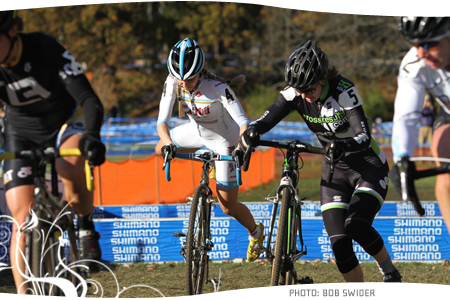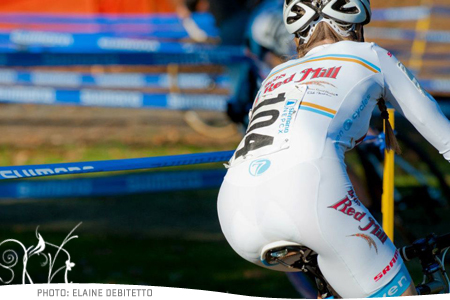 In lieu of our customary Recipe of the Week, we're bringing you my new favorite segment, Recovery Activity of the Week!

There was one upshot to my weekend of less-than-stellar racing; our friend Kurt dropped some Bruins tickets into our hands for a Monday night game. Even though I have watched MANY Bruins games in my time, this was my first time ever seeing the action in person. Those guys are enormous! The Bruins won, we had a blast and our seats were amazing. Thanks, Kurt!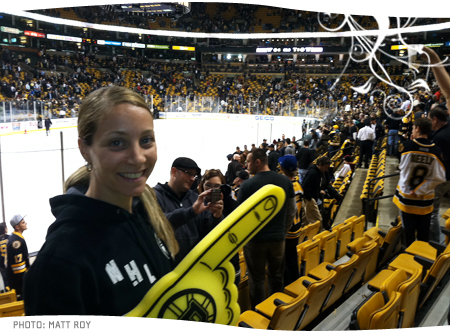 We are very fortunate to have many of our sponsors return year after year. Beginning in 2004, and every year since, I have ridden on Mavic wheels. For the typical 'cross course, I race on Mavic's flagship wheels, the Cosmic Carbone Ultimate - hands down the best wheels I have ever ridden. Glued up with Challenge's Grifo tires, these are my go-to wheels for most conditions. We also have a fleet of Mavic R-SYS SL wheels for muddy conditions. They are amazingly light and stiff, sub-1300g!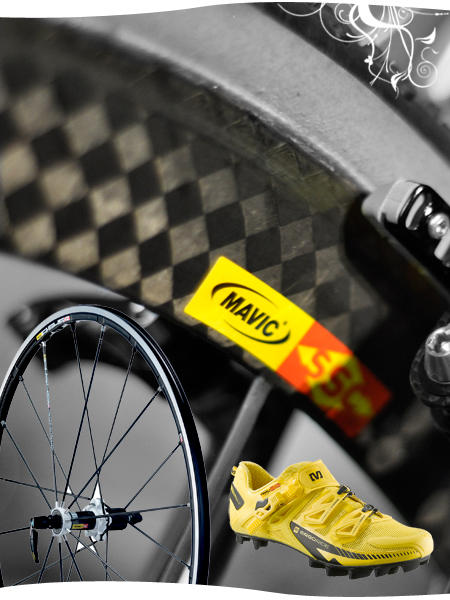 I have also been riding with Mavic's amazing light Fury mountain bike shoe. They have just the right amount of traction for the transitions when I'm on my feet and off the bike, while being perfectly stiff for great power transfer on the pedals.
But enough about the equipment! It's the guys at Mavic that make it really special. This past weekend at the Northampton races, Matt and I had a home away from home at the Mavic Expo. Petar, Kyle, Paul, and Mavic alumnus, John Berlinger were all on hand to help us out with anything we needed. More than that, they were the loudest cheerers on that section of the course. Thanks, guys! Thanks also to Nate at Mavic who is always dropping some new goodies off on our porch… it helps that he lives only a few blocks away!


Next up, Matt and I are heading south for the Derby City Cup in Louisville, KY! I'm looking forward to riding on the course that will be used for the World Championships in 2013. The competition promises to be fierce. I'm excited for it!
Check out the media coverage from the Cycle-Smart International weekend below:

Cycle-Smart International, Day 1
CSI Day 1 CyclingNews
CSI Day 1 Velonews
CSI Day 1 Podium Insight
CSI Day 1 CyclingDirt

Cycle-Smart International, Day 2
CSI Day 2 CyclingNews
CSI Day 2 Velonews
CSI Day 2 Podium Insight
CSI Day 2 CyclingDirt
Our friend Thom Parson was on hand reporting for CyclingDirt. He pays homage to New England announcing legend, Dick Ring, in this, um, colorful recap.
Check it out below.

Watch more videos on Cycling Dirt

Thanks for the amazing support of Bob's Red Mill, Seven Cycles, SRAM, Mavic, TRP, Challenge, Lazer, Fizik, Mad Alchemy, Thule, Castelli, Zipp, Vita Coco, Fitness Together Arlington, Franson Family Chiropractic, Ryders Eyeware and Restwise.

If you just can't get enough MM Racing, you can follow us on Twitter.
Matt: @mm_racing, Mo: @meaux_marie.

Thanks for reading!