Welcome back to the MMRacing newsletter! This one is a doozy as we've got four races to cover and many miles of travel in between... but don't worry, there's lots of pictures!


Upon returning from Fort Collins, we popped into work for a few days before packing up again for 10 days in the Czech Republic for the first two World Cups of the season. I would be traveling solo to Prague to meet my coach and his wife, our US cyclocross National Champion, Katie Compton. We had arranged to meet at the airport and share an apartment for the week at the Tabor Vitrovy Zoo. Matt had an immunology conference to attend for the weekend but would arrive on Monday following the first World Cup for the remainder of the trip.

After a long day of flying, I arrived at the airport in Prague about four hours before Katie and Mark. I grabbed a chai at the Starbucks and hung out near the car rentals reading a book and lounging about. We then headed to the Zoo together and checked into our fantastic apartment before heading to the supermarket and finally collapsed to sleep for the night after a light meal.

The next day, we headed to the Tabor World Cup course for a pre-ride. The course was fast and not especially technical but very hilly. It would be unrelenting and would demand constant pressure and pedaling the bike. I felt decent on my warm up but definitely felt some of the effects of the all-day travel lingering in my muscles.
After some yoga and stretching and a great homemade dinner, we all settled in for the night to rest up before the World Cup racing the next day.


I was so lucky to have my friend Adam Myerson contact an old teammate of his, Nikola, who lives in the Czech Republic to help me with a trainer for warming up and an extra set of hands in the pit. Katie and Mark also had a mechanic from their Trek team on hand and he was a fantastic help with a team tent, chairs and excellent mechanical support.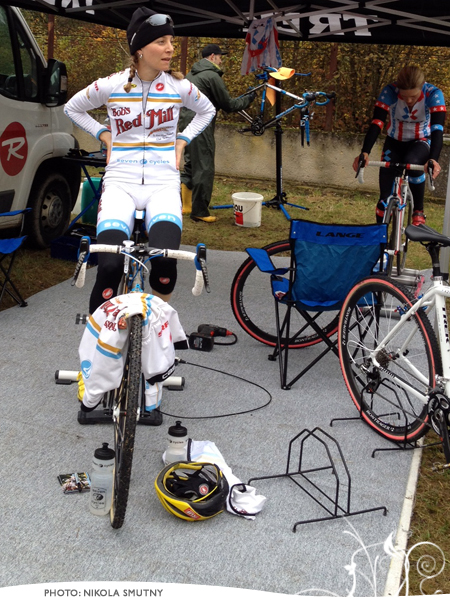 Leading up to the race, Tabor had seen two days of dense, misty fog making for some slick corners on the course but overall it was very fast. I had a solid warm up although my legs were feeling a bit travel weary still. My coach suggested a less aggressive start to the race so that I would not dig myself into a deep hole in the first lap and it really seemed to help me as I progressed through the race.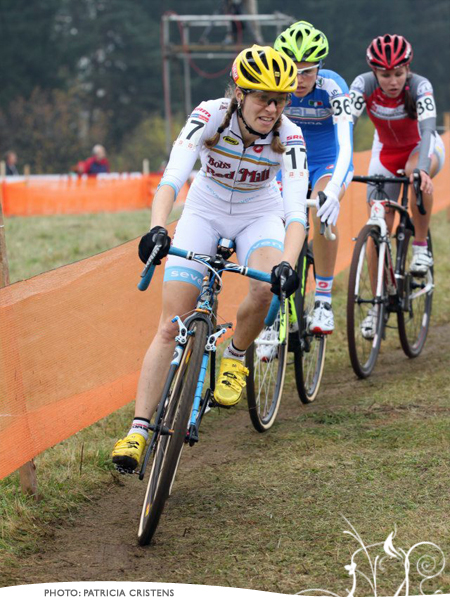 I was working my way to a top fifteen spot as I passed a group of five riders and was feeling good until my legs showed the first signs of cramping. At first it was just a few twinges and I kept pushing but soon it became more intense and I had to slow down and lost all of the spots I had gained. The final lap up the stairs, my left quad muscle locked up and I had to stop completely for a few seconds before being able to move the leg and get back on the bike. I told myself to just keep going since the worst that would happen was that I would cramp so badly that I would fall over. I made my way to the finish in 22nd position. I was glad to know my fitness was solid enough for a possible top fifteen or better, given a bit more travel recovery and rest.





The week that followed was spent exploring the local area on training rides, morning yoga sessions and hanging out in the apartment and surrounding outdoor space. It's a very pro lifestyle and it is one that is completely new to Matt and me. We tend to busy our days with explorations of castle towns and museums, possible expending more energy than ideal for World Cup racing preparations. This week would be something new and I was looking forward to feeling rested and recovered for the next race World Cup race in Plzen the next Sunday.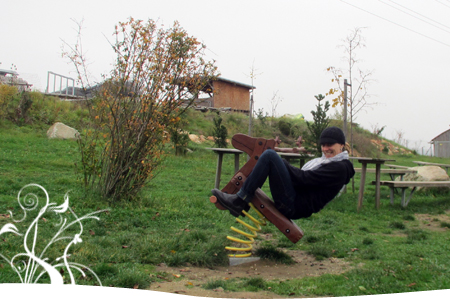 Our week at the Tabor Zoo apartment was filled with long lazy mornings over coffee and laptops followed by some very good, solid training rides each day. I took a little time each morning to stretch and do yoga, which was especially nice on the heated bathroom floor!

The weather was cloudy and damp everyday and it was especially motivating to have my coach and Katie along for the rides. Their years of experience training, racing and fitting became very clear. I was grateful for the opportunity and happy to have some input on my bike fit and some instruction on improving my pedal stroke. Mark had his GoPro camera on hand and captured a day of training on the roads around Tabor. Check out the video below:



Training ride with Katie Compton. Czech Republic. from Kiwivelo on Vimeo.


Matt took advantage of our country location by exploring on foot, running and hiking along the local paths.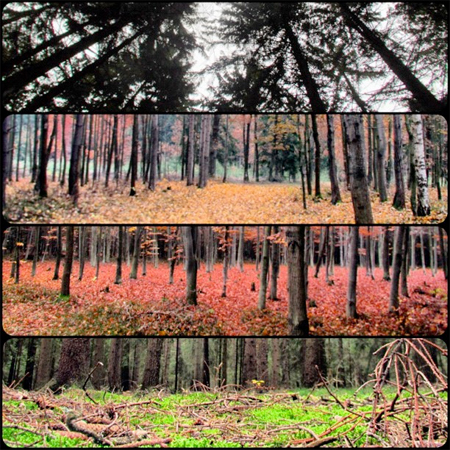 On the Saturday before the Plzen race, we headed to the World Cup course for a preview ride. It was raining and snowing and when we arrived, there was a fair amount of mud on the track already. My pre-ride was several laps of the course and it was indeed slippery and muddy as the snow continued, but my legs felt good and I was thinking that a muddy race would be my golden opportunity to have a top result at a World Cup. During the evening however, the snow stopped and the ground dried up just enough to turn all of the mud and fresh-cut grass into an unusually thick, gooey mess that I had never encountered before.

On race day I did a warm up lap and my bike was gathering so much mud and grass that I needed to have Matt clean it before even completing one lap! In hindsight, I should have more carefully analyzed the situation and made some different choices regarding my equipment but I had become very focused on choosing the right lines to ride the tricky sections and was really able to pedal though some technical turns much better than other riders.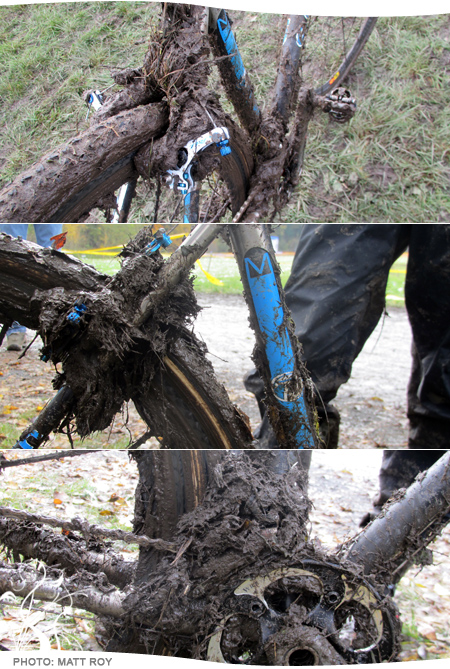 In the first lap, I knew that I was capable of riding many of the technical turns and pedaled my way though what many riders were running. This became my downfall as my bike picked up two times the mud and grass of the racers that were running sections and ¾ into the first lap, neither of my bike wheels were even spinning because there was so much mud and grass jammed into the bike. I wasn't even able to push the bike and had to carry what felt like 50 extra pounds on my shoulder. I was dead last coming into the pit and swapped for a fresh bike.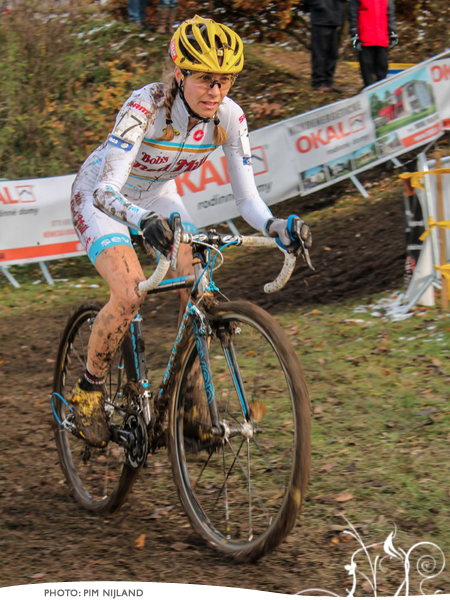 Each lap after that, I swapped bikes 2x a lap and began running most of the really muddy sections and kept passing riders until the end and made my way to 23rd place. Laurent Charras of Petitesreines was on hand and put together another great highlight video of the Plzen race. You can see the carnage below... and yes, the stairs were that steep.



2ème Manche de CDM cyclo-cross 2012/2013 from Petitesreines on Vimeo.


I was pretty disappointed with the whole race and the decisions I had made and the event felt very frustrating at the moment. I felt as though I had completely blown my golden opportunity. I immediately knew that the frustration I felt was greater than this one race and it was the moment of the season that I would need time to take a closer look my goals for the season, what my focus and attention to racing really is and what I wanted the season to look like going forward.





That night, Matt and I headed to the airport hotel in Prague and prepared for the news that Hurricane Sandy was slamming the East Coast at home and we would be stuck for several days. After Matt spent several hours on Skype to United Airlines, we were eventually re-booked for a Wednesday flight. We decided to make the best of our time and headed out to dinner at a vegetarian restaurant we had been to the year before.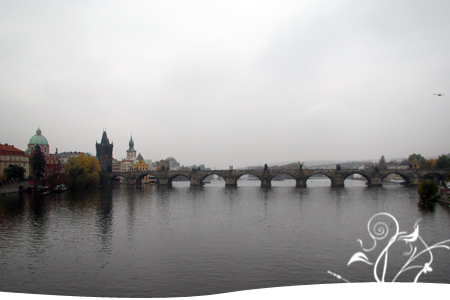 We got there just in time to order before the kitchen closed and sat in a cozy candlelit back corner and chatted about the race and the season. I've been ruminating about last season and this season for quite some time and was pleased to be able to articulate my feelings on my training, racing, working and how to best lay out a plan to keep a balanced approach, realistic goals as well as a sense of presence and focus in each thing that I do. I was relieved to send an email off to my coach the next morning that summed up my thoughts. "Stuck" in Prague, we suffered through it and enjoyed the next two days off exploring the city.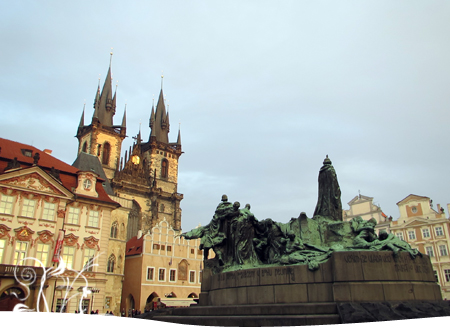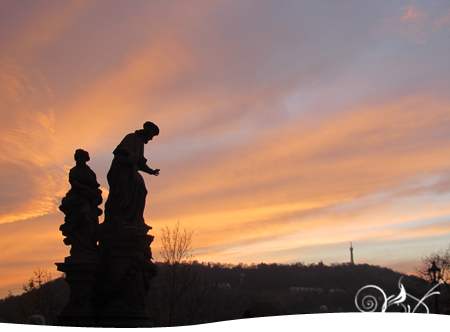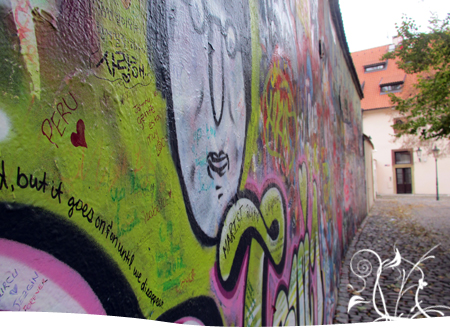 On Monday we headed into the city via the bus and train and had lunch at Bakeshop where we bumped into fellow stranded US friends and enjoyed a a few hours of chatting in the café before heading to a giant cinema to see the new James Bond movie Skyfall which would not be out in the US for several more weeks.

On Tuesday, we headed back to the city to check out the Senate gardens that featured an owl enclosure and mysterious dripping stone wall. We had another delicious lunch of sourdough, hummus, carrot salad and glasses of wine at Bakeshop. Wednesday was an all day travel affair and we finally arrived at home late in the evening, very ready to be in our own bed.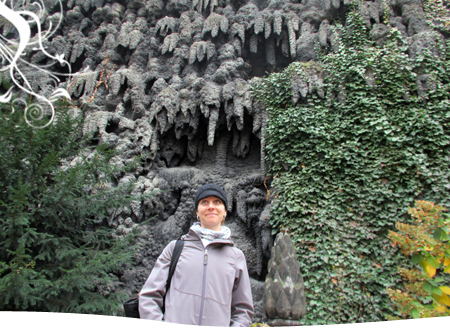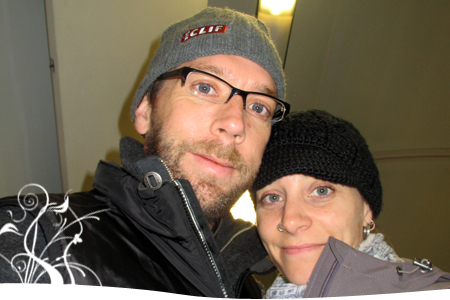 Almost as soon as we arrived home, we were off again within 48-hours to Ohio for the Cincy 3 Cyclocross Festival. Our late Friday arrival and the fact that the Saturday race was not until 7PM, allowed us to sleep in before heading to the market for groceries, coffee and breakfast. Matt had carefully mapped out the area and found an amazing bike path for me to do an afternoon ride to prep for the evening race. By that evening, it was raining quite a bit and looked like it would be at least a bit muddy by the late start time.





Racing under the lights in the cold drizzle was challenging enough, but the mud was only a thin layer on top of an otherwise fast course with lots of turns. The thin layer of mud was slick and greasy like ice during warm up and became slightly more tacky as the race progressed. I had a solid start and quickly found myself in the top five in the first lap. As the race progressed, I moved into fourth place and was able to keep my position for the finish. I was definitely pleased with the result after such a hectic week.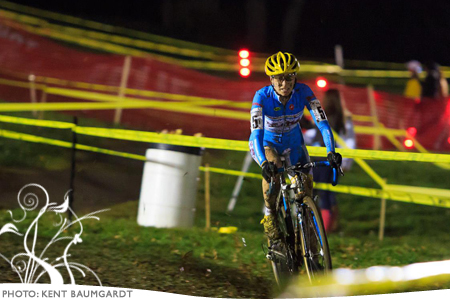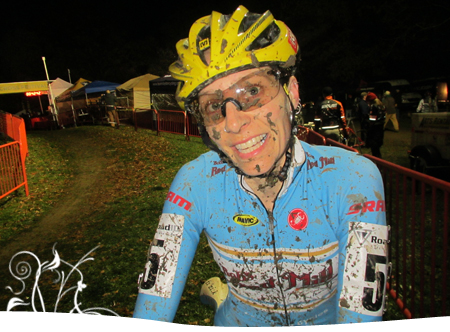 The weather was still cool but there was a bit of sunshine poking out to keep things dry and fast. The race was located at a different venue than the muddy race the night before and this track was fast but had a lot of small uphills and fast descents that split up the field within the first lap. Again I had a good start and stayed in a position that would allow me to progress through the demanding race without using too much energy on the hills too quickly into the race.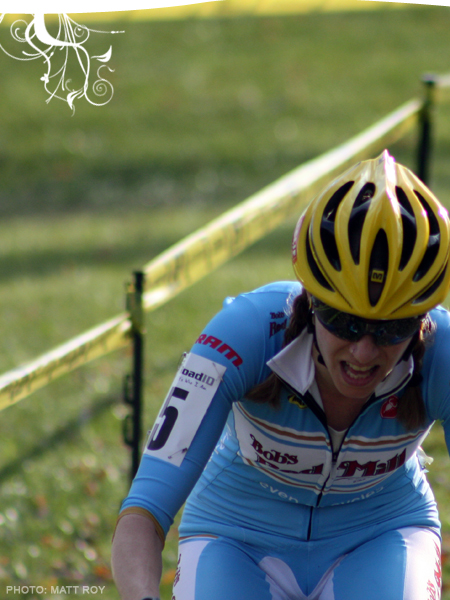 Having metered my efforts on the early laps, I was able to pass several riders before being joined by another racer for the last two laps. We spent the remainder of the race battling back and forth and coming to the finish line only a few seconds apart. I was 7th overall and again pleased to find the energy to have a strong race and results.
Weekend bonus? Cannondale Truck Cat "Jeremy Meowers!"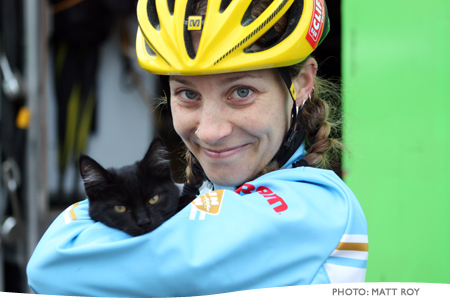 We grabbed a redeye flight home after the Sunday race and settled in for three days before the next round of the USGP in Louisville, KY. Thanks to our friends at Rapha, there will be live video coverage of the elite races beginning at 2:15PM both days this weekend. Check it out here! Thanks to Jeremy, Slate, Chris, Gerbin and everyone at Rapha for making this happen!


Pefect for the interminable cloudiness, our go-to meal several times during our stay in the Czech Republic was a tasty curried lental and rice soup. Yum! Check out the recipe at the Vegan Delicious here.
Thanks for reading! And thanks for the amazing support of Bob's Red Mill, Seven Cycles, SRAM, Castelli Cycling, Mavic, TRP, Zipp, Soul Run, FMB, WickWerks, SwissStop, Fizik, Mad Alchemy, Vitacoco, Thule, Smith Optics, ClifBar and Lululemon.

If you just can't get enough MM Racing, you can follow us on Twitter.
Matt: @mm_racing, Mo: @meaux_marie.