After the races in Vermont, Matt and I spent a few days at home working and prepping for the first big trip of the season to the USGP opener in Sun Prairie, WI. We were excited to get back to the Madison area for the first race of the national series. There would be world-class competition, we would get to see the great USGP crew and I would make a special visit to Bloom Bake Shop for amazing vegan and gluten free treats to share.


In addition to being my mechanic, Matt works for the Cannondale p/b Cyclocrossworld Team at many of the races as well. This means he arrives at the venues early in the morning and wraps up with the crew after the last race of the day.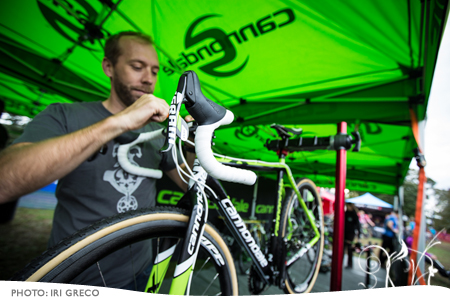 Needless to say, Madison was no different. It makes for a long weekend and Matt never seems to complain… even when he's still covered in dirt headed to the airport to catch a redeye. One of the benefits of Matt working for the Cannondale team is that occasionally I get to test out other bikes… you know, to see if it might fit better than my custom Seven Cycles bikes.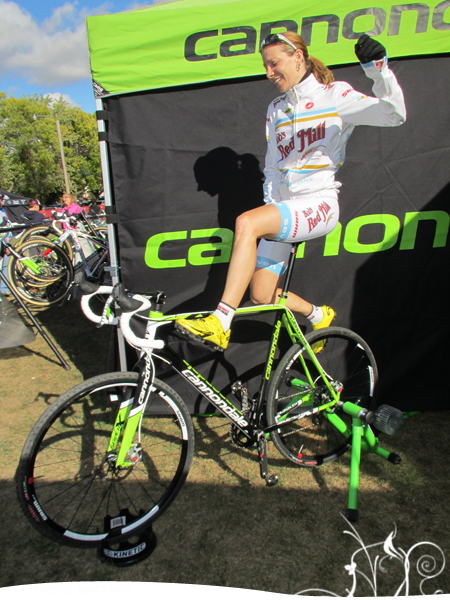 Cloudless skys and a summer-long drought would make for dry and fast race conditions. Lined up at the starting grid, the competitive field of racers was antsy to get the season underway. I had a solid start and was able to maintain a top ten position for most the race while I duked it out with several other riders. There were a few steep climbs and a run up that made for good chances to open up small time gaps on other riders.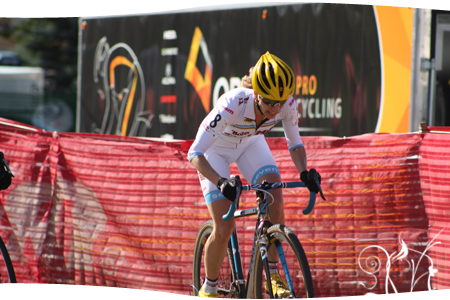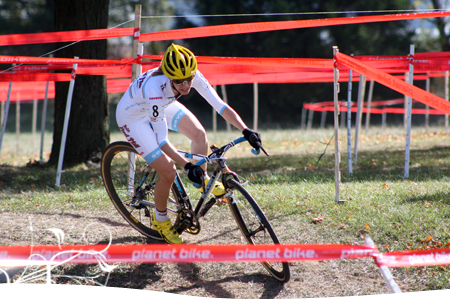 I finished 9th on the day feeling like it was a solid start to a new season. It was nice to spend some face-time with my new coach, Mark Legg. He was quick to offer insights on my race and encouragement about my progress. Thanks, Mark!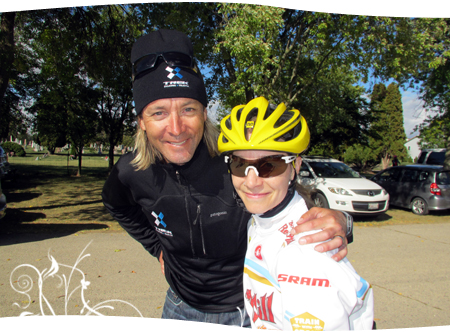 Our friends at Cyclingdirt were on hand at the USGP. They caught up with me for a quick interview after the finish. You can watch it below.



There were some slight variations to the course on the second day but all of the traffic on the parched, gravelly ground was beginning to take its toll and it was actually "slippery" on some of the corners.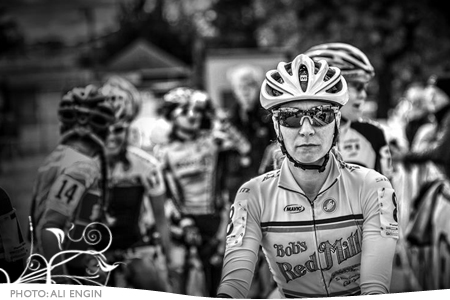 At the end of the first lap, I slid and crashed on an off-camber turn and another rider got tangled up in my bike, breaking the rear derailleur cable housing. I limped back to the pit to swap bikes and spent the remainder of the race chasing back through the many spots I had lost.
I fought back to finish in 11th. In spite of the crash, I was happy with how my legs felt and finished with another solid race to wrap up the weekend.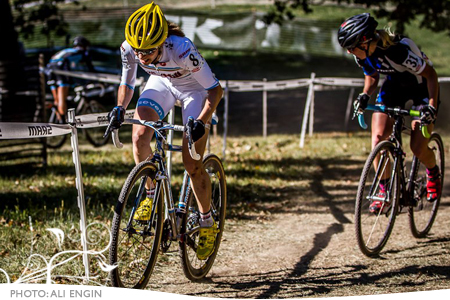 Shortly after finishing my race on Sunday in Madison, I began to pack up for our trip to the airport that evening. As soon as Matt finished work with the Cannondale Team, we were off to the airport to head home. Our travel plans were delayed and our flight arrived an hour and a half later than expected. By some miracle, insomnia or whatever engineers do in the wee hours, our friend Todd was still awake at 2:30AM and came to the airport to get us! Thanks again Todd, that was amazing.
Luckily Matt and I took most of Monday off to recover with some sleep, laundry, running errands and getting sorted for a few weeks at home. The next two weeks would feature six races in New England including two Wednesday night races. Dubbed "New England Holy Week" there are eight races packed into 10 short days. Beginning with the Midnight Ride of Cyclocross and finishing with the Providence Festival of Cyclocross, this is the most concentrated week of cyclocross in the US. I targeted six of these races with plans to take the last weekend off to see my family before the next big swing.

The first race in "New England Holy Week" was on Wednesday, shortly after our return from Madison. The Midnight Ride of Cyclocross is raced under the lights at the Bolton Fairgrounds. I was thrilled to also see some of my sponsors represented at the Midnight Ride of Cyclocross race including super friendly folks from Bob's Red Mill and Vitacoco. I spent a few minutes chatting with Dave from Cyclingdirt about my goals for the upcoming season. You can see the interview below.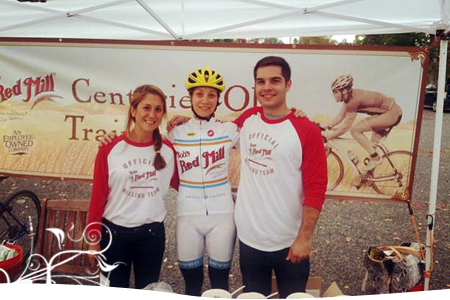 I was also graced with a visit the next day from the Vitacoco "coconut truck" for my sponsorship delivery!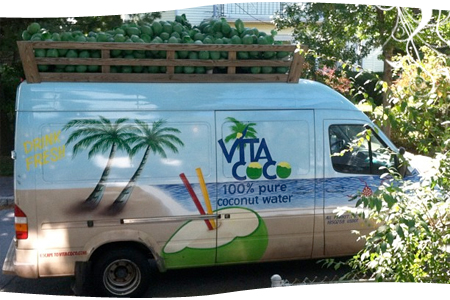 The Midnight Ride was actually at 7:30PM, but it was a great opportunity to get in some mid-week racing rather than another solo training session. However, being a bit tired from the weekend travel and working a full day before racing was less than ideal race-prep.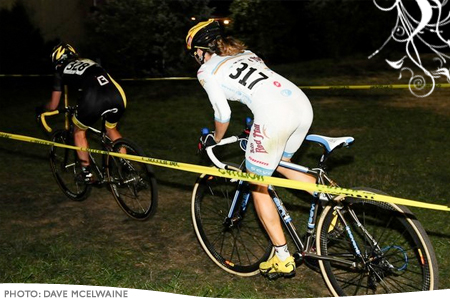 I felt strong enough to spend most of the race in second position although I lost some time on a tricky corner and my legs just never seemed to open up or feel snappy. I finished up third for the evening, ready for a rest day to regroup and set my sights on the next two days of racing in the Holy Week; the Gran Prix of Gloucester.

After Wednesday's race, it was time to prep for Gloucester. It is one of the biggest races on the East Coast and the field of riders was pretty stacked. It rained all day Friday but as I know all too well, Gloucester is all sand and gravel and would surely dry out if the rain stopped. Saturday stayed dry and the course was smooth and fast but it was a pleasant surprise to wake up to heavy rain fall on Sunday that lasted through out most of the day.

The folks organizing the Gran Prix of Gloucester have been doing a great job in making the race course more interesting and creative each year. This year was one of the best and I was looking forward to the racing.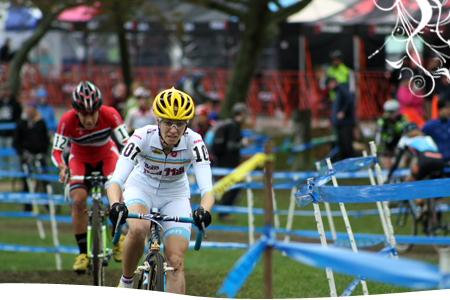 I had a great start but faded a bit mid-race feeling that perhaps I needed a better "opener" ride on Friday to get my legs more energized. I pushed each lap to improve my position and finished in 11th, a few spots back from where I would have been satisfied. My friend Ultra Enduro Dyude made an appearance this weekend which means my alter-ego "Meaux Marie" would come out to play. Check out the first of my Ultra Enduro interviews on Cyclingdirt below.
A video recap of Day 1 can be viewed here too.


There was a slight promise of rain for Sunday and I was looking ahead to the next day.



I've described the soil at Gran Prix of Gloucester to be made from magic unicorn tears because no matter how much it seems to rain the day before, the second the sun comes out, it's completely dry. So, it rained a bit that night and to my delight, kept raining all day!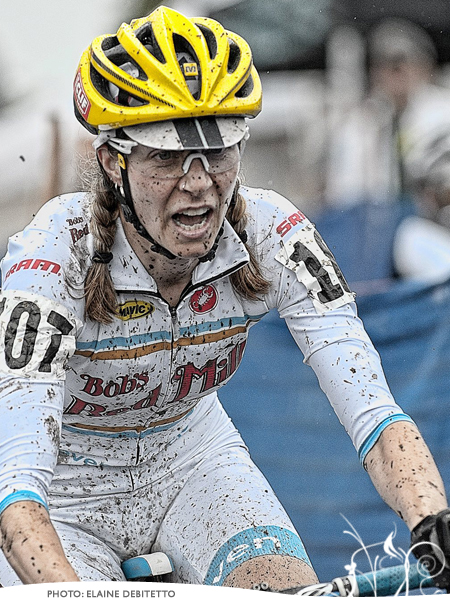 I was feeling much more opened up and had a better warm up session before my race. I was able to get to the front quickly and work to stay in the top five.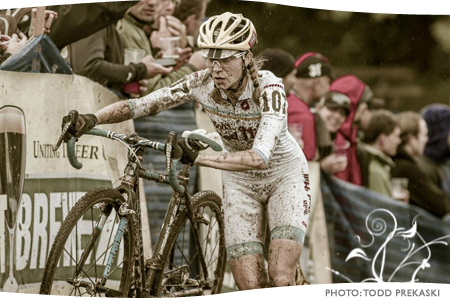 With one lap to go I was within seconds of catching second and third place but couldn't quite close the distance and happily took home fourth place. Ultra Enduro Dyude was on hand for another classic interview. Check it outhere..




A recap of the race can be viewed below.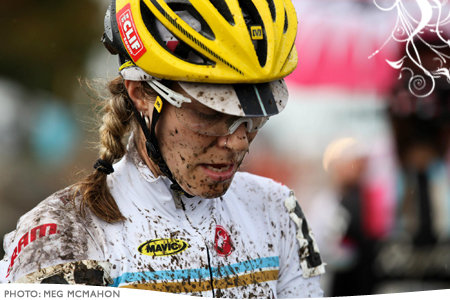 Matt and I stayed at the venue unitl well after the races were over. Matt help close up shop at the Cannondale truck while I got to catch up with good friends. On our way out of the park we were greeted by an amazing harvest moon peeking over the horizon. Matt popped out of the car and got this shot before we headed back home.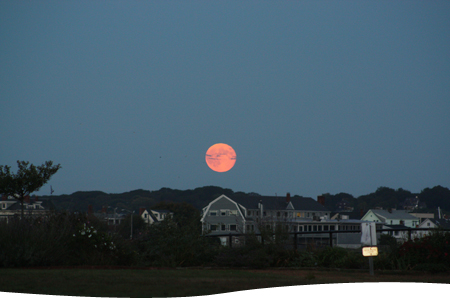 We wrapped up our six day streak of racing with another local Wednesday night race, The Night Weasels Cometh. This race was on a small ski mountain with a ton of climbing and some slippery turns from the all day drizzle.
I was a little more rested coming into this Wednesday race as I did not just get off a plane and I skipped half of my after-work errands to eat a good lunch and arrive at the venue a bit early to warm up. The course was really hilly for a cross course and started off with a roughly three-minute climb. I was happy to have the climbing workout to keep building that strength. I recognized some other very good climbers in the field and knew I'd have to be off to a fast start.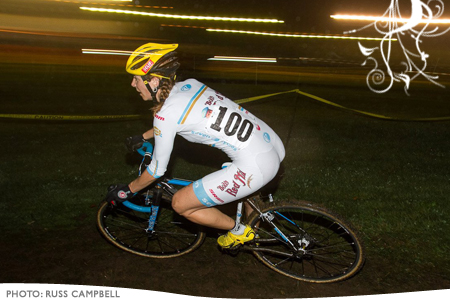 Luckily for me, the muddy corners got worse as the race progressed and I was able to make more time in the lead, taking the win. On my last lap, Matt insisted I take a spare bike because it had a special Night Weasels accoutrement; sparkly handlebars. Captured on the video below, Meaux Marie makes another appearance.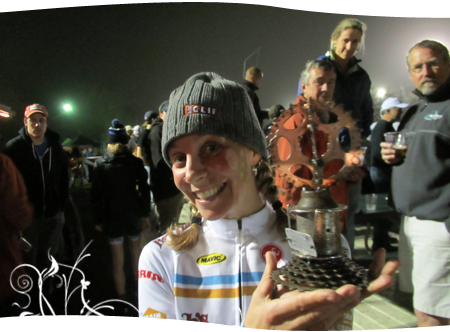 Huge thanks to our local promoters for a great event!

This past weekend I took a break from racing for some solid training, brunch with some friends and a family get together for my cousin's post-nuptial celebration. Next up: Rounds 3 and 4 of the USGP. We're off to race at altitude in Fort Collins, CO!


Inspired by the amazing cupcakes at Bloom Bake Shop in Madison, I decided to make my own attempt at chai latte cupcakes. If you were one of the luck few, you may have gotten to try one out at Gloucester! Check out the recipe here.
Thanks for reading! And thanks for the amazing support of Bob's Red Mill, Seven Cycles, SRAM, Castelli Cycling, Mavic, TRP, Zipp, Soul Run, FMB, WickWerks, SwissStop, Fizik, Mad Alchemy, Vitacoco, Thule, Smith Optics, ClifBar and Lululemon.

If you just can't get enough MM Racing, you can follow us on Twitter.
Matt: @mm_racing, Mo: @meaux_marie.