The weekend following Thanksgiving was our first weekend home without a race in over six weeks. I had decided to skip the local races and take a much-needed weekend of training, spending time at home and settling back into our routine for three whole weeks before our trip to Belgium. During our stay at home, I had three more local races including the last rounds of the NEPCX Series in Warwick, Rhode Island and New England's end of season 'cross race/party, The Ice Weasels Cometh. We also have a new sponsor to announce and we are really excited to unveil the #MoPRO2 from Seven Cycles.


While at the races in Iowa, we picked up a new sponsor; ProGold bicycle products which includes Matt's favorite chain lube and some very impressive bike cleaning products. Thanks for the support Bruce!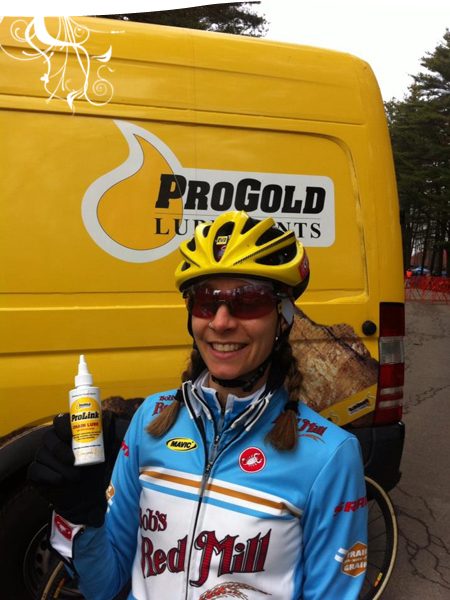 Upon returning home, we met with Rob V from Seven Cycles to discuss the prototype Mudhoney I had been riding since the end of last season. We discussed all of the pros and cons, discussed geometry and design and it was decided that Seven would redesign the prototype into what we dubbed the MoPRO2. What we didn't realize at first, was that Seven would crank out 30 man hours in 4 days and present me with a new frame the night before my next races at NBX!



Needless to say, we were thrilled to have this opportunity and to be able to work so closely with the amazing team at Seven. Matt was able to document the build of the bike with fellow mechanic David and put together an amazing time-lapse video. The social media hype we created for the #MoPRO2 generated quite a buzz and Emily Zinn of VeloNews wrote an article documenting the creation of the bike and presented Matt's video. Check out the gallery here and the video below.



Our friends at Seven documented the birth of the MoPRO2 on their blog here. Also, a big thanks to Meg McMahon for continuing to share her great photos of the New England races this season. Thanks, Meg!

I was so happy to have the chance to race the new bike on a local course just hours after it was completed. On Saturday morning, we made the short trek down to Warwick for the NBX weekend.




I always enjoy the NBX courses for the sandy beach feature that makes for a nice long running section. Despite some roots and twists and turns, the races tend to play out in a game of horsepower and tactics. I was psyched to see my super Rhode Island fans Marlee and Jillian again and this year they showed up with an awesome sign and cheered for me the whole race. Thanks girls!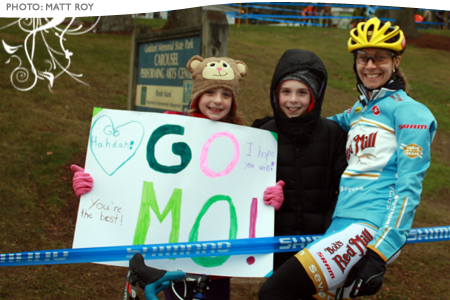 I had a good start but was a few places back from an ideal placement. As the racers strung out into single file, I was caught out behind some slower racers and had to chase back some gaps early on. At that time the leaders had created a small gap that they were able to keep for the remainder of the race. I was in a trio that became a duo in the last lap and about 300 meters from the finish was an incredibly rooty section but my last chance to pass my race partner for third place.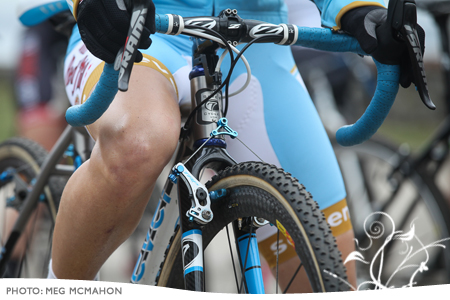 Unfortunately for me, I bounced off a root and hit a tree directly with my left should and hit the ground. I was a bit stunned and had jammed my brakes. Luckily I was right near the pits and swapped bikes but in the tumble, I was passed by several riders and my solid finish was gone. Luckily I was only scraped up and had some muscle trauma.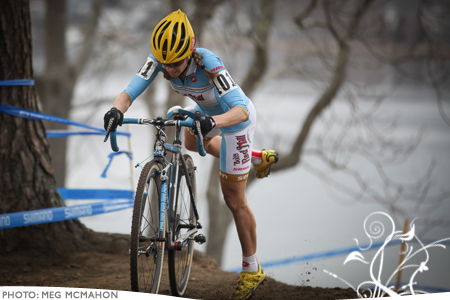 After the race I was able to hang out with our local #NECX (New England Cyclocross) friends, ice my shoulder and even got a custom made vegan pizza from our friend Jenny who owns La Strada Wood Fired Pizza. They travel with an amazing mobile pizza oven!



I was a bit sore on Sunday and decided to tape my shoulder with some Kinesiotape to help support the traumatized muscles. I seemed to have a little trouble pulling up on the bars for steep climbs, but there was only one short steep kicker on the course Sunday and it didn't seem to be a problem.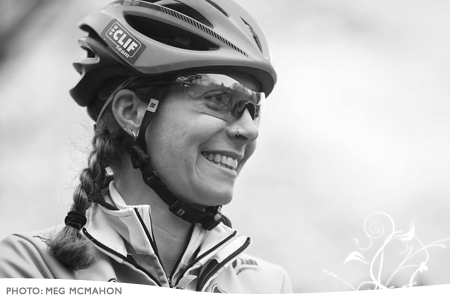 The course layout was very similar to the day before with roots, twists and another short sandy run, but otherwise very fast and another show of horsepower and tactics. I had to be a little smarter and not burn too many matches chasing in the front in the wind, so I settled into another trio and we worked to catch the three leaders. By the finish, we were down to a duo, sprinting for fifth place where I was just nipped at the finish line.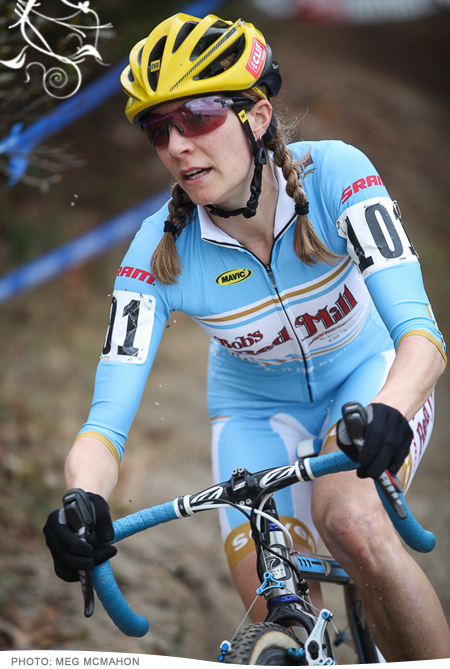 Overall, it was a solid weekend of racing and the new bike was nothing less than perfect. I couldn't wait to get it in some real mud and see how it really drives in some "classic" cyclocross conditions.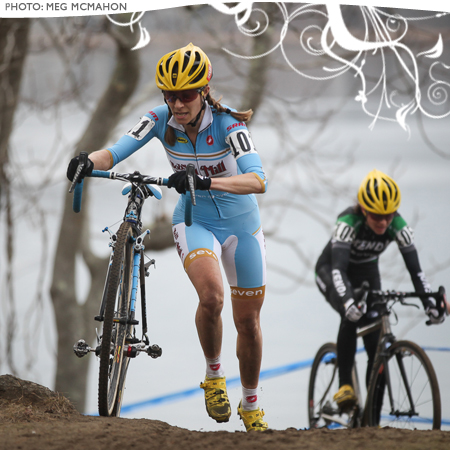 That evening we grabbed our friend Cait and headed to Pawtucket to our favorite veggie restaurant in Rhode Island for a great dinner and a shared slice of vegan cranberry cheesecake.


Next up was the Ice Weasels Cometh, which is part party, part cyclocross race. It's held each year at the White Barn Farm in Wrentham, MA. A few local racers put together the event and it has become the season ending 'cross party for the #NECX. Ice Weasels is special because it's a little off the radar, involves costumes, beer and a party atmosphere. I've missed it each year due to obligations to bigger races, so I was thrilled to be able to join the fun before the next few very serious, intense races in Belgium.



It was a rainy night on Friday and the drizzle continued on Saturday morning so I was pretty happy to be able to get the MoPRO2 in some mud and give it a go. I had also planned to unveil my costume for the day at the start line and Matt had also joined in with some extras.


The course was a fun combination of farm fields, woodsy twists and turns, a few steep ups and downs and one set of barriers where the majority of revelers gathered with beers in hand to cheer. The barriers were also the place where spectators handed beers, baked goods and other oddities to the racers as they went by. Some stopped to drink or eat while others kept racing. A big crew from Seven Cycles were on hand at Ice Weasels too! Jake and Joe raced, while Matt, Mike and Neil all road down from Watertown to join in on the fun. Be sure to check out Matt O'Keefe's gallery of the days' festivities here.

Matt and I revealed our Bruins Team support with me sporting my Stanley Cup edition Bruins cycling kit and Matt dressed in jacket and tie as the team coach complete with umbrella attached to a hockey stick while playing the "Bruins goal music."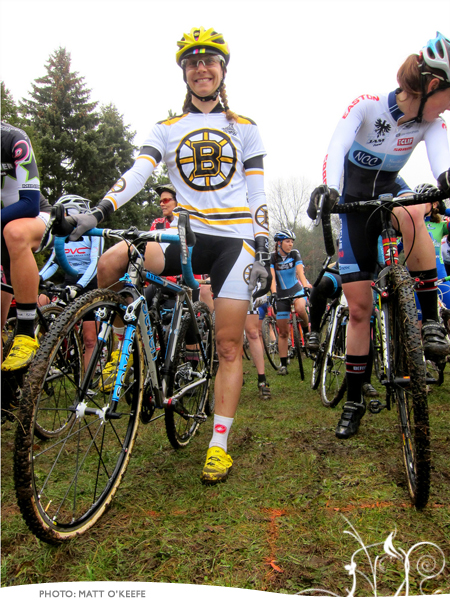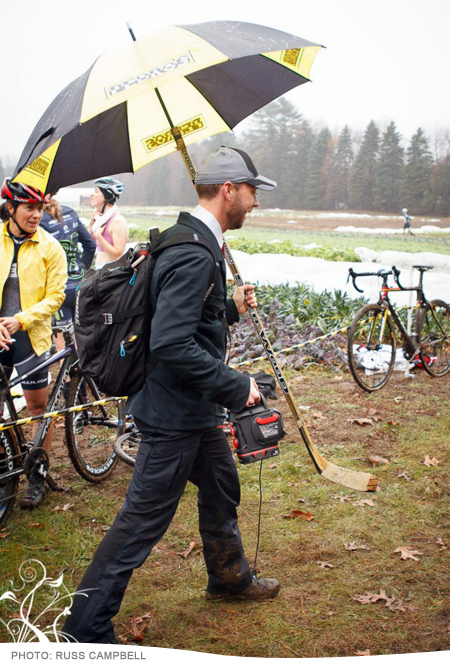 The race went off with a fast start and I was able to take the lead and stretch it out throughout the race. I even grabbed a hand-up but ended up tossing back the baked goods to the crazy crowd.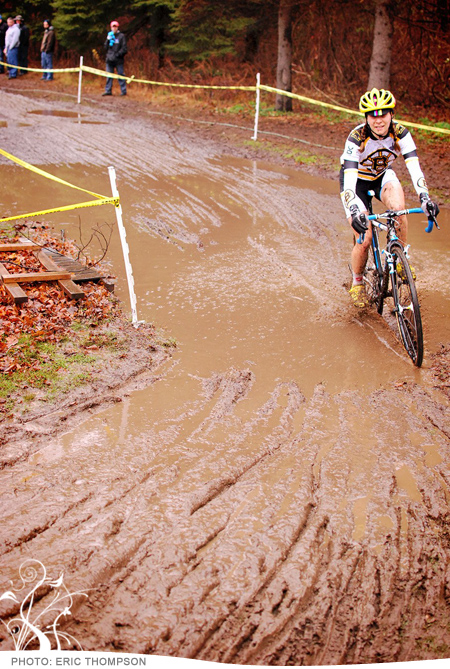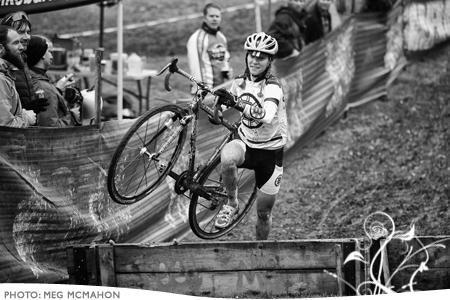 After my finish, I was able to cheer on all of the other women finishers and then clean up to watch the other racers and join the party. White Barn Farm also had their amazing farm stand open and I picked up some great fresh veggies too.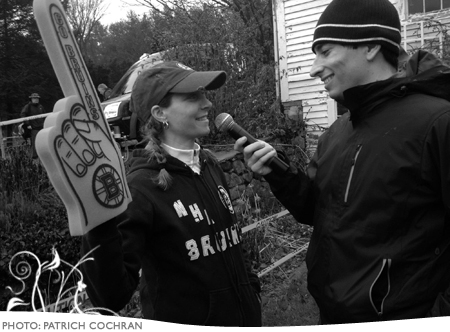 It was the best way to wrap up the local season and I felt so grateful to be able to be part of the local scene. Traveling around the US and Europe, I get to experience the racers and fans from all around, but nothing beats being home in the New England scene.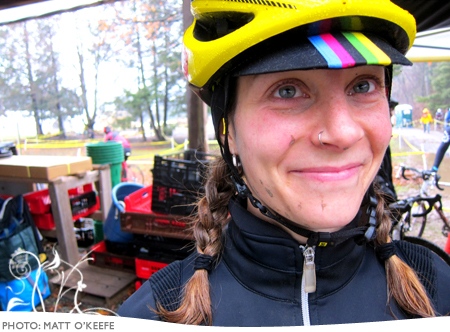 Don't forget! We have teamed up with our friends over at Herbivore Clothing in Portland, OR with a special edition "I Believe in Bikes" t-shirt. Just in time for the holidays, the 55% hemp, 45% organic cotton shirt comes in unisex and women's sizes and makes a perfect gift for all of your bike lovers. Herbivore will also donate a portion of the proceeds to the ASPCA whose mission is "to provide effective means for the prevention of cruelty to animals throughout the United States." Please click here or on the image below to link to the Herbivore Clothing website.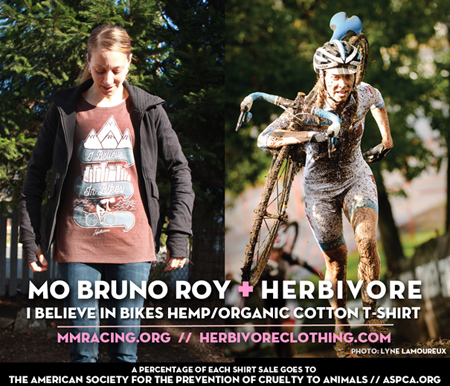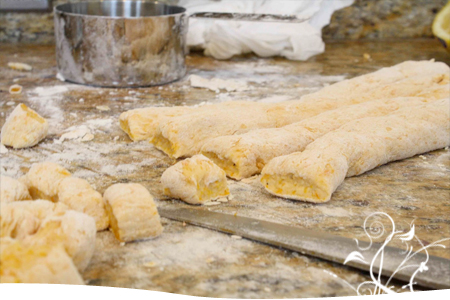 This is a hearty dish to warm your insides with creamy, delicious, winter flavors. I have not yet made my own gnocchi but I've been getting some fresh at the local markets. There are also several GF varieties available now.



We're now off in Belgium for three races including two World Cups. We'll be staying back in Arendonk, renting our cozy cottage from the Gijsen Family and making the best of our adventures in muddy Belgium!

Thanks for reading! And thanks for the amazing support of Bob's Red Mill, Seven Cycles, SRAM, Castelli Cycling, Mavic, TRP, Zipp, Soul Run, FMB, WickWerks, SwissStop, Fizik, Mad Alchemy, Vitacoco, Thule, Smith Optics, ProGold Lubricants, ClifBar and Lululemon.

If you just can't get enough MM Racing, you can follow us on Twitter.
Matt: @mm_racing, Mo: @meaux_marie.