Welcome back to the MM Racing Newsletter! Cyclocross season is back and this season I will pursue another ambitious race schedule in the US and Europe with the continued support of Bob's Red Mill, Seven Cycles, SRAM, Castelli, Mavic, Fizik, TRP, Thule, Zipp, WickWerks, Vitacoco, Mad Alchemy and Clif Bar.

A big welcome to our new 2012 sponsors FMB, SwissStop, Soul Run, Smith Optics and Lululemon. We'll be featuring products from our sponsors in future newsletters, so stay tuned for more. In the meantime, please check out our sponsor page to see all of our sponsors along with their amazing products and support!


As always, Matt and I try to keep on top of the latest social media trends. On each of our newsletters, you should see a link on the right-hand side to share our newsletter via Twitter or on Facebook. On our homepage you can see our latest tweets along with the latest news, events and photos. Follow us on Instagram (mm_racing and meaux_marie), and look for our hashtag #MMRacingCX2012 for the latest tweets and pictures. You can also invite others to subscribe to our newsletters but directing them here.

For our New England friends, family and fans: This Saturday and Sunday (September 29th and 30th) come cheer me on at the Gran Prix of Gloucester. At 2:30, I will be lining up against some of the best in the world for two days of great racing right in our backyard. For information, check out www.gpgloucester.com. You can also read about it in the Boston Globe G-section (including a picture of me from last year's race!).

This summer I spent much of my time training with a new coach and building my strength and endurance for the cyclocross season. Unlike previous summers, Matt and I dialed back the travel and racing a bit so I could focus on my training. I raced a few mountain bike races and dabbled in some late summer crits with some strong results going into cyclocross season.

It was another successful ultra endurance season for Matt. Once again, Matt rode with the Ride Studio Café Endurance Team and won the grueling 215-mile Green Mountain Double Century. The Team also tackled countless miles on dirt roads of Vermont, select events in the Boston and Berkshire Brevet Series, and the Northeast edition of the Rapha Gentlemen's Race.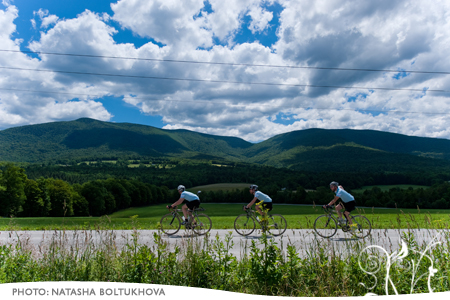 Matt capped off the summer with a convincing win at the Saratoga 12/24. The Saratoga 12/24 is a non-drafting event sanction by the UltraMarathon Cycling Association, held on a rolling 32-mile course along the Hudson River. Matt shattered the previous 12-hour record of 250.5 miles, setting a new one with a total of 259.5 miles. He averaged 21.63 mph for 12 hours! This is what we do in the "off" season!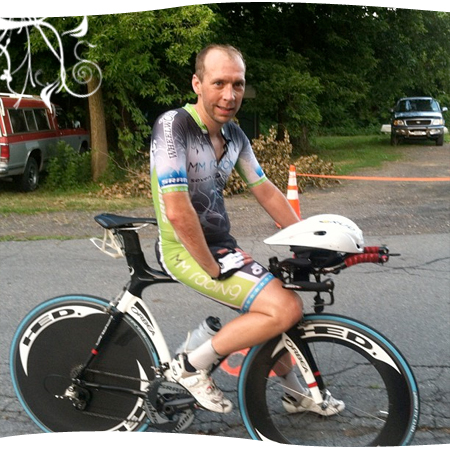 Each year I need to complete continuing education credits to keep my massage therapy National Certification active and Matt and I were not able to take a vacation this year, so I used the opportunity to double up and create some mini getaways this summer. I spent one great weekend taking classes in Boulder and got to stay with my old housemate, Steve.
At the end of the summer, Matt joined me for another weekend of classes in Montreal. Matt was able to explore the are by bike during the day and we were both able to explore the city in the evenings via the Bixi bike share and found some fantastic cafes, vegan restaurants and beautiful city parks.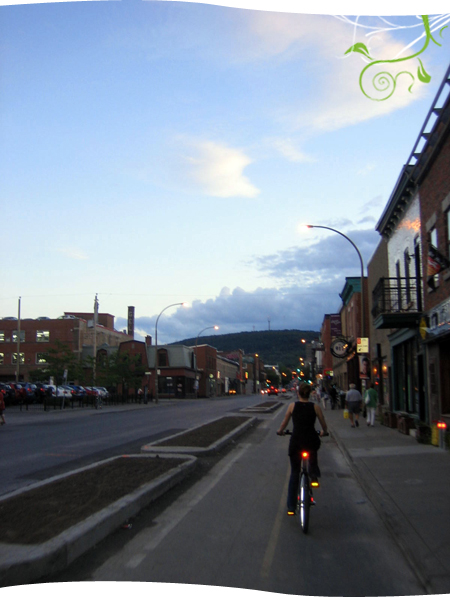 It's hard to believe but we're already three weeks into the season! Matt and I just got back from the first two races of the UGSP of Cyclocross in Madison, WI, but we'll just get you caught up with the first two weekends of the season and save Madison for our next newsletter.

My cyclocross season officially started with the local Quad Cross event in Maynard, MA. Matt had prepped my newly-decaled Seven Cycles Mudhoneys with the latest from SRAM and Zipp and I gave them a proper breaking in on the dry and dusty course. I charged early and stayed off the front throughout the race.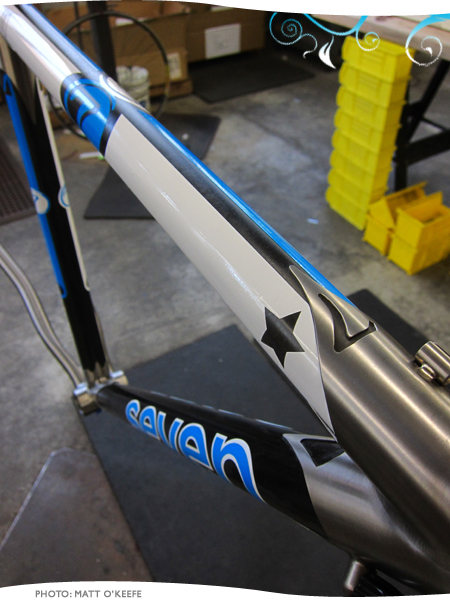 I took home the win while being cheered on by our New England Cyclocross racing friends as well as the team from Lululemon Burlington Mall. This year, I was invited to become an Ambassador for Lululemon Burlington Mall where you can now see my photo hanging up in the store!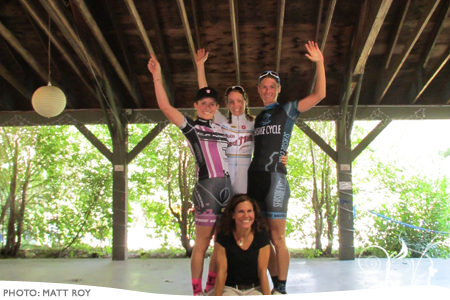 On September 15th and 16th, we headed to Vermont for the first weekend of double UCI races for the Verge NECX Catamount Gram Prix, where I raced against the strong women of New England and came away with two podium spots.


The promoters of the race had arranged for a later start time on Saturday to allow folks to drive to the race that morning. With my race start at 3:30 PM, we took the opportunity to have a morning at home before packing up the car for the trek to Vermont. It was about a three-hour drive and we arrived a bit early for me to warm up a bit longer and shake the car out of my legs.

I was feeling good but not great on the hilly course and knew that the competition would be strong that day. I took the lead for the first lap of the race before settling in behind a few other riders. The eventual winner made a nice attack on one of the hills and I found myself a bit trapped behind a few other riders who hesitated to chase her.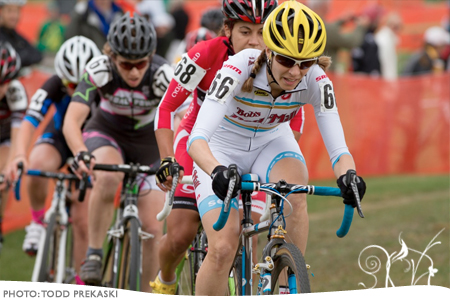 I moved to the front as soon as I could and began to chase the leader with another rider close on my tail. In the last lap, I moved back into third position hoping to get a quick rest before the finish, but my legs just didn't have the speed. I finished with a 3rd place podium spot.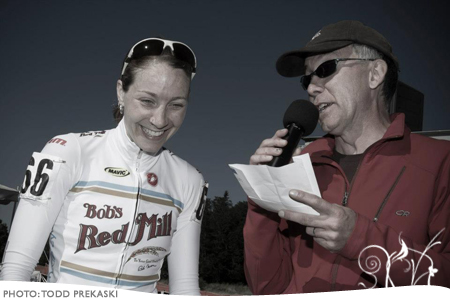 That night we had a fantastic homemade dinner with my friends Josee and Peter and their little girl Ellie. It was super nice to catch up and have a cozy Vermont visit.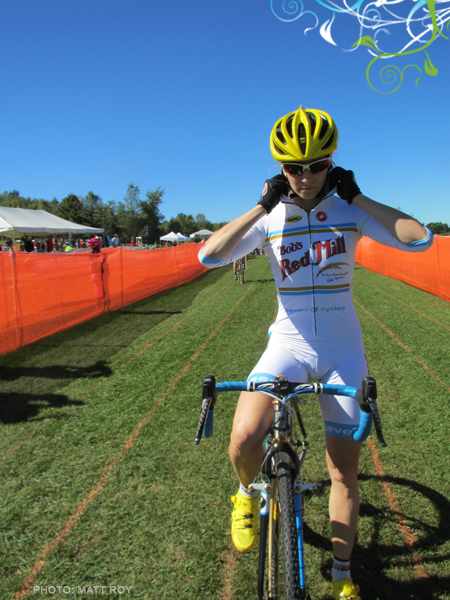 Sunday's course was a little bit shorter and ever so slightly more technical but still very fast and hilly. There was one technical feature in the first half of the lap that consisted of a pile of dirt. Sure enough we were all fighting for position over the dirt pile. I was too close to the rider in front of me and someone was too close to my right side. The first rider stalled at the top of the pile and I had to put my foot down as my bike slipped in the soft dirt.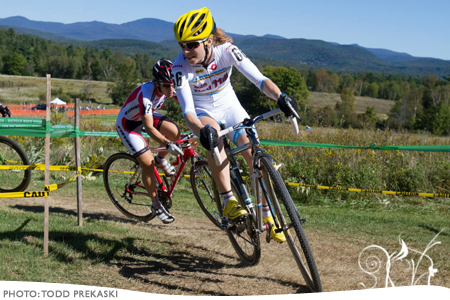 The leader was able to make it through and I had to take a bike swap because my shifter was full of dirt and not working properly. I lost a few spots as I went through the bike pit lane but was able to catch back on quickly. Within the next few laps, I worked with two other riders, keeping the pace high and eventually was able to make an acceleration on one of the hills and start closing the gap to the leader. I was able to finish in 2nd place for another podium to start the season.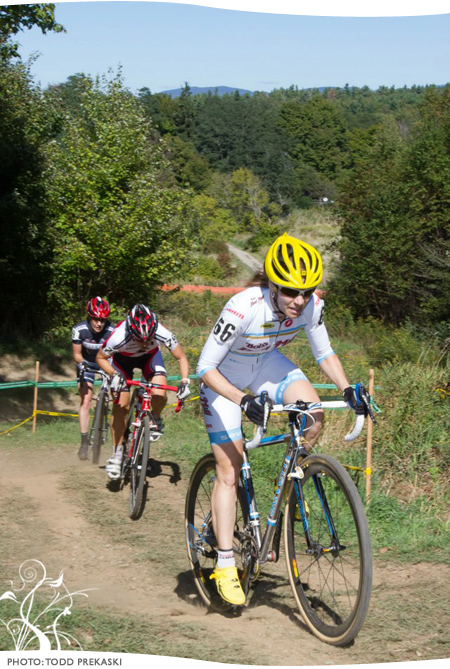 I don't always have the means to make a hot bowl of oatmeal before a race, but this cookie recipe pretty much covers my routine oatmeal breakfast… plus, it's a cookie! These Cranberry-Date Oatmeal cookies are like a bowl of portable oatmeal!

Cyclingnews- Verge NECX Catamount Gran Prix
Podium Insight-New England Series Opener Day 1
Podium Insight New England Season Opener photo gallery Day 1

Cyclingnews-Verge NECX Catamount Gran Prix day 2
Podium Insight-New England Season Opener Day 2
Podium Insight New England Season Opener photo gallery Day 2
Thanks for reading! And thanks for the amazing support of Bob's Red Mill, Seven Cycles, SRAM, Castelli Cycling, Mavic, TRP, Zipp, Soul Run, FMB, WickWerks, SwissStop, Fizik, Mad Alchemy, Vitacoco, Thule, Smith Optics, ClifBar and Lululemon.

If you just can't get enough MM Racing, you can follow us on Twitter.
Matt: @mm_racing, Mo: @meaux_marie.