Hi everyone! It's been a while since our last newsletter and, as usual, Matt and I have a crazy schedule. We've got a lot to catch up on but before we do we wanted to tell you about a special event at Cycle Loft in Burlington, MA on February 26th at 7PM.  Matt and I will be sharing a couple of videos, stories, a Q & A session and as well as some tips on how you can expand your cycling horizons. Hope to see you there! Details here.

It's now February and my cyclocross season wrapped up six weeks ago in Boulder, CO at the National Championships. Overall, the season of racing went well and I was pleased with both my results and my ability to balance racing, school and work without becoming completely fatigued as I had the last two seasons. The gutting reality of losing Amy D early in the season hung like a cloud of sadness and inspiration all season depending on the day. This year's trip to Europe was a tough one emotionally, but it set me up physically for a great training block heading into Nationals and a way to begin moving forward with healing through celebration of Amy D.
Right before our trip to Belgium we teamed up with Grimpeur Bros Specialty Coffee to launch an Amy D roast with proceeds going to the foundation started in her name. The roast will still be available for a limited time, so order soon if you'd like one! I also made plans to team up with Amy's brother and sister-in-law Dan and Nicole, to be part of the Amy D Foundation booth at Nationals in Boulder to help sell coffee and goods and promote the Foundation 's mission:


The Amy D. Foundation is a nonprofit organization created in honor of Amy Alison Dombroski, whose love for cycling and life touched many people around the world.
The Amy D. Foundation encourages and supports young women through cycling, inspiring the celebration of healthy challenge and empowering the confident pursuit of lofty dreams.


We headed to Belgium on the 19th of December, prepped for five races, including two World Cups. I had raced at most of the venues in previous years, so I was feeling well prepared and of course, hopeful for some good Belgian mud as we'd had a completely dry season in the US.





Upon arrival in Brussels, we headed to our usual coffee spot and chatted with our fellow Americans who seemed to be arriving en-masse for the Kersteperiode races. We picked up the rental car and headed to the BMC Service Course where Matt's Pro Team friends set us up each year with some necessary tools and gear for the trip. It was nice to bump into friends Els and Chris while there. The routine of our annual Christmas trip to Belgium and visits with old friends helped us start to feel at home almost immediately.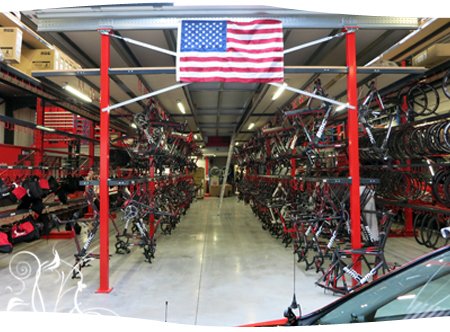 Just before leaving on the trip, Matt was asked to take over the Bicycling Magazine Instagram feed and post photos all week documenting our trip and the racing in Belgium. Matt's a great photographer and has a keen eye for some unique images to represent our experiences. Check out Matt's photos from the trip by searching for the #MMRacingBelgieCX13 hashtag.


After a circuitous route from Brussels to Gent to our cottage in Arendonk we arrived at our cottage to a warm, welcome home as the woodstove cozied things up and took away any signs of the perpetual Belgian dampness. We napped, went food shopping, unpacked and prepped for the first race one day away.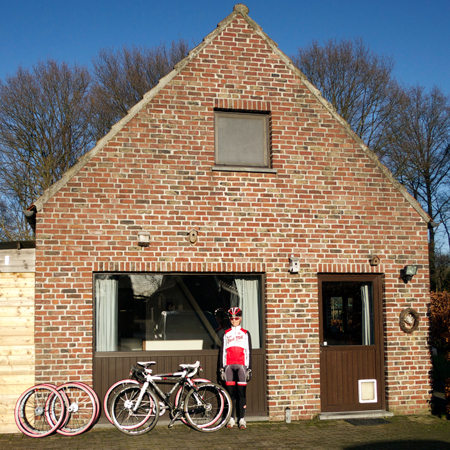 The first race of our campaign was in Essen where the ground seems to always be muddy and last time we where there they had hired a local farmer with a huge tractor just to pull stuck cars from the mud. Luckily this year the course was at a new venue and we had parking on the pavement with our Belgian and British racing mates. Being a slightly smaller event than a World Cup, I had a good starting position and was able to race a clean race through some slippery corners and two very deep sluggish running sections. I settled into 9th place for the finish and was happy with a top 10 to start the week off.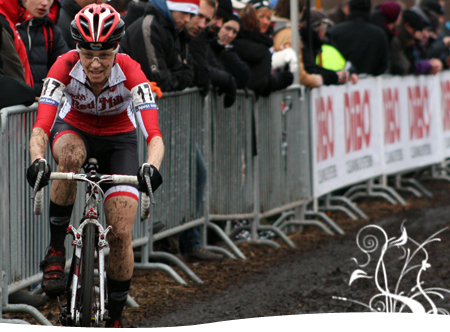 Right after the Essen clean up, we headed to Namur a few hours away to pick up my racing numbers for the World Cup there the next day. Matt had arranged a nice hotel rather the cigarette smoke filled, dirty Ibis that we usually stay in. The Royal Snail turned out to smell fantastic, had the nicest staff and the room, though tiny, had a comfortable fluffy bed and a great shower. The staff at the hotel even called ahead to an Indian restaurant 10K away to book us a great meal on the banks of the river with a beautiful view lit up at night.

The race the next day was slippery and muddy and starts with the most brutal of uphill starts. My starting position is generally poor at World Cups due to the number of European racers with higher points, so I clawed my way from 40-something place to the top 20. In my opinion, this is the hardest CX race in the world. Due to the constant hills, steep running, hard pedaling, there is just no place to recover and rest. In the last lap I fought with a small group and finished right out side the top 20, in 23rd. It was my best finish on that course so I was pleased, although a top 20 would have been quite nice.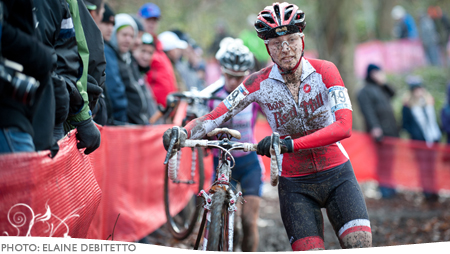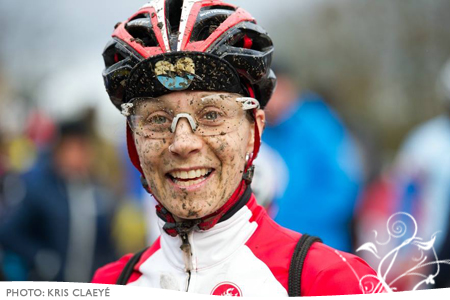 We had a few days off before my next World Cup at Zolder and the highlight was having dinner with our friends Luc, Heidi and Jasmien at a cycling themed pub, de Kriekel. The pub was filled with cycling paraphernalia from all over Europe, with signed jerseys for many of the legends of cycling. The staff was incredibly friendly, and was aware of my results from this and past seasons. In the middle of the pub was a pillar autographed by all of the Pros that had visited the pub and I was especially flattered when they asked me to also sign it (right below Tom Boonen)!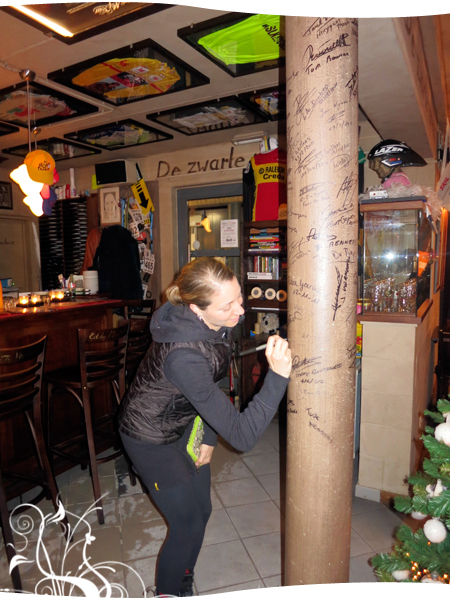 The next evening, we had our traditional Christmas Eve dinner, gifts and good conversation with the Gijs Family who we rent the cottage from.  This year, Karlien and I made several dishes including tofu and lentils, coconut curry tofu and cashews, rice and spiced tomatoes and onions. We of course also had beer, wine and some chocolates!





On Christmas Day, we headed to Zolder to pre-ride the course, pick up race numbers and prepare the equipment. I could easily say this is my least favorite Belgian cross course, as it just never seems to suit me when I race there. I was feeling well enough training on the course but it's very flat and fast and small mistakes turn into huge deficits very quickly.


The next day, prepped for a hard race, I still didn't manage to read the track very well and ended up getting myself back in a poor position that I never recovered from. A few minutes into the race, there are several sharp hairpin turns together before the course opens up a little. There were some tangled up riders in the first few turns blocking the narrow track so many of us were forced to run thorough the pit lane where you are required to swap bikes. I think I lost about 10 spots there that I never got back. Needless to say I finished quite poorly and I felt flustered but ultimately had to admit that I had not been training hard enough all season for racing that fast at the World Cup level. However, it was a very hard workout that would hopefully serve me well for the next two races, which would be more technical and a bit slower naturally.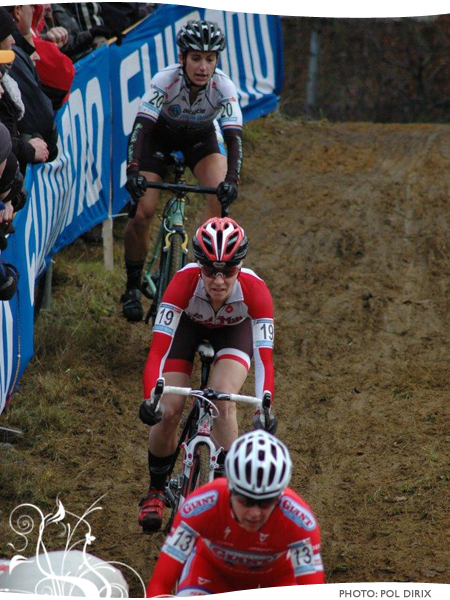 Also known as: The Drunk Race. This is the race where all of the spectators are on holiday between Christmas and New Years and come out to the races to PARTY! This year the spectators seemed to be on good behavior, but you can see that the track is often littered with big red beer cups. The steady drizzle made for another muddy race and although there were only a few spots of running the track was indeed technical and created a lot of opportunities for gaining places. I moved my way though small groups of riders and seemed to settle in with a small group fighting for the last few places in the top 20. I was able to nab 19th and was happy with my race overall.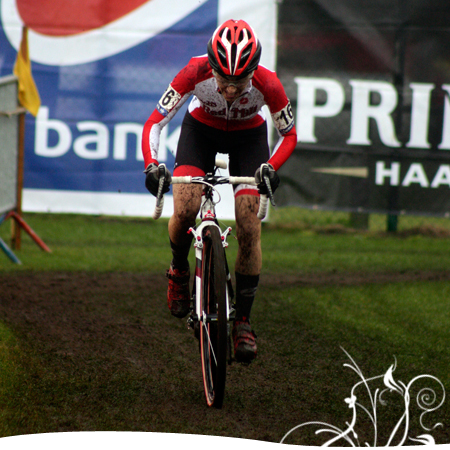 After the race, we made the short trip to Antwerp and explored the rainy city streets and Christmas markets decorated with festive lights throughout. I spotted a great little café that roasts beans in-house called Normo Coffee. Once again, we were treated to a friendly staff, up-to-date in the world of cycling. We left a few of my rider cards with them while we grabbed some beans so that our good friends at Grimpeur Bros. could have a taste!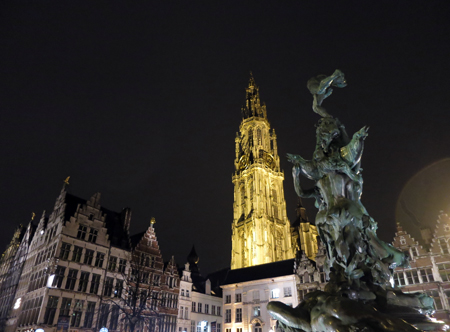 The last race of the trip also wraps up our stay in Belgium as it's right near the airport. We packed up everything from the cottage and said our goodbyes before heading to the race.

The course also had some mud with a few running sections and a long paved hill to climb. The track goes back and forth through the city center, through fields and across small roads. It's another smaller race which means a good start position and I was on the second row behind Amy D's teammate Pavla Havlikova from the Czech Republic. Pavla and Amy are pretty much the exact same size and I had to admit it gave me a start to see her at first.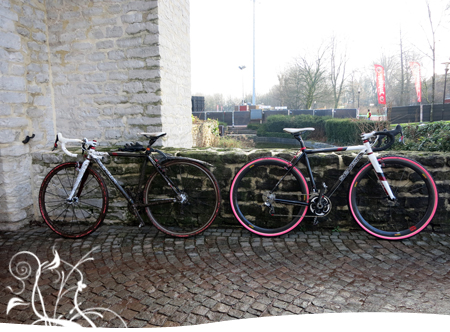 Several people commented on the photos from the race that they too had initially thought they were looking at photos from last year of Amy and I racing together. Part of me thought it quite fitting to spend my last race in Belgium fighting it out with her teammate. It reminded me of her tenacity and spirit and how much fun it was to be truly excited for a competitor's success. I was less excited that it was actually Pavla returning my attacks on her up the hill by putting the screws to me on the last lap gaining three spots! I was still happy to finish inside the top 10 to wrap up another successful European Campaign.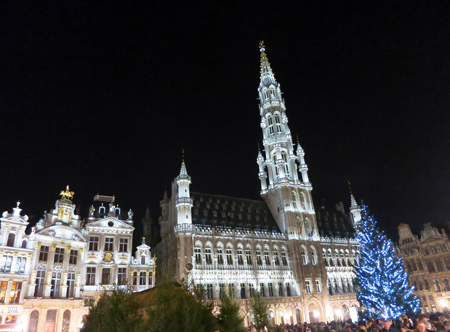 We were home for a little over a week before I flew out to Boulder to compete at Nationals. This year I had one of my older Seven SLX 'cross bikes turned into a single speed (single geared bike) and did a few races on it. It's super fun and I was excited to see the single speed category at Nationals was a Championship event and signed up. My best bro Steve picked me up and we headed off to a favorite of mine, Watercourse Foods, ordered an artisan vegan cheese plate (me) and tacos (Steve) before popping back to the airport to pick up my friend and racing-mate Ellen. Steve's house is a short bike ride to the Valmont Bike Park where the National Championships would be held, so Ellen and I unpacked our bikes in Steve's garage and then rode over to the course to get in a few laps on our single speeds to make sure we had picked the proper gear and get familiar with the track. It had recently snowed and the track was muddy, snowy and pretty slippery so we were both pretty psyched for the race the next day. Steve stepped up as my mechanic for the race and had my gear in top shape and helped me schlep everything around the venue. We set up camp with our sponsors at Grimpeur Bros… they were super-generous with a warm, dry space and delicious coffee and support.

The Single Speed race had a small field of about 15-20 racers, mostly locals and a few dedicated single speed racers but on my pre-ride laps the day before, I saw several fast women that could give me a run for it. Ideally Ellen and I were hoping to go 1-2 and take the top two steps on the podium, so after the fast start off the pavement, I moved into the lead with Ellen hot on my tail. I knew that if we could get a good gap from the other racers, we could set a nice pace together and Ellen could hang on to my wheel. Things worked out perfectly for the first two laps until Ellen seemed to have slipped on a tricky corner and I got a good gap on her. She looked solid in second place so I just kept on the gas to the finish and was thrilled to win the race and take the single speed championship!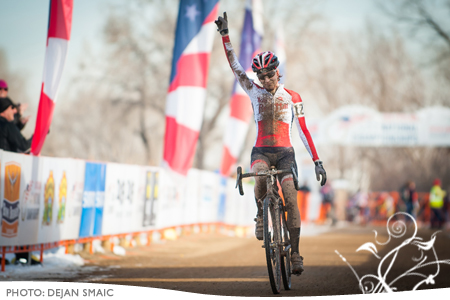 The bummer of the day was that Ellen's chain had come off her bike and kept slipping on her last lap and she went from a clean second place lead to fifth. She never gave up and looked so strong that I knew she'd have a great race in the Elite's on Sunday to take some revenge on the course.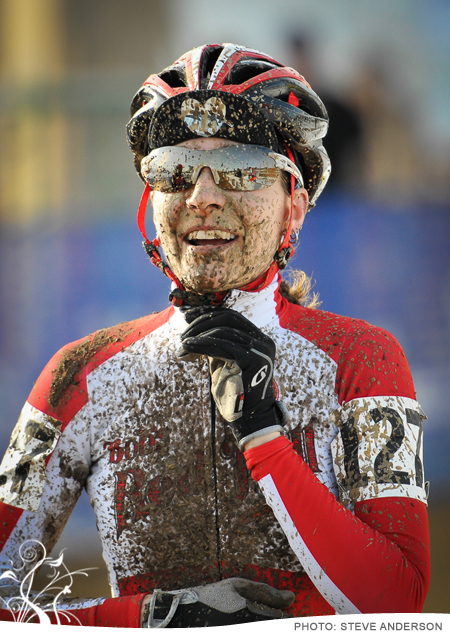 I was psyched to get a Championship jersey and medal and have the support of Dan and Thom to stick around for a few photos. I also got congratulatory kisses from one of my favorite dogs, Madison too.

The next two days, our sponsor Dan at Grimpeur Bros had me set up at their tent so I was right at home surrounded by great people for training in the afternoon. I was also on the schedule to hang out at the Amy D Foundation booth and help sell goods and share the mission of the foundation in the mornings before training on the course. I was really honored to be there and to get to spend time with Amy's brother Dan and sister in law Nicole. Both are amazing people. Nicole was 32-weeks pregnant and out at the booth at some point almost everyday during Nationals week, smiling and talking with folks effortlessly. Dan reminds me a lot of Amy with some of the same gestures and way of speaking and laidback composure and I was in awe of his eloquence when he was interviewed about Amy and the foundation. For me, the experience was pretty healing and I felt for the first time that I could really start celebrating one of the most amazing people I've had the honor to be friends with.

There were a few mid-week events that I was able to attend to mingle with friends and sponsors. ClifBar held and event at a big art gallery/performance center where a multi-media Bike Art exhibit was on display in the gallery. Boulder Cycle Sport and Amante Coffee held events in tandem, one being a meet the SRAM pros and a silent auction to benefit the Amy D Foundation. I got to meet some amazing folks including a local artist, Jess D'Amato,who I may later commission for a piece of work. She was auctioning off one of her Amy pieces and although I didn't win, I loved speaking with her about her impressive work and honestly loved the distraction from an otherwise bittersweet event.





Matt was due to arrive on Friday and I was excited to have him in Boulder for a few days before the big race on Sunday. The track was drying out fast and was sure to be very fast and hard packed by Sunday which was making me even happier that I got to race in the mud on Wednesday!



The morning of Matt's flight I had decided to check his flight status via my TripIt app on my phone and was super confused when I also saw my sister's name on the itinerary… little did I know, Matt had made super sneaky plans back in November to fly my sister out to watch me race! Julie has only seen me race up in Maine once and usually can't get away form work and family for travel so I knew that Matt had really pulled a fast one to get her to Colorado for Nationals.



I was so excited when they arrived at the venue to meet me at the Grimpeur tent. There was an even greater amount of hugging and sister squealing than usual and I already felt like I won another race. Of course Matt got some hugging and squealing of his own. I couldn't believe how many people knew about this and kept the secret for so long! While I rode the course, Matt took Julie around to show her off and introduce her to a bunch of friends and sponsors who were all impressed at the "other Mo".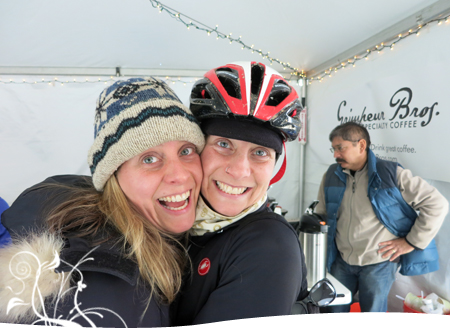 That night we got a crew of friends together to go to Leaf Vegetarian Restaurant for an amazing meal and great company. I still couldn't believe I was getting to have dinner in Boulder with Julie and Matt and was pretty blissed out all night.
On Saturday, we set up with our crew at the Rapha Focus Team in an amazing garage/lab/office space right near the racecourse that a friend of theirs owns. It was pretty nice to have indoor plumbing and a warm space at a bike race! I warmed up on the rollers with Julie by my side and then took a few laps on the track before cleaning up and heading back to Steve's to watch football and relax. Dan came over and joined us for a fun night, despite the Pats losing the game. At some point Julie and Steve began discussing the Despicable Me 2 "minion" movie characters by repeatedly shouting BEE DOO BEE DOO at one another. It seemed to become their primary mode of communication for the weekend and added to the hilarity and enjoyment of having so many of my favorite people all in one place.

Race day was sunny and had warmed up a bit. The wind from the last two days had died down a bit but was sure to pick up in the afternoon again. The track was now completely hard packed and smooth like pavement, which was oddly a bit slippery on some of the bumpy off camber sections. Julie joined my support crew for the day as Matt and Steve headed to the mechanic's pits, Julie took my jacket at the start line and set her self up in a few good spots to cheer as I went by. Earlier that day, Dan Dombroski asked if I would wear one of the Amy D Foundation hats instead of the iron-on homage Matt had made for me. Honored to do so, I snugged my helmet over the hat and flipped the bill up, just like Amy would.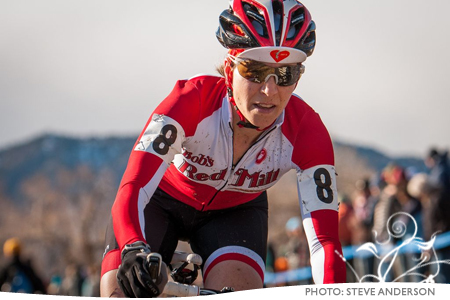 I had a good start in the top five but got edged out in a few of the first turns by some bigger riders and found myself behind a slower rider that I couldn't get around to pass right away. I was putting my brakes on quite a bit and trying to edge my way past the rider in front and finally got to make a pass on foot over the barriers on the back of the course. From there I just chased as hard as I could, sucking in the limited O2 in the Colorado altitude. I finally settled into a solid pace working my way into a solid 10th place for the remainder of the race. My goal was top 10, although I think a better start could have had me stay with the 5th through 9th group, possibly getting a few spots higher. Each lap I could hear Matt and Steve cheering from the pits and Julie from near the start/finish. She was even shouting BEE DOO BEE DOO and getting odd stares. I was pretty psyched with the whole experience and had our sweet girl Amy D in my thoughts always as I raced her home turf the best that I could.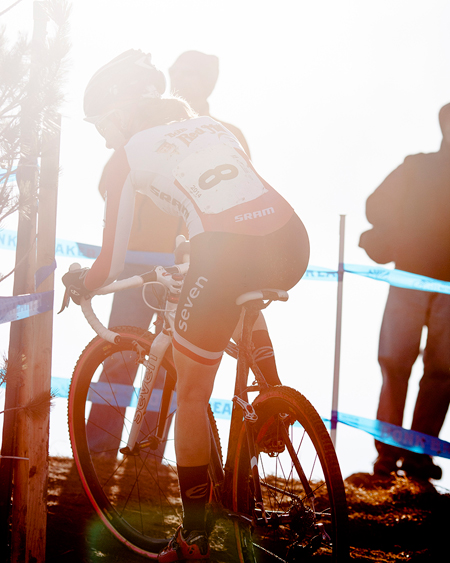 Moments after the race, our friend Thom from DirtWire got a stellar interview with Julie and I killing our "sistahs frum Bawstin" accents and winning the hearts of weirdos everywhere.



Another bonus of the day was that BTB TV had a massive crew on hand to stream the race live which meant my whole family got to watch it from their couches in Maine. Thanks, guys! You can watch the entire coverage here.

We all flew home together the next day and sent Julie on her way home to Maine. Matt and I settled back into being home with the kitties, unpacking bags and back to work the next day to start the off-season. I had not focused on the World Championships as a goal this season and it was a heavy cloud that was lifted allowing me to enjoy each race a little more without everything having to culminate into such a big goal. We watched the Championship race a few weeks ago now and I couldn't help having the slightest wishes that I was there, mostly because it looked muddy and really fun!


Now, I'm settled into the off-season with some running, playing in the snow, relaxing and finishing up yoga school in just a few more weeks and seeing where that takes me next.


As most of you know, the off-season means the MM Racing End of CX Season Party and Raffle! Stay tuned for details coming in the next newsletter soon!

Thanks for reading! And thanks for the amazing support of Bob's Red Mill, Seven Cycles, SRAM, Castelli Cycling, Mavic, TRP, Zipp, Soul Run, FMB, WickWerks, SwissStop, Bontrager, Mad Alchemy, Vitacoco, Thule, Smith Optics, ProGold Lubricants, ClifBar and Grimpeur Bros.

If you just can't get enough MM Racing, you can follow us on Twitter.
Matt: @mm_racing, Mo: @meaux_marie.