Do you remember earlier this season when I said that in the 2014/15 cyclocross season I would be "cutting back" a bit on my racing and travel in particular? Well, easier said than done. Since our last newsletter I've had a busy run, racing the last six races of the Verge NECX Series, a single-speed race in Cheshire, CT, a local race at Shedd Park in Lowell, MA as well as a pair of UCI races in New York. Our buddy Thom from Dirtwire.TV was covering many of those races and we met at the end of nearly every race this past month for one of our special "innahviews." Look for the links below! Somehow, my season tally is already at 27 races. Oh, and Matt was quick to point out that, of those 27 races, I won ten of them! Not too bad for "taking it easy!"

In addition to a month full of races, Matt and I found some time to contribute to two podcasts! First, Matt was a special guest on our friend Spencer's The Slowride Podcast. They talk endurance cycling, cyclcross pits and nonsense. I met with Gary David whose Endurance Trail podcast is dedicated to endurance sports of all types. We talked pretty much about everything! You can hear The Slowride Podcast here and the Endurance Trail podcast here.

The month of November was packed with races, some travel and a head cold that just wouldn't quit. It's typical for me to get my annual head cold in November, but this resilient little virus had me take a weekend off of racing, visit the doctor for some advice and keep my training quite light so I could rally through the weekend races.

The upside to being under the weather in the midst of race season is the dedication to self-care that I should probably employ all the time! Daily steamy showers and baths, endless cups of turmeric-ginger tea, hydration by the gallon, hot soup for dinner and lots of good herbs had me back on my feet and helped produce some strong podium results in the last month.

November started with ninth and third place finishes at Cyclesmart International with the first cold, damp weather of the season. I made some costly mistakes on Saturday that thwarted my chance at a good result. I came back on Sunday, feeling determined to put the day before behind me. With one tricky section on the course, I knew if I rode it well on the first lap, I'd be in a good position for a strong finish. It was just enough to keep me in the fight. I felt strong and capable and satisfied with my first UCI podium of the year on a powerful course that often does not seem to suit me at all. Thom and I caught up for a quick interview moments after the finish.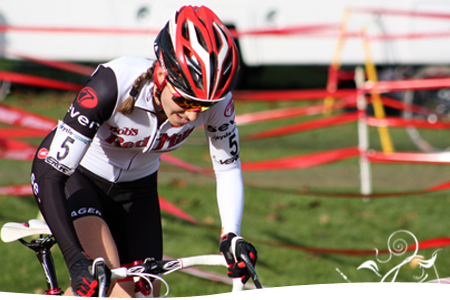 The following weekend I fell victim to illness that started with some wicked laryngitis that I tried to fight off with hot toddys, tea and rest but blew up into a classic head cold that had me take an unplanned easy week. Part of that easy week involved an all-day trip to visit our friends at Seven Cycles for photo shoots and a long chat about all things 'cross, endurance and MMRacing with our friend John Lewis.  John has been feverishly writing up stories and has two of three on the Seven Cycles blog already. He wrote about my recent Single-Speed World Championship title and Matt's long-distance shenanigans. You can read about them here and here.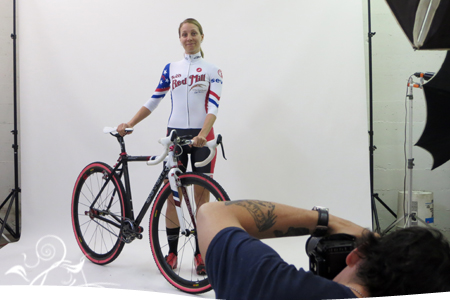 Luckily my energy was up and I was feeling ready to toe the line at the Cheshire Cross single speed race where I came in seventh overall and won the women's race. Also, I won a mini pie for Matt.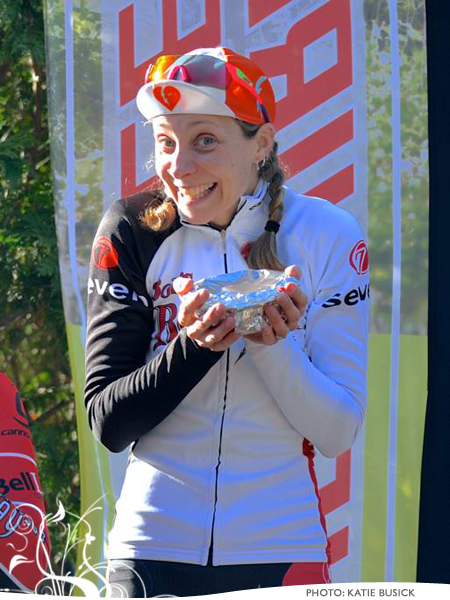 The next day was another local event at Shedd Park in Lowell where I was able to take the win the Elite women's event despite a lingering after-race cough from the cold air.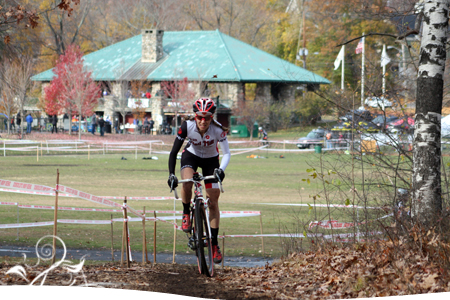 The next two weekends were the start of a block of UCI races where I was hoping to scrape up a few late season points before Nationals. I visited my doctor for some advice and she was great about knowing what cold medicines athletes can and cannot take (due to banned substances) and recommended herbal alternatives and an inhaler. I was thankful and optimistic that I'd be ready for Supercross Cup in NY!

The Supercross Cup had excellent courses that were both technical and hilly, both of which suit my strengths. I had a strong start on Saturday and sat in second place for the first few laps. After a bobble on an off camber set of roots, I slipped into third place holding a consistent effort. Unfortunately, there was a miscalculation in the number of laps we were racing and with one lap to go, the lap counter read two to go so I kept a steady pace when I really needed to be stepping on the gas. I was caught by another rider and by the time we realized we were in our last lap, it came down to a sprint and I was fourth for the day. The lap time confusion was the hot topic during my post-race interview with Thom.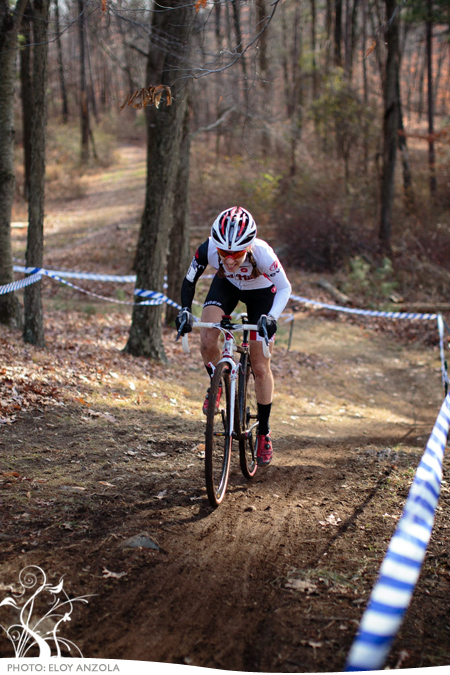 On Sunday, the race promoters assured us that the lap mistake would not happen again. The start was similar to the day before and I was comfortably in the top three for the duration of the race. Each time I tried to close the gap to second place, it appeared we were moving the same pace, just far enough away from one another to make it happen. I was happy to get on the podium with a third place finish and the feeling that my legs and lungs were coming back around. As I told Thom, "I went as hahd as I could!"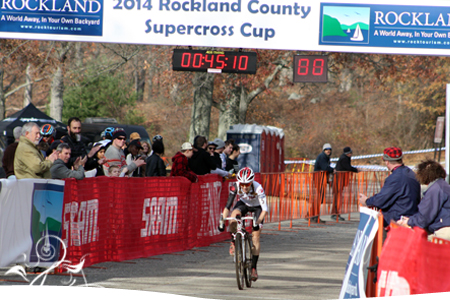 The weekend after Thanksgiving is always the Baystate Cross weekend out in Sterling, MA. It's often super cold and windy but this year, there was a good amount of snow on the course from a storm a few days prior.

The promoters had cleared enough of the course to have a good racing track and I was feeling optimistic about a podium finish. Off the start, I settled into second place navigating the slushy corners and snowy sections comfortably. I struggled a bit to maintain enough power on the flat, exposed sections and was passed by another rider. Despite my best efforts to catch back up, I stayed in third place, but was pleased with a podium finish. Dirtwire.TV was on hand at the finish and, try as he might, Thom tried to get me to break character in our "innahview" but I wasn't having it.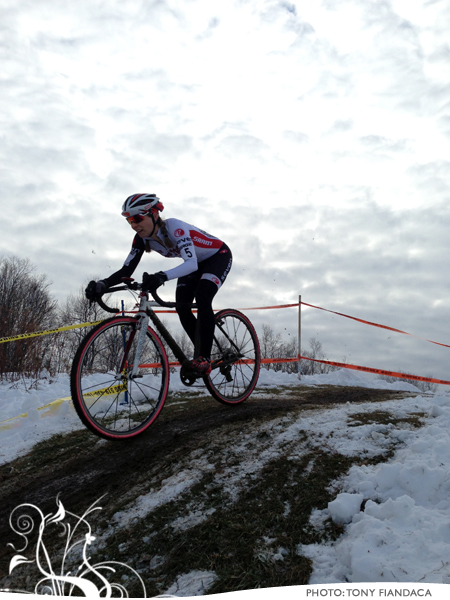 On Sunday, the weather warmed up a bit and the course became more slushy and soft but the track on the course became a single track for nearly the entire course. This meant that places to pass other riders were limited and the start would be essential to getting on the front. I was third going into the first single track section and unfortunately really needed to be second in order to stay on the leader. It took me half a lap to get around a few racers and begin chasing the leader.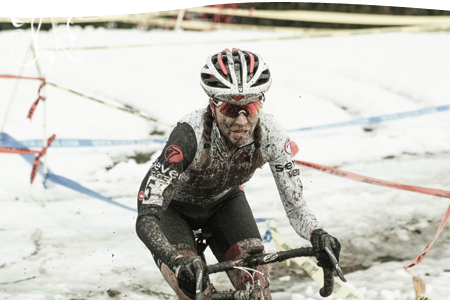 I was able to close down the time gap significantly but not quite enough to move into the lead. I was pleased with a better race and a second place spot on the podium. The results from the weekend also earned me enough points to move into the top three in the overall New England Series.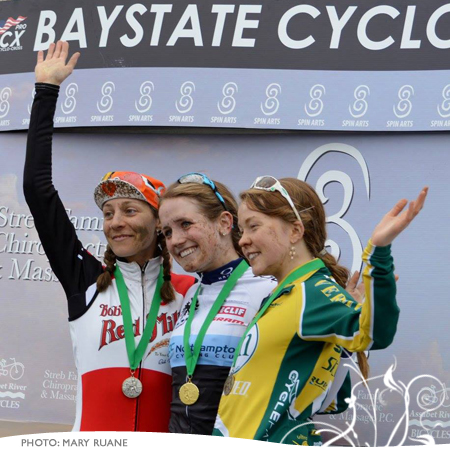 NBX weekend in Warwick, RI is the last set of races for the longstanding local New England series. The course is a combination of very, very fast-paced sections, one long beach run, with a few barriers and logs thrown in to break things up. The competition was stiffer than the past weekend with a few riders fresh off some World Cups in Europe in the mix. I knew the start would be essential and I latched right on to the wheel of the leader as we created a small gap to the chasing field. It was raining a bit but the course in on a sandy park so there was limited mud and only a few slippery sections.

The beach run was my fastest section and I hoped it could make a difference in my overall race, but it was right before some long paved sections where the other racers could easily catch back to me. I metered my effort in the sand to be patient staying to the wheel of the leader as a small group of four of us had formed. After making an attack in the sand to take the lead through the technical sections, I was overtaken by the group on the flat pavement just as they upped the pace from very fast to painfully fast. I hung on to fourth place, just shy of the podium. Here's my interview with Thom just after the finish.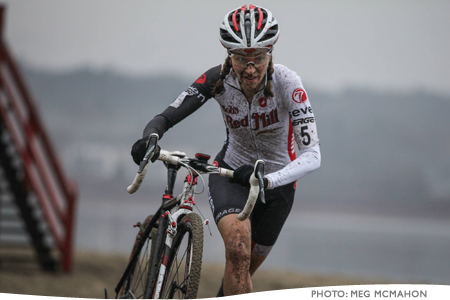 The second day of racing was much colder and steady 20-30mph winds blew up from the water along the beach run and the long paved sections. I was more concerned about the wind, knowing I'd have to stay as close as possible to the wheels of the other racers to get in their draft. Unfortunately, it became apparent that I was going to struggle in the wind as small gaps opened up on the first lab. I was able to catch back on each time through the sand, but the next paved windy bit put me back on the chase. With two laps to go, I was digging deep to hold on to fifth place, creating small gaps in the technical sections from the two riders chasing me.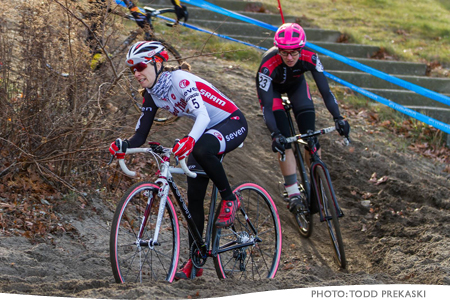 With half a lap to go, the two riders behind caught me and performed a series of tactically aggressive yet questionable maneuvers called "chopping" to move past me for the final downhill sprint finish. I was disappointed to finish seventh given the way things played out, but pleased to take third overall in the New England Series. After getting blown around all over the course, Thom and I met up for one more Dirtwire.TV interview.

Next weekend New England celebrates the end of the local season at Ice Weasels, an unsanctioned race with a festival like atmosphere including costumes, single speed races, fire pits and likely some spirits! Matt is even going to put the wrenches down and join me in the single speed race. I've promised not to pass him too many times.

After the holidays, we head to Texas for the final two UCI races in the US before Nationals in Austin, TX. There are just five more weeks left in the season and we're excited for our holidays at home this year (the first time in five years!) and prepping for the final block to be ready for a strong Nationals.





In case you missed it in our last newsletter, we recently launched a new coffee in collaboration with our sponsor Grimpeur Bros Specialty Coffee. Dan and I have been testing beans for a while now to offer something that properly meets Grimper Bros rigorous standards of single origin quality and taste. We're happy to announce their first decaf roast, Geaux Meaux Decaf!

As someone who loves the taste and smell of good coffee but has always been quite caffeine sensitive and can only have one cup, I've opted for some mediocre decaf in the past. I'm pretty thrilled that we're able to offer a delicious option to non-caffeine drinkers and something that is perfect in the late afternoon or evening as we head into the chillier months!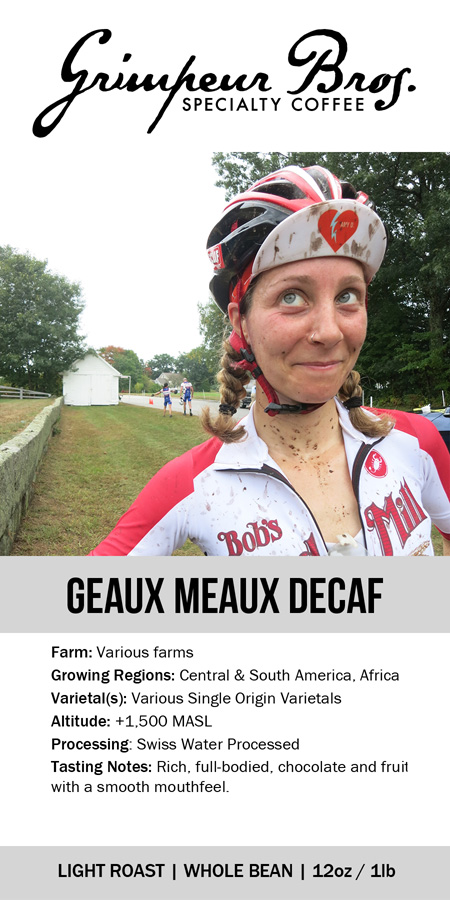 Thanks for reading and be on the lookout for announcements, news and photos on our Instagram and Twitter accounts (@meaux_marie and @mm_racing) or search for the hashtag #GeauxMeaux! Thanks for reading!

As always, a huge thanks to our amazing sponsors for the continued support and encouragement! Bob's Red Mill, Seven Cycles, SRAM, Castelli Cycling, Mavic, TRP brakes, Zipp, Soul Run, FMB, SwissStop, Bontrager, Smith Optics, ClifBar, Löle, Prana, ProGold and Grimpeur Bros, InsideRide, CrossSpikes and Botan!