After wrapping up the early season whirlwind, we took my birthday weekend off to relax, go to the movies and get in some time on the mountain bikes and cross bikes in the woods. We tried out the new local theater, which included full-on recliner chairs and semi-private seating on a small balcony. Going to the movies is one of my all-time favorite treats and it made for a perfect birthday. Matt also had one of my original Seven Cycles CX bikes rebuilt as a beautiful dream bike for riding on dirt roads and touring, complete with really nice fenders and new reflective decals!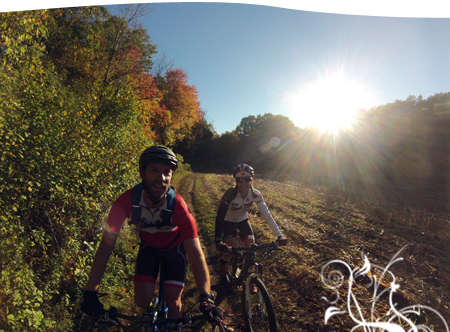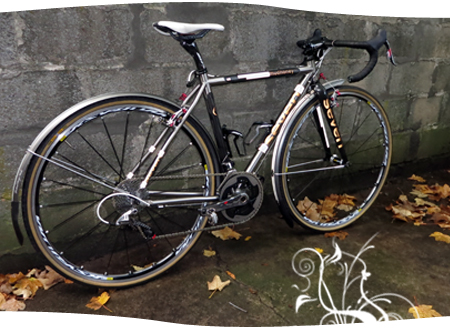 The next block of the season kicked off with two races in Maine close to my sister's and parent's houses at a local farm and it was the first time they were all able to come to a race together. It was also really nice to spend a mid-season weekend with family after many years of not seeing any friends or family outside of CX races between September and January due to the hectic travel schedule. The weather was finally feeling cool and Fall-like and the local races were tough courses with tenacious competition.

My family was able to come to the race at Pineland Farms (also the site of my very first cx race) and my sister and my nieces made "Go Mo" signs, had cowbells and noise makers and cheered like crazy every time I ran over the big logs on the course.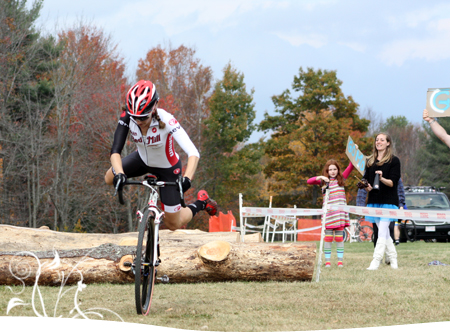 I pushed the pace to get my legs to open up after a rest weekend and took the win. That night we had a tasty family dinner with fresh foods from my sister's garden and watched a movie while snuggling the family dogs. It was pretty awesome.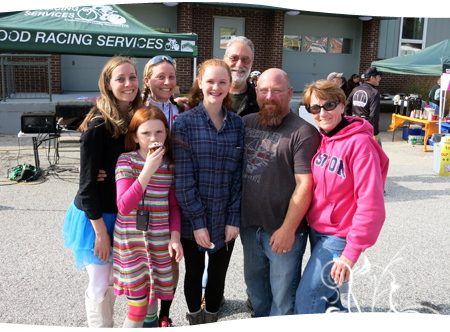 The following day we headed into Portland for the Casco Bay race. The weather was much cooler and the recent rain had left a few slick corners on the course. The incredibly long paved starting stretch was contrasted by some great technical elements, a real run up and some fun twisty turns. The start was challenging due to a strong headwind so I tucked behind a few other riders and waited until we were into the technical sections to make a pass and try to get a lead. I had to work hard to shake some of the other racers off my tail and ultimately got a comfortable lead for another local win.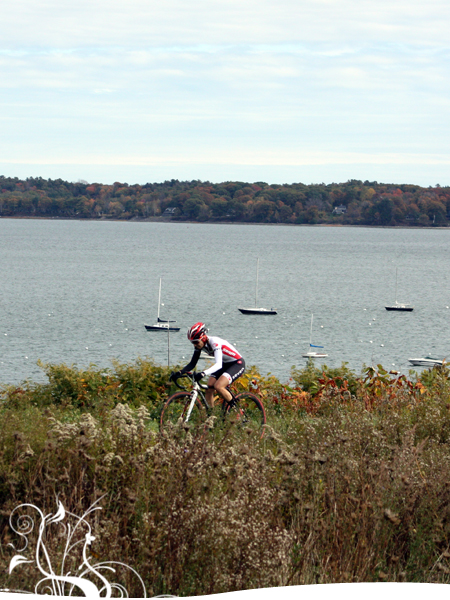 Next up, Matt prepped my single speed bikes for the event of the season, the Single Speed Cyclocross World Championships! Part legit cx race, part legit party, the SSCXWC is an experience like no other and I was gearing up to try to win.
SSSCXWC has been happening since 2007, with the first event hosted in Portland, OR. It's more like a single speed bike festival with lots of beer drinking and shenanigans with a bike race thrown in. The rules are simple and minimal and are passed on each year by the organizers: bikes must be legit single speeds, you must wear a costume, don't be a jerk.  Other than that, pretty much anything goes.

We arrived in Louisville, KY on Friday in time to participate the Feats of Strength, which serve as qualifiers for the Championship races the next day. Each group of 15 riders was lead by a Colonel (or ride leader) who kept tabs on points acquired during said "Feats" and lead the group around often passing around a bottle of the local beverage of choice, bourbon.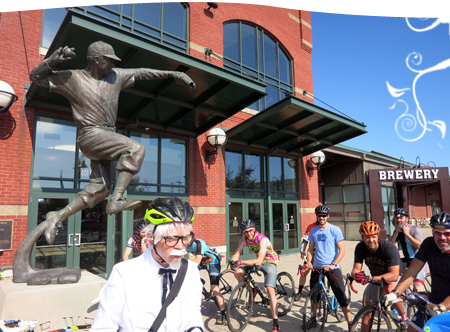 Being mostly a non-drinker, I was able to bring along Matt as my surrogate liver, thanks in part to a donated bike by Colonel Segal for Matt to ride. We rode almost 30 miles along many of the great bike paths and parks near downtown Louisville and stopped at designated spots to compete against one another in things like uphill sprints in the woods, mini races with air gun target shooting, beer-can-tower hopping competition, and local trivia. I actually learned a ton about the city from that trivia and everyone on our group turned out to be completely awesome people having fun on single speeds.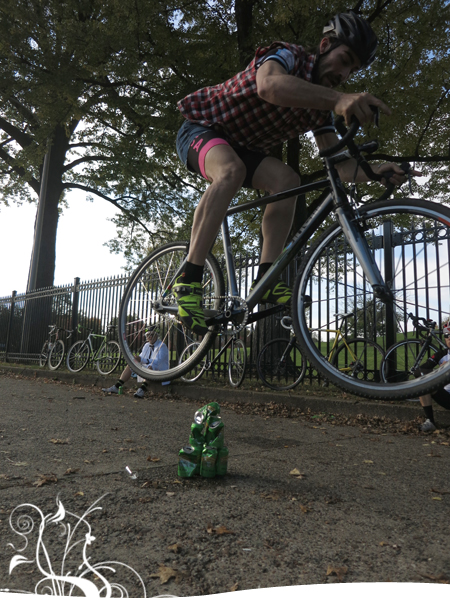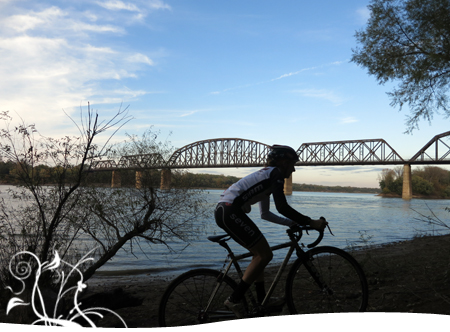 After the Feats wrapped up, we hit the grocery store, ate some dinner and headed to the first party and schwag-bag pick-up event at a local Irish pub. There had to be over 100 bikes outside of the bar from everyone that was staying in houses and hotels nearby. It was pretty clear that this group of cyclists were really into riding bikes 100% of the time and not just as a tool for training and racing. It was also clear that this group was fueled by large quantities of alcoholic beverages and/or some mediocre food choices. Among the bunch were some definite professional bike racers and talented single speed racers.

When our eyelids were maxed out from the 4am wake up in Boston earlier that day, we headed to the hotel for a solid night's sleep. The following day, my race was not until 6pm so we had breakfast, hit the hot tub and went for a bike ride. Matt prepped my bikes while I prepped my costume and off we went to the race venue.

The venue has been used two years prior as the site of the first US held Cyclocross World Championships and has since become a permanent cyclocross park. The local racers have weekly practices and races there regularly, but for one night, it would be turned into a course unlike anything else.

I was diligent about checking out the course beforehand, scoping out the technical sections, which included a "short cut" over a four-foot wall and a set of barriers with flames shooting out of them. The start also included a slip 'n slide. Part of my course recon also involved scoping out the cutest puppies. And I succeeded.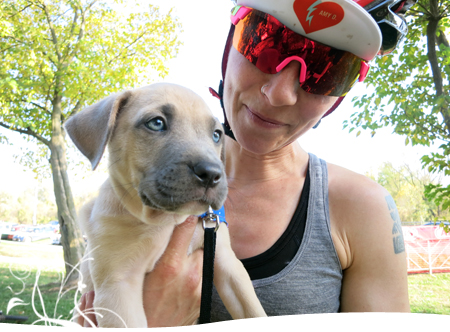 I felt prepared and slipped on my costume inspired by some of my favorite movie characters, LeeLoo from The Fifth Element, Pris form Blade Runner and Lola from Run Lola Run. My costume had the look of a Jean Paul Gaultier design, but it was really $15 at a used clothing shop.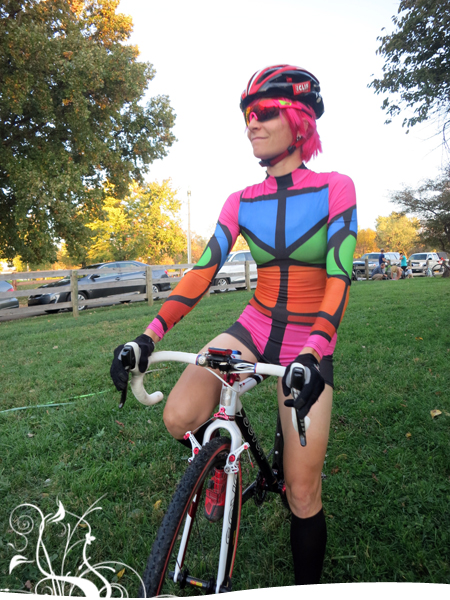 I could see some intense faces at the start and some women who already looked drunk and I wasn't sure what to expect after some last minute advice from the promoters. We started the race with our shoes and bikes on the opposite side of the slip 'n slide and had to run to them across the soapy, slippery wet plastic, get our shoes back on and start riding.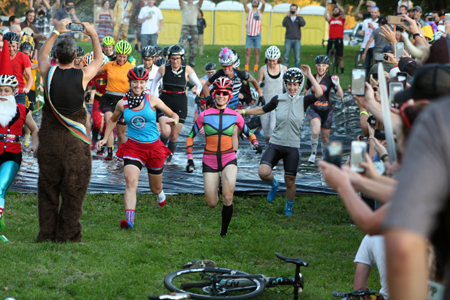 I took the lead with some strategic gear placement and almost immediately saw some of the riders duck under the course tape to get in front. I rode the first lap as hard as I could and got a solid lead, maybe almost a minute! Suddenly I realized I was in second place, and then fourth place, but I hadn't been passed by anyone. Surely they had found one of the "bourbon short cuts" meaning that people offering them shots of bourbon were also opening up ways to cut the course. It was all part of the game but it took me a few more laps to figure it out. I even took a bourbon shot and still missed the short cut, so I was actually not very good at the SSCXWC party-while-you-race tactics! Watts documents the SSCXWC on his blog and remarks on my bourbon non-shortcut.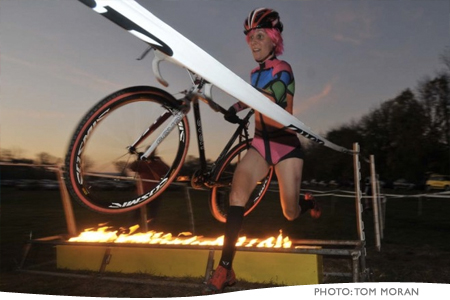 Despite my best efforts I could still only find the bourbon shortcut and the beer short cut and the four-foot wall that I was trying to hand my bike to Matt while I climbed over it. I knew that I couldn't even fake the beer hand up so I opted for running up the flyover each lap taking the time penalty but I took the actual bourbon short cut on one lap (yeeeesh!) and followed a few other riders in some of their self-made short cuts in an attempt to keep my closest competitor within reach. Most laps, I was in the lead and some laps, there she was all of a sudden! We had no idea how long the race was going to be or how many laps were left in the race each time I came through the finish line. I was able to make one last move to the lead and across the finish line where Matt and a few folks were gathered shouting, "ok you're done now, you won!"

It was bananas and super fun and I raced super hard the whole time despite a silly grin because I never knew where I was or when it would end. Ultimately, I won the Single Speed Cyclocross World Championships!
The historic prize for winning the SSCXWC is a new tattoo and a podium presentation in the Golden Bikinis. The promoters whisked the men's winner Adam and I off to the tattoo shop only to find it closed up. A communication snafu with the artist had us looking for late night tattoo shops that might still be open. Neither of us was keen on poor artwork or needle borne disease, so we had to wait on the tattoos and head to the party where we were handed miniature golden bikinis to wear and presented our awards-engraved bourbon barrel lids!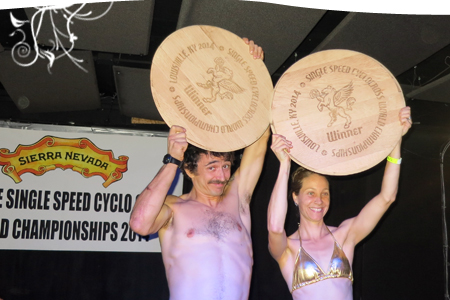 Luckily we were not required to wear the bikinis for more than the podium presentation and the event quickly turned into a dance party until the wee hours when we closed down the house.

Matt took over the Bicycling Magazine Instagram feed so that we could share our experiences with their 80,000 followers and Kevin Neidorf captured the essence of the SSCXWC14KY event is this video. There is a gallery of photos over at Velonews and on Matt's Flickr page too.

The next day, I had signed up for the local OVCX single speed race at the same venue. The four-foot wall and flaming barriers were removed and a typical cyclocross course remained. The event was well attended and well organized and although quite a few folks looked pretty hung over, most of the racers were ready to rally.

The women started about 30 seconds behind the men and my goal was to catch as many of them as I could. We whipped around the fast track and up some super steep hills and each lap I caught a few more men and finished 15th overall and won the women's race.



The organizers had a very Pro podium and I was even handed a champagne bottle to pop open on the top step. It was honestly my first champagne podium (usually reserved for very high level events) and I was admittedly pretty lame at spraying the bottle but my podium mate from Utah helped out and sprayed the contents properly for the celebration.

Matt and I packed the bikes, wheels and gear and headed into the city for lunch before getting to the airport to wrap up one of our craziest, most fun and quite possibly the biggest race of my cyclocross career.

Once home, I booked a session to consult with my tattoo artist and set up the artwork. Stay tuned for details on a local SSCXWC tattoo unveiling party to finalize winning the event!





This weekend we also launched a new coffee in collaboration with our sponsor Grimpeur Bros Specialty Coffee. Dan and I have been testing beans for a while now to offer something that properly meets Grimper Bros rigorous standards of single origin quality and taste. We're happy to announce their first decaf roast, Geaux Meaux Decaf!

As someone who loves the taste and smell of good coffee but has always been quite caffeine sensitive and can only have one cup, I've opted for some mediocre decaf in the past. I'm pretty thrilled that we're able to offer a delicious option to non-caffeine drinkers and something that is perfect in the late afternoon or evening as we head into the chillier months!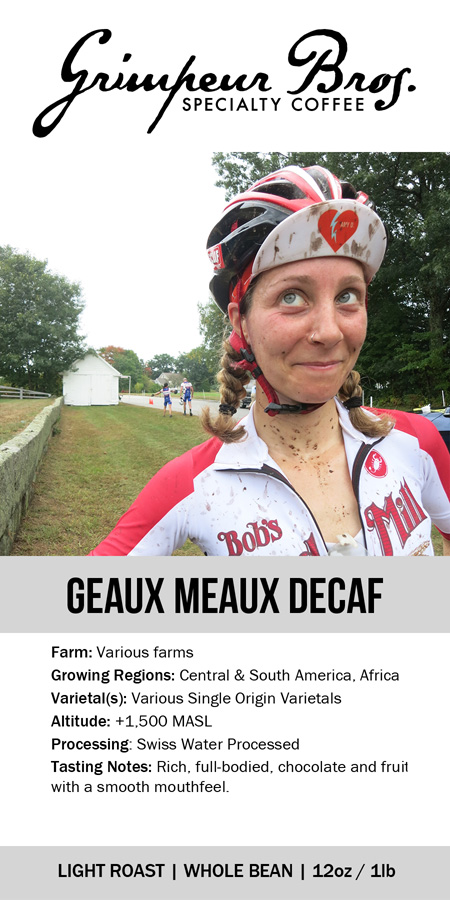 Whoa! We covered a lot this time. And we still haven't gotten to Northampton! In our next newsletter, we'll cover my trip back to the Happy Valley for the 24th edition of the Cycle Smart Internation Cyclocross Race and my return to Putney to a course I haven't seen in nearly a decade!
Thanks for reading and be on the lookout for announcements, spy-photos and news about the upcoming season on our Instagram and Twitter accounts (@meaux_marie and @mm_racing) or search for the hashtag #MMRacingCX2014! Thanks for reading!

As always, a huge thanks to our amazing sponsors for the continued support and encouragement! Bob's Red Mill, Seven Cycles, SRAM, Castelli Cycling, Mavic, TRP brakes, Zipp, Soul Run, FMB, SwissStop, Bontrager, Smith Optics, ClifBar, Löle, Prana, ProGold and Grimpeur Bros, InsideRide, CrossSpikes and Botan!