A little more than a month ago, we wrapped up the 2014/15 cyclocross season at the US National Championships in Austin, TX where I won my second consecutive Single Speed National Championship and placed ninth in the Elite National Championship! It was a great way to end the long season, especially after an unforeseen debacle on the morning of my final race of the season nearly canceled the Elite National Championships this year.

I'll get to those details in a bit, but first I'll catch you up on where we left off after the last newsletter; wrapping up the local New England season at the Ice Weasels Cometh, an unsanctioned race with a festival-like atmosphere including costumes, single speed races, fire pits and some spirits!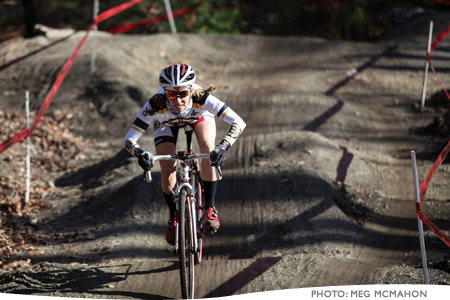 I donned my special Ice Weasels costume/Bruins cycling kit for the races and Matt joined me in the Single Speed event (his first mass start race since his broken hip in 2006) dressed as a version of Walter White from Breaking Bad, complete with sterile white suit and little bags of blue rock candy.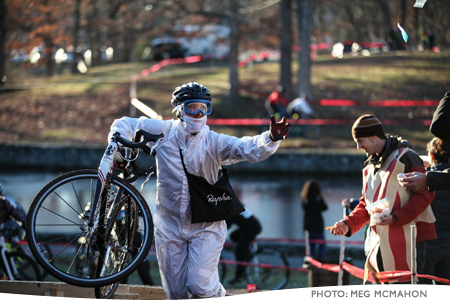 I raced both the Open Women's event and the Single Speed race, taking the win in both but not without taking part in the festivities which included Skittles hand ups at the barriers, a pump track and a wooden stunt jump. Matt was the hit of the day with his surprise race entry and his even more surprising win of the raffle prize, a hand-built bicycle frame by Zanconato!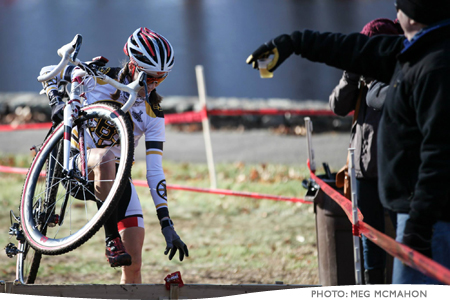 For the first time in five years, we were home for the holidays rather than our usual Kerstperiode cx racing in Belgium. It was great to be able to spend time with our families. We did our best to catch up with everyone over the Christmas week, giving hugs and kisses and gifts to nieces and nephews and spending time with family. We kicked off the New Year hosting a small house party with friends. It was great to reconnect with people we hadn't seen during the busy months of racing.

After the holidays, we headed to Dallas, TX for the final two UCI races in the US before Nationals in Austin, TX. The Resolution Cup races were new to me and I had not taken such a long training block before nationals in years, so I had no idea how my legs were coming into the races the weekend before Nationals. My training had gone very well at home and I was feeling well rested and more fit this entire season due to cutting back my travel this year. I had goals for some strong races in Dallas, a second Single Speed National title and a top ten in the Elite race at Nationals.

I was thrilled to arrive in Dallas to surprise mud on a hilly course. A dream come true. I was excited and ready to race in a pretty stacked field. Saturday's race went extremely well as I was able to move through the slop into the front of the race and work my way into third place for a podium finish.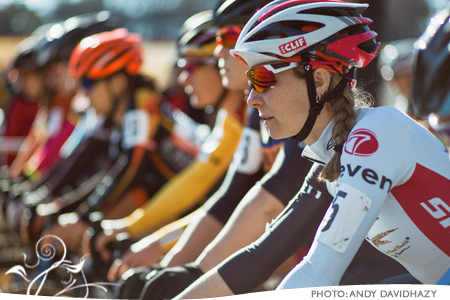 Sunday's race was a bit drier and a few more top riders had registered, adding to the competition. I was feeling the effort from the day before but able to move my way into the fight for a top three spot. With two laps to go, a fellow racer made a fantastic attack on the pavement through the finish line and I jumped right on her wheel. We buried our heads down and pushed the pace to open a gap. Within seconds, we realized that we had both ridden straight off the course where there was an un-taped section where we were supposed to bear left. We had done this section for several laps before without trouble, but when you're giving it 100% with your head down, you can miss those tricky bits. I had to jump off my bike and run back to the proper section of the course and catch back on to the three racers that had passed us again. I gave it my best shot to get back to a top three, but it came down to a three-person sprint and I took fifth. I was pleased with my overall effort and with how my fitness felt coming into Nationals.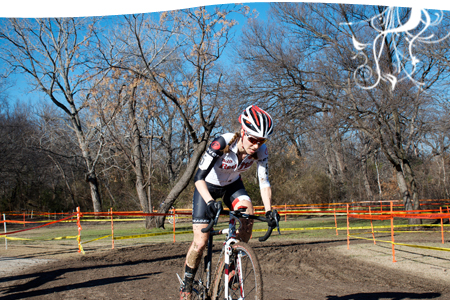 We arrived in Austin to our Airbnb apartment rental, settled in and headed to the race course to run a few laps around the track. The course was not set up for riding but we were permitted to check it out on foot. The course was a combination of fast flat sections , with several tricky off-camber turns, three sets of stairs and one set of uphill barriers. I was excited for the amount of running and transitions that makes for a dynamic course.

On Tuesday, I picked up my racing numbers at registration before heading to the course for a pre-ride on my single speed bike. We set up camp at the Rapha Focus tent, where they graciously hosted us again this year. Matt set up his work space and prepped my two single speed bikes, my two geared bikes and a plethora of wheel/tire choices while I scoped out the track and did some race prep on the rollers. We stayed in for a quiet dinner at home and a solid night's sleep before Single Speed Nationals the next day.

Wednesday was race day #1 and I was feeling ready to go in a competitive field. The number of single speed women had doubled from the year before and as the defending champion, I was going to have a hard race on my hands.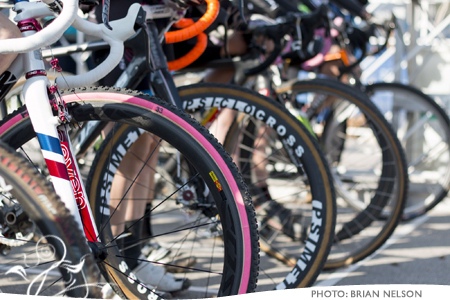 The track was dry and fast and I spent the first few laps in the lead with another racer just ten seconds behind me. One mistake could have cost me the race, so I focused on the places where I could make up the most time and dug deep on the stairs, run ups and the technical off cambers. In spite of a speed-sapping headwind, I slowly opened up a gap and came into the final few sections with a strong enough lead to take the win for the Single Speed National Championship!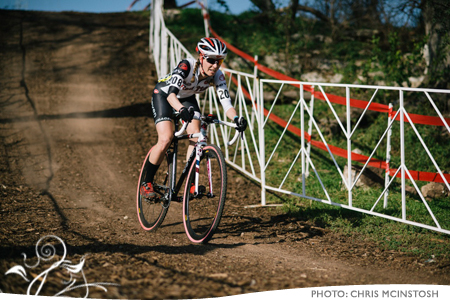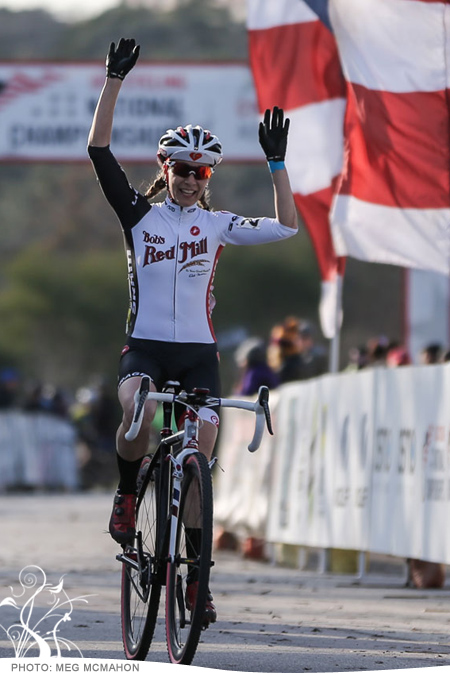 After the race, I headed to the podium ceremony where I was awarded the first Championship of the week.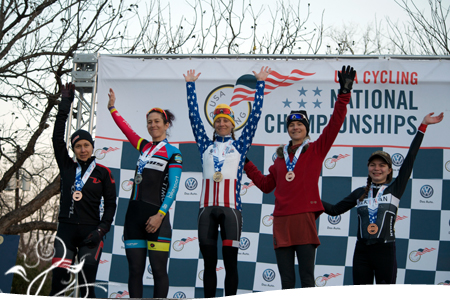 Meanwhie, my race-winning Seven disappeared a few times so it could be profiled by Velonews, CXMagazine and Bicycling Magazine. Thanks for the coverage, Logan, Cliff and Molly! Be sure to check out race coverage and videos from CXMagazine and ProVeloPassion.

Later that night, we met Dan Dombroski and Nicole Novembre of the Amy D Foundation for some catching up and dinner to celebrate the day's race and check out the foodie scene in Austin.

The next block of our stay in Austin focused on recovery from the single speed race with a yoga class at Practice Yoga Austin, healthy smoothies from Snap Kitchen and an outing to the graffiti park.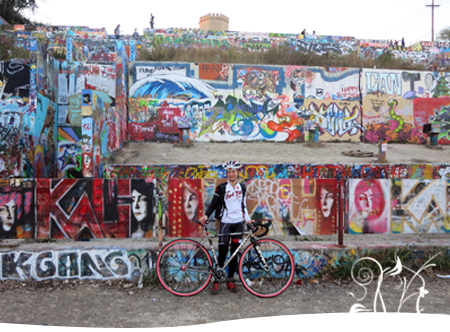 SRAM hosted a "Meet the Pros" night in tandem with a silent auction for the Amy D Foundation at local host, Bicycle Sport Shop. I was honored to be among the other Pros, signing fan cards and speaking on stage in support of the Amy D Foundation. I also got to have a great night hanging out with Dan and Nicole's kids while Matt helped out checking everyone into the event, taking donations and handing out the beer tickets. As much as I selfishly miss Amy, seeing what she is missing is where I get pangs of sadness now. I couldn't help but think of how much Amy would have liked the whole night, how amazing the Foundation has been for women's cycling and celebrating her radiant life and how sweet her little niece and nephew are. The silent auction was a big success for the Foundation and the event was great opportunity to gather the community before the stress and focus of the Elite Nationals crept in.

After a workout on the rollers, the next night was our last rest and recovery opportunity to catch up with some friends. We were really happy to head over to the Saila Bicycles open house to see Lauren Trout (formerly of Seven Cycles) in her own frame building shop. Lauren welded my first two Seven Mudhoney SLXs and she's a pretty rad combo of soft-spoken southern gal, detail oriented designer + artist and badass welder. We're super proud of her new shop!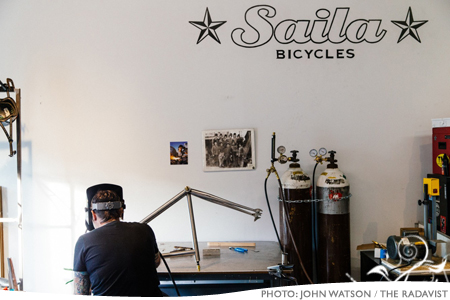 We hit up another veggie place for dinner with The Wilcox and his pal Elliott and then stopped into the Castelli party at a nearby bar before heading home for the night.

My Saturday pre-ride was great. It was raining steadily and things were getting muddy. I watched as the collegiate racers were slipping and sliding all over the track and it was turning into a really exciting weekend. I was eager to get in a good opener and be ready for Sunday's race with a top ten goal in mind. With the predicted overnight rain, I was feeling confident that I might even have a shot at a top five spot.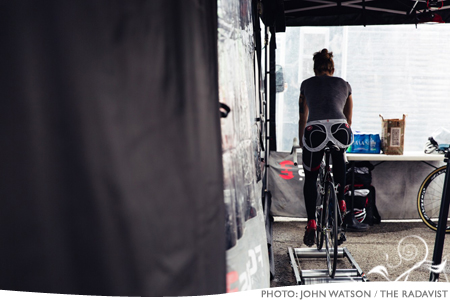 Sunday morning, race day, is when things got really crazy and confusing and, for many, disastrous. While dressed and ready, having coffee and breakfast, we checked Twitter for the latest course updates as the Juniors arrived on course first thing in the morning. Word filtered out that the Juniors and their families, teams and staff were all being turned away form the course by police threatening to arrest anyone who tried to get into Zilker Park.

Apparently in the wee hours of the night, the Heritage Tree Foundation had mobilized with such force that the US National Championships were being canceled due to too much mud damaging the park and, more significantly, the tree roots. The situation quickly exploded into a massive blame game as the Parks and Recreation Department succumbed to the Heritage Tree Foundation while the police made threats and USA Cycling announced they were cancelling the event. BTBtv was at the venue live, planning to broadcast the races that day and were now broadcasting the cancelation and the pending press conference.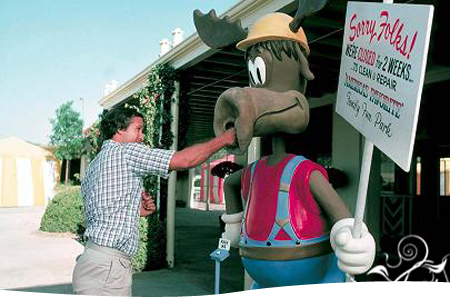 The press conference by USA Cycling and event promoter Cadence announced that they had met with the PARD, the Heritage Tree Foundation and the top Elite Pro Teams. Eventually, they made an agreement, pending course changes, to hold the final day of Nationals the following day (Monday) starting at noon.
This is where the debacle hit the Junior racers and their families, guests and spectators that flew in for the event and non-pro team Elite racers the hardest. We were all scrambling to rebook flights, hotels, car rentals and work schedules back home. Parents had to leave their kids at the event, many kids had to leave to get back to school, many working-Elite racers could not take another day off. Within hours, fundraisers had started to help people fund the schedule changes, hotel beds were offered to stranded racers, an organized dinner was planned for Junior racers and their families and many people who would otherwise have to miss their Nationals were able to stay for Monday's races. I was super lucky to have my sponsors Bob's Red Mill and Seven Cycles step up to help with the unplanned change in schedule/budget.

While the event promoters made the required changes to the course to appease the PARD and Heritage Tree Foundation, I rode my rollers again as a second opener prep and hoped that the course would not be too different because we would only have 15 minutes to pre-ride it the next day before our race.

Monday felt a bit like the movie Groundhog Day as we went through our race-prep routine again. I was happy to see the course had not changed dramatically in design, but the mud had gone from perfectly slippery and technical to potentially bike-breaking. I was not able to complete a full lap without so much heavy, partly dried mud caking my bike until the wheels would no longer spin. I watched the Juniors race and some of the bikes were ok and some picked up so much mud that the kids were running most of the course. Bike design, frame size, type of brakes and wheel choice all came into play. Matt and I were in an ever-so-slight panic that my bikes may not work on this course with the peanut butter mud. At all.

Over the next hour, we swapped to better mud shedding wheels and I inspected all of the sections of the course with great detail, planning to run anywhere that my bikes would pick up extra mud. Off the start, I had my fingers crossed!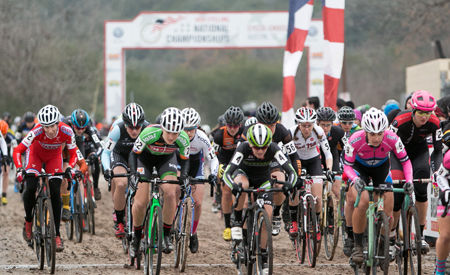 The first lap was marred with traffic as everyone swarmed one another to get onto the one rideable single file line of the course. It took me nearly a lap to find a good passing section to get around a group of slower riders but once I was clear, I continued to make up ground. The track was also drying out and my bikes were functioning well. After the first lap, Matt assured from the pits that I would not need to swap twice a lap. Still, I swapped to a fresh bike once every lap for fear that my bike could be clogging up if I wasn't on top of it.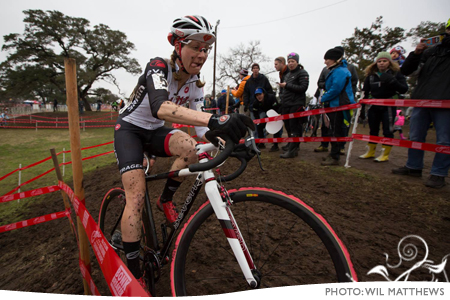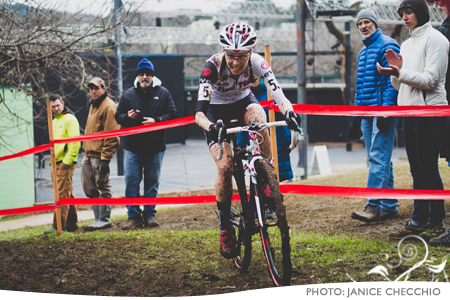 Each lap I passed a few more riders and worked my way into the top ten. In the last lap I worked up to eighth in a tight race. My last lap decision to swap my bike may have cost me eighth place but it was a risk I took with hopes to fight back on the last uphill. The gamble didn't pay off, but I met my goal of a top ten place by finishing ninth.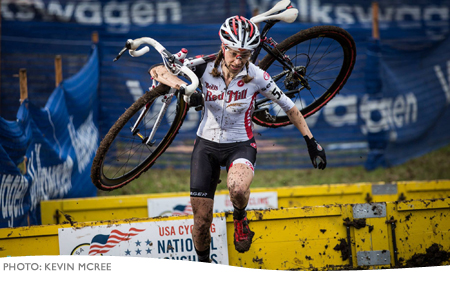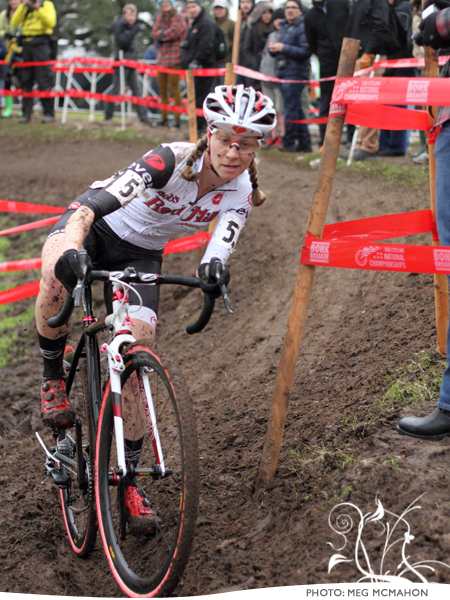 I was super pleased to cap of my season with a successful Nationals after my decision to cut back on travel and intense Elite and European racing this season. Although there were moments of missing Belgium, overall I felt less fatigued, stronger and happier racing than I have in the last few years. It's a great way to wrap up and look ahead to what's next.

In spite of the unexpected schedule change, our friends from BTBtv were able to provide live coverage of my entire race. You can watch the entire broadcast here.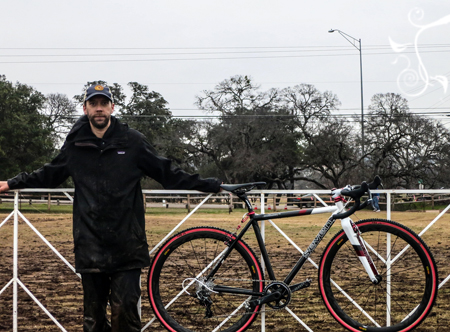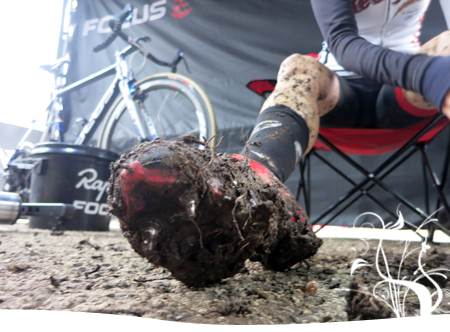 Following the drama of the US Nationals event, a series of articles came out from USA Cycling, the Heritage Tree Foundation and numerous cycling news sources. They are listed here:


http://velonews.competitor.com/2015/01/news/cyclocross/commentary-nationals-disaster_358091

http://untilthesnowends.blogspot.be/2015/01/us-cyclocross-nationals-travesty-report.html

http://velonews.competitor.com/2015/01/news/news-concerns-poor-treatment-junior-women-cyclocross-nationals_358241

http://www.austinheritagetreefoundation.com/Tree_Alerts.html

https://www.usacycling.org/what-happened-in-austin-a-letter-from-usa-cycling-events-vp-micah-rice.htm

The events in Austin inspired Matt to resurrect an old piece he had written for Embrocation Cycling Journal a few years back, The Six P's. It's on our MMRacing Blog here.

After unpacking a season's worth of gear, we spent the past few weeks at home catching up on backlogged work schedules and shoveling. Lots of shoveling. Winter in Boston finally arrived with a wallop! Boston has received an entire season's worth of snow in the last 10 days, so we're literally neck deep! Matt has jokingly been comparing the snowfall to my height, as in, "So far this winter we have received more than 1.5 Mo's of snow."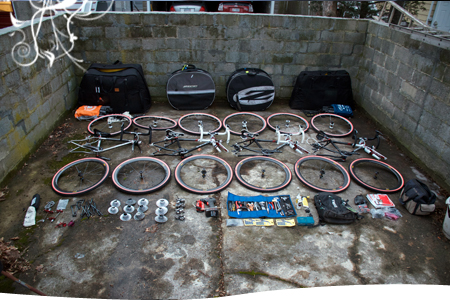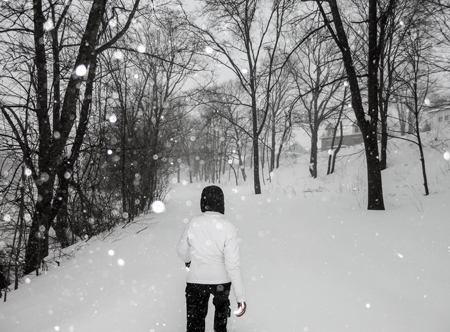 As we catch back up, the off-season is winding down and training and planning for Spring and Summer adventures are already underway. Stay tuned for our following newsletter detailing what MMRacing has got up our sleeves next! Thanks to everyone for the cheers, support and love this season!

Thanks for reading and be on the lookout for announcements, news and photos on our Instagram and Twitter accounts (@meaux_marie and @mm_racing) or search for the hashtag #GeauxMeaux! Thanks for reading!

As always, a huge thanks to our amazing sponsors for the continued support and encouragement! Bob's Red Mill, Seven Cycles, SRAM, Castelli Cycling, Mavic, TRP brakes, Zipp, Soul Run, FMB, SwissStop, Bontrager, Smith Optics, ClifBar, Löle, Prana, ProGold and Grimpeur Bros, InsideRide, CrossSpikes and Botan!